SNV Vietnam: Raise voice in gender equality through photo stories
These activities aims to raise public awreness of gender equality by encouraging men to share daily housework with women in the family.
(VNF) – 30 households in Quang Binh and Ninh Thuan province have recently been benefited by Photo-voice - a workshop training people on story telling and photography skills. The project was organized by the Netherlands Development Organisation (SNV).
The beneficiaries of the projects are 30 couples of different age groups from Quy Hau village (Quang Binh) and Tuan Tu village (Ninh Thuan), who received training on two skills: photo taking and story writing.
According to SNV, the pictures taken by trainees have greatly captured the change in participants' mindset and behaviors in gender equality in each household.
At least 10 picture stories will be displayed in local exhibitions from the end of October till early November 2017.
One of the photo taken by the trainee (source: SNV)
SNV also expects that the Photo-Voice's impacts on people's attitude will be further spreaded in the community, as the photo will reach a number of around 1000 people, who are residents of the two villages and nearby areas.
Photo Voice is conducted within the scope of the "Enhancing Opportunities for Women's Enterprises" (EOWE), part of the Funding Leadership Opportunities for Women (FLOW), sponsored by the Netherlands Ministry of Foreign Affairs, Social Development Department (DSO).
FLOW/EOWE aims at advancing women's economic participation and self-reliance in Kenya and Vietnam by creating a conducive environment for female entrepreneurship as a vehicle for change./.
( VNF )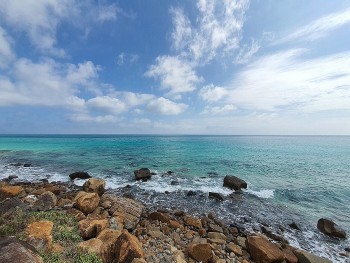 Viet's Home
Con Dao, a historical and famous island situating in the southern province of Ba Ria - Vung Tau, has been named among the top 16 best island vacations in the world, as compiled by tourism magazine Condé Nast Traveler (CNTraveler) of the United States.