South African Vice President Cyril Ramaphosa visits Vietnam
(VNF) - From October 3rd-4th, 2016, Mr Cyril Ramaphosa, South African Vice President, is paying an official visit to Vietnam.
(VNF) - From October 3rd-4th, 2016, Mr Cyril Ramaphosa, South African Vice President, is paying an official visit to Vietnam.
The working visit takes place at the invitation of the Vietnamese Vice State President Dang Thi Ngoc Thinh and will be utilised to break into new and possible areas of trade and investment to help unlock trade imbalances between the two nationss.
Bilateral trade between the Vietnam-South Africa has grown significantly from ZAR13.4 billion to ZAR18.5 billion in 2015, making Vietnam the fourth largest trading partner of South Africa in the Asian region.
By 2015, South African imports from Vietnam amounted to ZAR16.3 billion from ZAR11.5 billion in 2014 while exports are at ZAR2.3 billion in 2015 from ZAR1.9 billion in 2014.
Vietnam offers great trading opportunities for South African companies particularly in the transport, mining sector, road and infrastructure including the defence industry. It is internationally recognised for its expertise in the field of missile defence systems.
Besides, the visit of Vice Deputy President Ramaphosa will also seek to persify South African exports to Vietnam by identifying new areas for market access of South African products.
The 54-year-old Vice President will also explore possibilities of increasing the number of South African students receiving training in Maritime Economy.
Currently, there are six South African students studying at the Maritime University in Hai Phong city. South Africa hopes to also increase study courses to include ship building. Vietnam's shipbuilding industry is ranked 5th in the world with 60 ship-building and repairing yards.
The visit is also expected to culminate in a partnership between Vietnam and South Africa in the development of South Africa's aquaculture sector.
Vietnam has utilised aquaculture as one of their key development programs in addressing the challenges of poverty and unemployment.
To deepen bilateral political, economic and trade relations the two countries launched the Partnership Forum for Economic, Trade, Scientific, Technical and Cultural Co-operation in 2004 to regulate relations.
The Partnership Forum has thus far agreed to expand co-operation to include the areas of defence, security, justice, agriculture, environment, water resources, transport, education and science and technology./.
( VNF )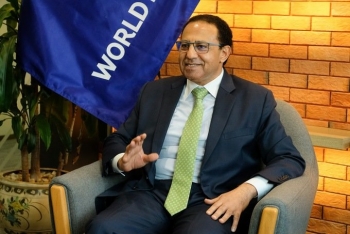 Economy
Vietnam's agriculture is transforming from quantity targets towards profit, environment and farmer income targets. Ahmed Eiweida, Vietnam Sector Leader for Sustainable Development (World Bank).