Spring News Festival held at Hung King Temple site for the premier time
In addition, the Spring News S
(VNF) - The 19th Spring News Special Editions festival 2017 was kicked off at the national historic relic site Hung King Temple (Phu Tho province) on Saturday (Feb 4). The provincial Journalists Association and the Department of Culture, Sports and Tourism have joined hands to conduct the event.
Remarkably, the year 2017 marks the premier time this event is held at the sacred relic site Hung King Temple. The choice of venue aims to honor the Xoan singing and Hung King worship ritual – they are the pride of Phu Tho province, as the two are recognized as World Intangible Cultural Heritage by UNESCO.
The opening ceremony was launched in a delightful atmosphere, marking the beginning of Phu Tho's Spring festive season and celebrating the 87th founding anniversary of the Vietnamese Communist Party.
This year the festival records the largest number of participants ever, with 16 press and media units including the Journalists Association of Hanoi,Thai Binh and Phu Tho, the Vietnam News Agency, local department of information and communication, local department of external affairs, etc.
The festival features a wide range of press, media and journalism products published in the year 2016 and Lunar New Year 2017 from various press outlets such as Nhan Dan News (The People's News), Thong tan xa Vietnam (Vietnam News Agency), Quan khu II News (Military Zone II News), etc. All of the displayed issues are in high quality, successfully reflecting the vibrant air of the country welcoming the New Year. In details, these issues focus on expressing the respect and honor to the Party and Uncle Ho and highlighting numerous socio-economic and defence-security achievements of Vietnam in general and Phu Tho in particular.
pecial Editions festival 2017 brings together journalists from various localities, offering them an ideal sharing corner. It is where they can learn from each other personally by exchanging ideas and experiences. Simultaneously, the event is a bridge connecting writers, readers and related authorities for giving and receiving feedback, as well as disseminating and obtaining updates on press and media policies./.
The Spring News Special Editions Festival in pictures
Newspapers displayed at the event (photo: Phi Yen)
Delegates and participants in the event (photo: Phi Yen)
( Phi Yen )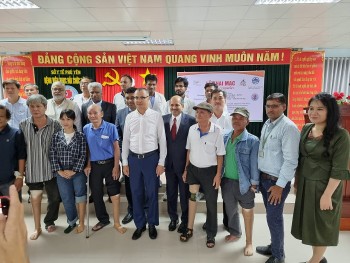 Friendship
This is the 5th time the Jaipur Foot Artificial Limb Fitment Camp has been held in Vietnam since 2018 by the Indian Ministry of Foreign Affairs, Indian agencies and organizations.