Statement stresses resolve to strengthen Vietnam-Japan relations
The joint vision statement on Vietnam-Japan relations, issued during Party General Secretary Nguyen Phu Trong's official visit to the East Asian country, affirmed their mutual resolve to intensify bilateral ties in all realms for the sake of the two peoples as well as peace, stability, cooperation and prosperity in the Asia-Pacific and the world.
The joint vision statement on Vietnam-Japan relations, issued during Party General Secretary Nguyen Phu Trong's official visit to the East Asian country, affirmed their mutual resolve to intensify bilateral ties in all realms for the sake of the two peoples as well as peace, stability, cooperation and prosperity in the Asia-Pacific and the world.
In the statement, Vietnam and Japan highly valued the vigorous and substantive growth of their relations, especially since the ties were elevated to a strategic partnership in 2009 and an extensive strategic partnership in 2014.
They affirmed that the two countries are important partners and share a number of basic interests, adding that each nation's development will create favourable conditions for the other's growth.
They stressed that Vietnam continues to regard Japan as a top and long-term partner while Japan attaches importance to Vietnam's position on its foreign policy for the Asia-Pacific region.
Party General Secretary Nguyen Phu Trong (L) and Prime Minister Shinzo Abe shake hands at the end of their joint press conference (Photo: VNA)
Party General Secretary Nguyen Phu Trong and Prime Minister Shinzo Abe expressed their willingness to maintain regular visits and exchanges between the countries' leaders, parliaments and political parties while deepening existing dialogue mechanisms and cooperation between their localities.
They agreed to tighten links in defence and security through boosting all-level exchanges, dialogue mechanisms, the implementation of related bilateral agreements and personnel training.
The two sides will strengthen connections in ensuring maritime security and safety – such as in search and rescue – and coping with non-traditional security issues like cyber security and terrorism, trans-national crime and piracy prevention.
Japan will also support Vietnam to improve the capacity of its law enforcement at sea, addressing the consequences of unexploded ordnances leftover from wartime and joining United Nations peacekeeping forces.
Both sides voiced their hope to foster cooperation in planning sustainable economic development strategies. Japan confirmed that it will help Vietnam improve its competitiveness, switch growth models, implement the industrialisation strategy within the Vietnam-Japan cooperation framework by 2020 and expeditiously realise the sixth period of the countries' joint initiative on promoting Vietnam's investment climate.
They also agreed to facilitate simultaneous development cooperation and technological transfer in hi-tech areas; collaboration in energy, electronics, information and communications and postal services; Japanese companies' investments in Vietnam; partnerships between the countries' businesses in agriculture and the development of supporting industries in the Southeast Asian nation.
They will persify forms of investment, especially public-private partnerships, while fostering engineering mechanics, construction, large industrial parks, creative business environments and comprehensive cooperation in the agro-forestry-fishery sectors.
Agreeing to work closely to effectively concretise the 2014 strategic programme on educational cooperation, Japan pledged to assist with bringing the quality of Vietnamese universities and vocational schools to meet international standards, building the Vietnam-Japan University and designing occupational standards and a national skill testing system in Vietnam.
The two sides were also unanimous in collaborating to send and receive Vietnamese nurses, orderlies and technical apprentices.
In the joint vision statement, Vietnam and Japan concurred to forge links towards doubling trade and investment by 2020 through various measures, including effectively implementing the countries' Economic Partnership Agreement.
Vietnam appreciated Japan's aid to its socio-economic development through the provision of official development assistance (ODA) over the past 20 years. Japan vowed to enhance its cooperation with Vietnam, including ODA provision for infrastructure and energy building, poverty elimination, climate change adaptation and human resources training.
Additionally, the nations reached consensus on promoting measures facilitating the respective entry of their citizens along with affiliations in science-technology, culture, sports, tourism, social welfares and people-to-people exchange.
Japan welcomed Vietnam's foreign policy of independence, self-reliance, peace, cooperation and development, persification and multilateralisation of relations, and active international integration. It also valued the Southeast Asian nation's role in sustaining peace, stability, cooperation and development in the region and the world.
Meanwhile, Vietnam lauded Japan's active contributions to regional and global peace and development through laws, policies and constructive initiatives.
They reiterated their interest in closer coordination at regional and international organisations and forums like the UN, World Trade Organisation, Asia-Pacific Economic Cooperation forum, Asia-Europe Meeting, ASEAN Regional Forum and the East Asia Summit.
They advocated for ASEAN's centrality in the regional architecture and concurred on the need to ensure a self-reliant, united and strong ASEAN.
The two sides pointed to their resolve to work closely with each other and other participating countries to shortly conclude negotiations on the Regional Comprehensive Economic Partnership and the Trans-Pacific Partnership agreements.
Both Vietnam and Japan voiced concerns over recent complicated developments in the East Sea, including island reclamation and large-scale construction, which have increased tensions, undermined trust and threatened regional and global peace and stability. They underscored that coastal countries must adhere to international law, including sea-related law, and refrain from unilateral actions that alter the status quo.
They also highlighted the significance of ensuring peace, security, and maritime and aviation safety and freedom and urged relevant parties to not conduct unilateral actions complicating and expanding disputes in the East Sea, resolve all disputes peacefully in accordance with internationally recognised principles – particularly the 1982 UN Convention on the Law of the Sea, seriously implement the Declaration on the Conduct of Parties in the East Sea and work to shortly issue a code of conduct in the waters.
In their statement, Vietnam and Japan also stressed the importance of maintaining peace and stability in the Korean peninsula; improving the effectiveness, transparency, democracy and representation of the UN; and sustainably tapping marine fishery resources./.
VNF/VNA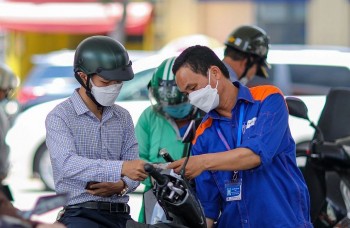 Economy
Vietnam Business & Weather Briefing (Oct 2): Binh Duong lures foreign investors with special care, the North and Central regions continue to have heavy rains, leading to the risk of flooding, flash floods, and landslides.