Strengthening economic relationship between Vietnam-RoK
On August 22nd, in Hanoi, Don Tuan Phong, Vice President in-charge cum General Secretary of the Vietnam Union of Friendship Organisations (VUFO) had a meeting with Lee Hyuk, Ambassador Extraordinary and Plenipotentiary of Republic of Korea to Vietnam.
(VNF) - On August 22nd, in Hanoi Vice President in-charge cum General Secretary of the Vietnam Union of Friendship Organisations (VUFO) Don Tuan Phong had a meeting with Lee Hyuk, Ambassador Extraordinary and Plenipotentiary of Republic of Korea to Vietnam.
At the meeting, Phong, VUFO Vice President in-charge and Secretary General, briefed his guests about the activities of VUFO and the Vietnam-Korea Friendship Association (VKFA), exchanging about a number of issues such as the people-to-people exchange between two countries; activities of Korean NGOs in Vietnam and investment promotion activities between Vietnamese and Korean enterprises.
Regarding people-to-people exchanges, Vietnam has VKFA and RoK's partners including the Korea- Vietnam Friendship Association (KOVIFA); the Association of People Loving Vietnam in the Republic of Korea (VESAMO), universities and research institutes, etc.
Don Tuan Phong (R), VUFO Vice President in-charge cum General Secretary and Lee Hyuk, Ambassador of Republic of Korea to Vietnam expressing satisfaction at efforts undertaken to strengthen relationship between Vietnam and RoK.
Over the past 20 years, they have played a key role in efforts to strengthen the two countries' relationship. The main objective of VUFO is to encourage and strengthen the fraternity, understanding and friendship among two people through the exchange of delegations and the exchange of information on world and regional issues such as politics, security and economy.
Various social, cultural, educational, youth and sports activities and programmes among the peoples of both countries, through Korean-speaking or Vietnamese-speaking competitions, are promoted.
According to Phong, VKFA and KOVIFA held many seminars and conferences encouraging research institutes, universities and localities to participate in. There are more than 40 provinces and cities of Vietnam and RoK establishing cooperative relations. However, Vietnam has 63 provinces, so two countries should further upgraded their ties.
Two sides affirmed that both Vietnam and RoK share the similarities in terms of culture, customs, creativity and high spirit of national independence. Currently, the community in each country has reached over 150,000 people and tends to increase rapidly in the coming years.
Therefore, the enhanced cooperation between two sides to support the overseas community will significantly contribute to the rapid, sustainable, practical and comprehensive development of the two countries and local provinces. This year, VUFO, VKFA and the RoK's Embassy in Vietnam will hold many practical and meaningful activities to commemorate the 25th anniversary of diplomatic relations between the two countries.
Regarding foreign NGOs, RoK currently has 42 regular NGOs in Vietnam with active programs focusing on rural development, health, education, and social issues; bringing in USD 10 million a year which Vietnamese Government and local authorities highly appreciated.
On that basis, Vice President Don Tuan Phong expressed his hope that the Korean Embassy will encourage more Korean businesses to invest in Vietnam, strengthening the support through foreign NGOs and enhacing social responsibility towards local communities.
He affirmed that in the coming time, VUFO will organise more conferences, seminars and dialogues as well as business investment forums to fully exploit the economic potential between the two countries, thus building a more flexible and persified information mechanism for Vietnamese-Korean enterprises.
Appreciating the warm welcome of VUFO's leaders, Ambassador of RoK to Vietnam, Lee Hyuk spoke highly of the important role of VUFO as well as the VKFA in promoting people-to-people exchanges between the two peoples and thanked Vietnamese side for their contributions to the bilateral relations.
According to Ambassador Lee, the relationship between RoK and Vietnam was not only linked through the two governments, but also built upon a solid economic base between the two sides through many significant contributions.
He affirmed that the RoK's Embassy in Vietnam and the Korea International Cooperation Agency (KOICA) would support the Vietnamese provinces and RoK's NGOs in Vietnam to implement programs/projects and humanitarian activities in poor areas; calling for Korean enterprises to invest and carrying out social responsibility in Vietnam during regular business meetings that will take place at the RoK's Embassy in the coming time.
Two sides pose for a group photo.
The diplomat added that he will create favorable conditions for overseas Vietnamese communities - the main pillar in the development of Vietnam-RoK relations to integrate into the local society, to practically contribute to the local and strengthen the friendship and cooperative relations between Vietnam and RoK.
Ambassador Lee especially emphasised that promoting sustainable economic cooperation is the foundation for the development of bilateral relations. Therefore, he hopes the local and central government in Vietnam will continuously improve the investment and business environment as well as create the most favorable conditions for enterprises.
VUFO Vice President Phong said, with the common goal of promoting comprehensive cooperation between Vietnam and RoK, in the near future, VUFO will focus on implementing practical tasks through enhancing cultural exchanges on the occasion of 25th anniversary of their diplomatic ties.
In addition, he hoped that Ambassador Lee Hyuk, RoK's Embassy to Vietnam, Consulate General of Korea in Ho Chi Minh City, KOICA and Korean NGOs will visit the Mekong Delta provinces to explore investment opportunities, humanitarian cooperation and assistance as well as engaging in economic development activities in these localities.
The Ambassador happily accepted and promised to arrange the visit and working session in the earliest time./.
Translated by Minh Chau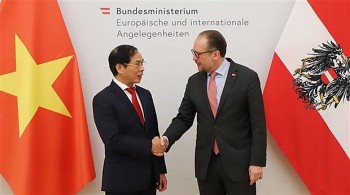 Overseas Vietnamese
Fifty years have passed since the establishment of the relationship, the two countries have enjoyed great strides in bilateral cooperation.