Ta Phin Community-Based Tourism and Service Cooperative launched
The Ta Phin Community-Based Tourism and Service Cooperative has been successfully launched with capital investment from 38 households.
At the event. Source: Aus4Equality GREAT
With support from Sapa Department of Culture and Information, the Cooperative will develop Ta Phin as quality tourism destination that promotes the Red Dao culture and women's livelihoods.
The management board, that includes four Red Dao women, will now develop a wider range of tourism products and experiences (such as homestay, tour guiding, food and traditional handicraft service groups to cater for international and domestic visitors) in the villages while maintaining the cultural integrity of the community.
These may include a wider array of artisan products, enhanced appreciation of value and quality control of village specific products, more and improved home-stay opportunities, enhanced quality and range of guiding services, spa and wellness products, improved quality and persity of food and beverage services, and event and festival products.
In Lao Cai, despite the impressive resources and good tourism markets, cultural values are still at potential status in community-based tourism development. Except some tourism sites, the rest are slow in exploitation and development of community tourism product, and do not exploit their full potential and strengths . Therefore, in order to leverage community tourism in Lao Cai, active participation of indigenous people is needed.
The important thing is this business could brings to members of Ta Phin Cooperative an additional income without working hard in comparison with traditional farming work. Therefore, the living condition of local people will be enhanced gradually.
It not only helps to protect and maintain the local traditional cultural but also create a specific characteristic for the economy of Sa Pa district in general and for the economy of Ta Phin village in particular./.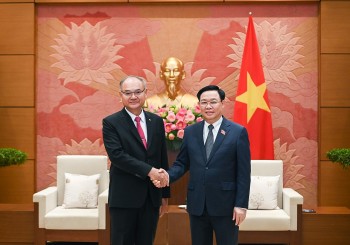 National
A Thai delegation is visiting Vietnam to learn about the guidelines and policies in the fight against corruption in Vietnam; exchange experiences with relevant Vietnamese agencies.