Taiwan to increase presence in Vietnamese healthcare sector
(VNF) – Recently, 13 Taiwanese companies specializing in healthcare equipment and technology showed up in HCMC, with a view to look for potentials to further increase their presence in Vietnam
(VNF) – Recently, 13 Taiwanese companies specializing in healthcare equipment and technology showed up in HCMC, with a view to look for opportunities to further increase their presence in Vietnamese medical care sector.
Overview of the seminar (source: VET)
The companies were participants in the"Taiwan Medical Miracles" seminar held within the framework of Taiwan Expo 2017 held from July 26 to July 28 in Ho Chi Minh City.
The seminar aimed at establishing foundations for development cooperation, supporting Vietnam in medical and public healthcare, and promoting Taiwan's high-quality healthcare services to Vietnamese people.
Vietnam's healthcare market in recent years has become an appealing market in Southeast Asia for Taiwan to promote its healthcare services and smart medical solutions.
Most public hospitals in Vietnam are overcrowded, which leads to long waiting times, a shortage of beds, and increased risk of cross-infection among patients, said Taiwanese health specialists after visiting tour to some hospitals in the South East Asian country.
In the year 2015, more than 2,000 Vietnamese patients have travelled to Taiwan to seek treatment, with the number seeking treatment for cancer and rare diseases increasing sharply.
"Since 2008, Taiwan has promoted healthcare cooperation with Vietnam and the cost of medical care in Taiwan has become affordable for Vietnamese patients," said Angela Chang, Director of the Taiwan External Trade Development Council (TAITRA).
Along with other Taiwanese healthcare service enterprises, on July 25, TAITRA paid a visit to the Shing Mark Hospital in Bien Hoa city, Dong Nai province, to provide the healthcare facility with advanced technology.
ShingMark Hospital is a project financed by the Shing Mark Interior Furniture and Home Appliance. The hospital consists of 1,500 beds; 9 floors; cover an area of 87.000 m2, and will be officially put into operation this August.
Patients receiving treatment at Shing Mark hospital (source: The Saigon Economics Times)
Besides Singapore and Thailand, Taiwan has been emerging as a new options for Vietnamese patients when it comes to going abroad for healthcare service.
The rising popularity of Taiwanese medical care is attributed to two key factors, services quality and affordable price (roughly one-fifth of the cost in the US and Europe).
It has also integrated technology innovations into its healthcare system to cut down patients' waiting times and improve treatment quality. Initiatives include intelligent disaster-prevention information systems and a remote healthcare model.
"Taiwan wants to export these solutions to overseas markets like Vietnam," Chang said. "We are also looking to tighten partnerships between Taiwan and Vietnam to improve local healthcare services."
This is the fourth time Taiwanese healthcare equipment firms have visited Vietnam for market research. Most are seeking local partners and distributors to provide healthcare solutions and equipment, said Chang.
Besides promoting Taiwanese medical service's appearance in Vietnamese market, in recent year, Taiwan has been fostering charitable healthcare programme in Vietnam, including providing free surgeries to the needy and conduct capacity training program for Vietnamese medical practitioners./.
( VNF )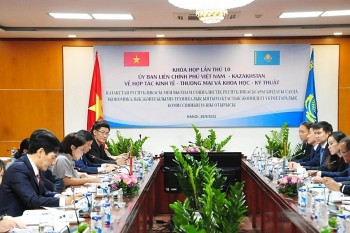 Friendship
The 10th session of the Vietnam-Kazakhstan Intergovernmental Committee on economic-trade and scientific-technical cooperation was held in Hanoi on September 26.