The heart-melting latte art in Hong Kong
The art is not confined to the walls of his coffee shop, though. Leo's Espresso, with another branch in Kwai Hing, is known for its 3D latte art of colourful kittens. Chau's is one of a few independent cafes in Hong Kong that aim to set themselves apart from the chains by creating original and highly Instagrammable latte art.
The interior of Leo's Espresso in Admiralty (Hong Kong) is decorated with cartoons depicting its proprietor, Leo Chau Tsz-leung. "They tell my life story and its big transitions – how I went from being a manual labourer to renovation worker, transport worker, waiter, coffee shop worker, barista and finally coffee shop owner," he says.
A cup of coffee or a 3D picture?
Although 3D latte art originated in Japan, Chau claims he was the first barista in Asia to add colour to his creations after discovering edible pigments that blend with the foam without changing its texture.
"So, 3D latte art is psychologically healing, relieving pressure." Chau says (source: Leo's Expresso)
Chau says his coffee creations also gave him a second life. "I used to be a drug addict, and 3D latte art gave me with an opportunity to overcome my past. I was born on an outlying island, but after becoming an addict I left. Later, even when I'd turned my life around, I knew no one would just take my word for it, so I thought maybe 3D latte art could help me prove that I was a changed person," he explains.
Latte art makes his customers happy, Chau says. "I've heard customers saying: 'Oh, I feel really relaxed when I see this coffee.' "So, 3D latte art is psychologically healing, relieving pressure." he states.
At Café R&C in Causeway Bay, owner Hymas Ho Wai-him fiddles with foam to draw cartoon characters – including Minions, Pokemon, Totoro, Hello Kitty and Snoopy – and portraits.
"Our name R&C actually means Reading and Coffee," Ho says. "We hope to create a quiet and comfortable space for people to read at leisure while drinking coffee.
"I'm a post-90s guy, so like many teenagers I used to be fascinated with cartoon drawing. That's why, two to three years ago, I thought I might be able to come up with something cuter and more animated. But over time, as I've seen and experienced more in life, I've begun to prefer more mature and artistic images, such as portraits and landscapes.
Ho particularly likes drawing sports stars, fashion models and any celebrities he finds charismatic and cool, including Justin Timberlake and One Direction.
How edible art work is crafted?
It is not simple to craft a cute cartoon character using milk foam. (source: Leo's Expresso)
There are basically two ways of making latte art: free pouring – for simple pictures, such as leaves and hearts – and etching.
When steaming the milk to make the foam, it's important to keep the temperature at between 60 and 70 degrees Celsius. "If it's too hot, you can't create foam; if it's too cold, the coffee will not taste good. If the milk is poorly steamed, it's impossible to make latte art. The foam has to be very smooth," May Man Kwai-fong, owner of Coffee Lover Café Car, explains.
Free pouring requires a steady wrist and good hand coordination, because the barista needs to hold the cup in one hand and use the other to pour the milk. Etching needs a steady hand to create the picture with a latte pen, while adding edible pigments.
For 3D etching, milk foam is scooped onto the coffee and then sculpted. Different concentrations of foam are used to produce each body part. For a kitten, for example, a more solid foam is used for the head – using whole milk, which is fattier – while ears are created using lighter foam.
Despite its attractiveness, latte art is "a temporal beauty", Man says, so however pretty it may look, the quality of the coffee is equally important.
Ho agrees: "To be honest, I think that if the coffee tastes bad, even if the latte art is really beautiful, I would still pour it down the toilet. So, no matter how pretty your latte art is, your customers won't return to your shop if the quality is poor," he says.
"To be a good barista, primarily you need to know how to make coffee that tastes good, because the taste is far more important than the appearance," Chau says.
According to Chau, freshness of coffee beans is his shop's strength (source: Leo's Expresso)
Running an independent cafe can be difficult because of the competition from the dominant coffee shop chains, especially Starbucks and Pacific Coffee.
"Their brands are more famous, and they have special offers … such as buy-one-get-one, which puts pressure on small specialist coffee shops like us," Chau says.
However, the three baristas agree that both big and small players have their own strengths and weakness.
"One big difference between our shop and the big chains is that they offer commercialised coffee, whereas we offer specialist coffee ... we have perse brewing methods, such as hand-dripped and ice-dripped brewing," Chau says, adding that "our coffee beans are roasted and served to customers within just one week".
Talking about latte art, Chau still strongly believe in its competitive edge in the long run. "I don't think we can call it a trend because [the 3D form] has been popular for six years already and that isn't a short period of time. I'd call it an art form and culture because you can't just mechanically produce it using a printer. It can't be replaced by machines."/.
( VNF/South China Morning Post )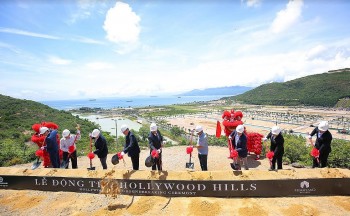 Economy
On October 2, at Hai Giang peninsula (Quy Nhon city, Binh Dinh), Hung Thinh Corporation held the groundbreaking ceremony of Hollywood Hills by YOO Inspired by Starck – a subdivision at MerryLand Quy Nhon. The event marks the first time that the world's No.1 ranked design and branded residence company YOO Inspired by Starck is officially present in Vietnam, with a collection of villas designed by creative director, Philippe Starck.