The story of cherry blossoms in the old battlefield
(VNF) – 64 years ago, Muong Phang Commune (Dien Bien province) was the headquarters of the Viet Nam People's Army during the Dien Bien Phu campaign. Nowadays, it has become the home of thousands of cherry blossoms (Japanese sakura) trees.
(VNF) – 64 years ago, Muong Phang Commune (Dien Bien province) was the headquarters of the Viet Nam People's Army during the Dien Bien Phu campaign. Nowadays, it has become the home of thousands of cherry blossoms (Japanese sakura) trees.
Muong Phang commune lightened up by the charming hue of cherry blossom. (photo: Dien Bien province's People's Committee)
Located in the midst of Pa Khoang lake, the cherry blossoms island is about 30km away from Dien Bien Province's Dien Bien Phu City.
Even though it is a long traveling journey, the tiredness will fastly fades away when the island appears in front of your eyes. From hundred of meters away, you can see the whole hillside illuminated by the charming pink colour of cherry blossoms and their reflection on the lake.
After taking a 10-minute boat ride, you will reach the island, where thousands of cherry blossom trees are planted. This is the Higan Sacura of cherry variety, the type of tree for flowers, blooming into big clusters of red and light pink, throughout from root to tip, and will last in 3 weeks.
The striking colour of cherry blossoms and an immense number of mimosa, orchid and lily revealing their beauty have turned the once deserted island into an attractive destination for tourists from across the country and overseas.
Pa Khoang Lake was built by tens of thousands of youth volunteers in the 1970s. The lake bed covers an area of about 600 hectares and is capable of providing water to Dien Bien Phu rice fields.
There are tens of small and big islands in the lake covered with verdant trees all year round, and is a habitat for various types of birds and animals.
In recent years, the beautiful cherry blossom has started attracting visitors from across the country and overseas.
At the moment, the number of cherry blossom trees planted on the island has hit thousands, which bloom brilliantly during springtime (from January to April). The trees, imported from Japan and grown locally, are called higan sakura with "higan" a reference to a spring Buddist holiday celebrated by the Japanese.
Japanese cherry blossoms have been brought to the island and nurtured by Dr.Tran Le, a Vietnamese scientist who specializes in plant tissue culture. More than ten years ago, Le had spent months wandering across the country to find a suitable place for the trees, after a Japanese friend had given him some seeds.
Le finally found Da Lat city in the Central Highland of Vietnam, the ideal "home" for cherry blossoms, in the year 2006, where he successfully planted them. The initial result was positive: Out of the 10 initial seeds, eight survived and after eight years, a large part of the 600ha-island is covered with sakura petals during spring.
The presence of cherry blossoms in Muong Phang Commune (Dien Bien) was credited to the friendship between General Vo Nguyen Giap and Dr.Tran Le.
"I had chance to talk with Gen. Giap for several times during the 1975-78. I first met him when he was inspecting some scientific research projects in Lam Dong Province's Da Lat City as the deputy prime minister overseeing science issues," Tran Le recalled.
Dr.Tran Le, the scientist who brought cherry blossoms to Dien Bien (photo: Dau Tuan)
The turning point in Le's journey with cherry blossoms was marked by a visit to Gen. Giap's house 30 years later, on occasion of the Lunar New Year 2005. In the conversation, they talked about growing and expanding rare flower varieties to help poor provinces escape poverty.
"I still remember Gen. Giap's advice when he urged me to visit Dien Bien: It is a must to research on seedlings that can contribute to the improvement of people's life. If you are able to find out rare and valuable flowers, vegetables and fruits seedlings, it is possible to expand their acreages to help many people benefit from the research achievements. Then, you can name your research Muong Phang," Le said.
He had promised Gen. Giap that he would concentrate on his research and not leave Dien Bien until he saw the results.
"Having spent eight years in hand tilling soil, setting up tents and a nursery garden, I have achieved encouraging early results," Le added.
To fulfill his promise, Le decided to leave Da Lat City and his family to grope different places in Dien Bien to experiment on various flower varieties.
He started growing cherry blossoms in Muong Phang Commune in 2006 after an official of Japanese embassy gifted him ten seedlings of cherry blossoms.
He later presented cherry blossoms seedlings to Dien Bien Agriculture and Rural Development Department to expand cherry blossoms acreage in other areas of the province.
Dien Bien tourism begins to blossom, partly thanks to the presence of cherry blossoms. (source: VIR)
To this effect, cherry blossoms have been successfully planted in the province's Tay Trang international border checkpoint.
In addition to cherry blossoms, Le and his company – Muong Phang Agriculture and Forestry Technology Joint-Stock Company – has planted and conducted research on more than 40 varieties of flowers. They include scarlet lily, orchids and peach blossom, with all intentionally named Muong Phang.
"I have been using my money to do research. I have neither borrowed money nor used the state budget. Absolutely not. This is my own research."
"I receive financial supports from friends. It is meaningless to keep the promises to Gen Giap simply to take budget from projects A, B, C. I want to name the flowers after Muong Phang in accordance with Gen Giap's wish," Le said.
Besides being a successful model of local agriculture, the presence of cherry blossom in Dien Bien province is a symbol of the friendship between Vietnam and Japan.
In the year 2014, the Japanese Cherry Blossom Association presented 1,000 cherry blossom trees as a gift to the northern mountainous province of Dien Bien, on the occasion of the 40th anniversary of Vietnam-Japan diplomatic relations and the 60th anniversary of the Dien Bien Phu Victory. This year, the Association has also presented 1,000 cherry blossom trees to the northern provinces of Yen Bai and Ha Giang.
Recently, Dien Bien Provincial People's Committee hosted the first ever cherry blossom festival in Dai Hoa, Pa Khoang commune (Jan 6-8) to celebrate the 45th diplomat relations establishment of Vietnam and Japan./.
( Phi Yen )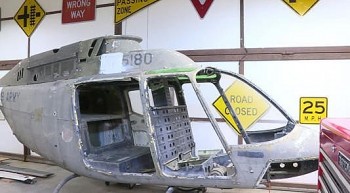 World
A piece of military history related to Vietnam is coming to life with a special project in a small Barton County townm in the US