Tourism stocks likely to heat up during peak season
Summer is the peak season for tourist companies and high sales and dividend rates are expected to drive tourism shares up in the coming months.
People flock to Đầm Sen Water Park in HCM City during the summer. — Photo dantri.com.vn
For many Vietnamese families, the hot weather between May and August is the most attractive time to travel and relax.
Right after the end of the Lunar New Year holiday, travel companies started offering enticing promotions for summer tours. This is the time of year they record the highest revenues from sales.
Tây Ninh Cable Tour Company (TCT) earned VNĐ93.7 billion in pre-tax profit in the first nine months of last year, exceeding its target for the year by 23 per cent.
Its share price climbed more than 19 per cent between May and August last year.
Đầm Sen Water Park Corporation (DSN), which operates the biggest water park in HCM City, posted total revenues of VNĐ109.6 billion (US$4.7 million) and pre-tax profit of VNĐ108 billion in the first three quarters last year, equivalent to 90 per cent and 93 per cent respectively of its targets for the whole year.
For the whole of 2018, it earned VNĐ216.6 billion in revenue and VNĐ95.7 billion in profit after tax. With these results, the company decided to pay a pidend rate of 65 per cent.
DSN shares fluctuated between May and August but remained high at around VNĐ54,000-VNĐ56,000 ($2.32-2.40) per share.
Shares of Hội An Tourist JSC (HOT), jumped more than 50 per cent from early May to early June, from VNĐ31,000 a share to VNĐ47,750 on June 6, but then declined to VNĐ29,000 in August.
Revenues and profits of the first three quarters of last year for Hội An Tourist accounted for about 80 per cent of the whole year's figures. By the end of September, it had earned VNĐ155 billion in total revenue and VNĐ17.3 billion in net profit.
Shares of Thành Thành Công Tourist JSC (VNG) and Superdong Fast Ferry Kiên Giang JSC (SKG) were also favoured by investors. Their share prices increased by between 20 and 30 per cent in the peak season.
There are 19 tourist companies listed on official and unofficial stock exchanges in Việt Nam. Most of their revenues are generated during the hot season and their business performance during this time has an impact on their share prices.
Pink prospect
Tourism is one of Việt Nam's key economic sectors, raking in VNĐ620 trillion in 2018, equivalent to 8.2 per cent of the country's gross domestic product (GDP).
It is expected to contribute 11.6 per cent to the nation's GDP and generate VNĐ1.47 quadrillion each year by 2025.
The number of international tourists to Việt Nam has been on the rise with an average growth rate of 27 per cent per year from 2015 to 2018. More than 4.56 million foreigners visited the country in the first three months of this year, representing year-on-year growth of 7 per cent.
While the prospects for tourism stocks are bright in general, many of them have not received much attention from investors.
Except Thành Thành Công Tourist and Superdong Fast Ferry Kiên Giang, which often see millions of shares change hands per day, liquidity of tourism stocks such as Hội An Tourist, Đầm Sen Water Park and Tây Ninh Cable Tour are very low.
Market analysts have said the low liquidity can be attributed to the fact that most listed tourism companies are small- and medium-sized enterprises with volatile business performance.
Meanwhile, the biggest companies such as Saigontourist, Hanoitourist and Vietravel have not yet been listed.
Saigontourist Holding Company, a State-owned enterprise under the management of the HCM City People's Committee, was asked to be equitised in 2018.
Under the plan, both Saigontourist and its subsidiary Saigontourist Travel Service Company would have made their initial public offerings last year, reducing the State capital level from 100 per cent to 65 per cent and then below 50 per cent by 2020. However, they missed the deadline.
Competition in the tourism industry is getting tougher and analysts have said shares of big companies would help attract investors, raising the liquidity of the whole sector.
VNF ( VNS )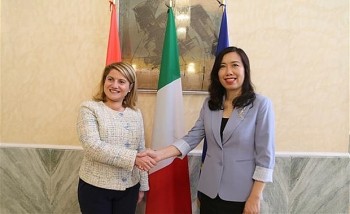 Friendship
The Vietnam - Italy political consultation is part of the occasion of the 50th anniversary of diplomatic ties and the 10th anniversary of the framework of the strategic partnership.