Trump hails US economic growth spurt, promises more ahead
President Donald Trump on Friday (Jul 27) hailed roaring U.S. economic growth as a "miracle", and said the quickest expansion in almost four years was a vindication of his economic agenda.
President Donald Trump on Friday (Jul 27) hailed roaring U.S. economic growth as a "miracle", and said the quickest expansion in almost four years was a vindication of his economic agenda.
U.S. President Donald Trump walks from Marine One as he returns from Kansas City, Missouri, to the White House in Washington, U.S., July 24, 2018. REUTERS/Joshua Roberts
With the size of the American economy now surpassing USD 20 trillion, GDP expanded by 4.1 per cent in the April-June quarter, making the United States the fastest-growing of advanced country, according to a government report.
"We're on track to hit the highest annual average growth rate in over 13 years," Trump said in remarks at the White House. "Everywhere we look, we're seeing the effects of the American economic miracle."
The second quarter acceleration came in part after the injection of stimulus and Republican tax cuts.
But economists warned it could be a blip caused by temporary factors, including a one-off bounce produced by Trump's trade confrontation with China.
The robust results put growth in the first half of the year at just over three per cent, matching a White House target and faster than the trend in previous years.
Trump said the United States was "the economic envy of the world," and "As the trade deals come in one by one, we are going to go a lot higher than these numbers and these are great numbers."
In the April-June period, consumer spending had its biggest bounce in nearly four years, with Americans buying more cars and spending more liberally on health care, housing, utilities, restaurants and hotels, according to the Commerce Department report.
Purchases of goods jumped 5.9 per cent - with the largest contribution coming from booming auto sales - while services rose 3.1 per cent.
But the report got another boost from an unusual source: strong exports which leapt 13.3 per cent, driven higher by foreign sales of oil and soybeans, which now face stiff Chinese tariffs.
Analysts said that increase was due to stockpiling by Chinese importers before Beijing's retaliatory tariffs on U.S. goods hit in July, which means trade is likely to fall off in the third quarter, dragging down the growth rate.
ACCELERATING IN A TRADE WAR
But Trump nevertheless focused on the sudden drop in the U.S. trade deficit as another triumph for his tough trade policies.
"Perhaps one of the biggest wins in the report, it is indeed a big one, is that the trade deficit, very dear to my heart because we've been ripped off by the world, has dropped by more than USD 50 billion," Trump said.
The report showed imports rose only 0.5 per cent, the smallest increase in two and a half years.
Also contributing to economic growth, spending by state and local governments rose 1.4 per cent.
The report fell short of the most bullish forecasts of five percent or higher, with which Trump had teased audiences at events in Iowa and Illinois as recently as Thursday.
The White House is counting on faster growth to pay for December's sweeping tax cuts by generating higher revenues. But federal tax receipts are already plummeting, widening the federal budget deficit, just as the costs of borrowing increase due to mounting interest rates.
Ian Shepherdson of Pantheon Macroeconomics said swings in inventories and trade, as well as the fading effects from the income tax cuts could put third-quarter growth at three percent.
"The message, then, is that if you borrow enough money from your grandchildren and throw it at the economy, it will grow faster, for a while," he wrote in a research note.
Diane Swonk, chief economist at Grant Thornton, said the growth rate was likely to meet the White House's three percent target and noted a sudden drop in business inventories in the second quarter pointed to a rebuild in the latter half of the year.
"The question is, how much are firms willing to stock up with the threat of a trade war?" she said in a research note.
Wall Street appeared unmoved by the data, with stocks mostly trading lower around 1500 GMT as investors digested a spate of earnings reports./.
VNF/AFP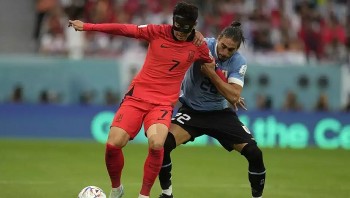 World
Both South Korea and Ghana are searching for their first wins at this year's World Cup. Ghana are facing the prospect of an early elimination from World Cup 2022 Group H when they travel to the Education City Stadium to face South Korea on Monday.