US gives sanctions to Iranian Foreign Minister
The US put sanctions on Iranian Foreign Minister, Mohammad Javad Zarif on Wednesday, as on the website of the Office of Foreign Assets Control of the US Treasury Department. The sanctions included travel bans, freezing properties and interests in the US and blocking the contacts between the US's firms and Zarif 
The United States has imposed sanctions to Iran's Foreign Minister Mohammad Javad Zarif on July 31 which pointed the new level of the tension between the US and Iran.
Photo: AFP
The US Treasury Secretary Steven Mnuchin stated "Javad Zarif implements the reckless agenda of Iran's Supreme Leader, and is the regime's primary spokesperson around the world. The United States is sending a clear message to the Iranian regime that its recent behavior is completely unacceptable."
After the US's sanctions were announced, Javad Zarif presented his challenged response to the US in the Twitter "The US' reason for designating me is that I am Iran's 'primary spokesperson around the world.' Is the truth really that painful? It has no effect on me or my family, as I have no property or interests outside of Iran. Thank you for considering me such a huge threat to your agenda"
In addition, the spokesman of Iran's Foreign Ministry Abbas Mousavi even called the US's sanctions was "The peak of stupidity and inconsistency of America's leaders".
The sanctions of the US to Javad Zarif demonstrated the new escalation of the US – Iran tension and may affect the possibility of diplomatic talks between two countries after the US got out of the 2015 nuclear deal in 2018 to re – impose economic sanctions on Iran, especially on oil export.
Iran retaliated this US's action by warning to gradually break the nuclear deal and restarted its nuclear programs.
The tension between two countries did not decrease when the US shot the Iranian drone down in the Persian Gulf on July 18. Iran then conducted its Shahab - 3 medium – range missile test on July 25 despite the crisis in the Gulf.
Reuters, AFP, Aljazeera ( Van Nguyen )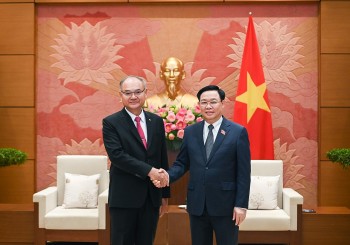 National
A Thai delegation is visiting Vietnam to learn about the guidelines and policies in the fight against corruption in Vietnam; exchange experiences with relevant Vietnamese agencies.