US high-ranking official condemns China's maritime surveys near Vanguard Bank of Vietnam
David Stilwell, assistant secretary of state for East Asian and Pacific affairs at the Department of State condemned China's survey vessel group conducted maritime surveys near Vietnam's Vanguard Bank.
In a hearing on "US Policy in the Indo-Pacific: Hong Kong, Alliances and Partnerships, and Other Issues", David Stilwell, assistant secretary of state for East Asian and Pacific affairs at the Department of State condemned China's survey vessel group conducted maritime surveys near Vietnam's Vanguard Bank.
David Stilwell, assistant secretary of state for East Asian and Pacific affairs at the Department of State. Photo: Yonhap
In his statement before the Senate Foreign Relations Committee, Assistant Secretary David Stilwell Bureau of East Asian and Pacific Affairs (US Department of State) on September 18, stressed that as the President Trump's National Security Strategy makes clear, US is especially concerned by Beijing's use of market-distorting economic inducements and penalties, influence operations, and intimidation to persuade other states to heed its political and security agenda. Beijing's pursuit of a repressive alternative vision for the Indo-Pacific seeks to reorder the region in its favor and has put China in a position of strategic competition with all who seek to preserve a free and open order of sovereign, perse nations.
Since early July, Chinese vessels have conducted maritime surveys near Vanguard Bank (Bai Tu Chinh in Vietnamese) with armed Coast Guard escorts and maritime militia in order to intimidate Vietnam and other ASEAN states away from developing oil and gas resources in the South China (East) Sea. Through repeated illegal actions and militarization of disputed features, Beijing has and continues to take actions to prevent ASEAN members from accessing over USD 2.5 trillion in recoverable energy reserves.
According to Stilwell, economically, the Chinese government uses an arsenal of policies inconsistent with free and fair trade, including market access restrictions; opaque, discriminatory regulatory processes; currency manipulation; forced technology transfer; intellectual property theft; and creation of non-market excess industrial capacity to build Beijing's manufacturing base at the expense of its competitors. Through initiatives such as One Belt One Road, Beijing has flooded much of the developing world with hundreds of billions of dollars in opaque infrastructure loans, leading to problems such as unsustainable debt burdens and environmental destruction and often giving Beijing undue leverage over countries' sovereign political decisions. He added that US welcome fair and open economic competition with China, and economic engagement between China and other countries that adheres to international best practices such as transparency, responsible lending, and sustainable environmental practices. But where China acts in a manner that undermines these principles, US is compelled to respond.
Beijing's military modernization continues at a break neck pace, US Assistant Secretary said. Its exercises in the region are increasingly complex and clearly intended not only to deter US efforts to sustain our forward presence in the region, but to signal to other countries, and to the authorities on Taiwan, that they are under direct threat. Beijing's conduct is at odds with its public narrative of a "peaceful rise."
Meawhile, US Senate Jim Risch, Chairman of the Senate Foreign Relations Committee in his opening statement, hightlighted that the Indo-Pacific – home to the three of the world's largest economies and five of the United States' seven treaty allies – would be important to the United States even if China was not a factor. US has a significant interest in building on the alliances, partnerships, and connections that have grown between the United States and the region for over two hundred years.
He took Idaho – his home state – as an example, saying that it has long and deep U.S. ties with the Indo-Pacific. The value of Idaho's exports to Asia was USD 2.1 billion in 2018 – more than 80% of Idaho's exports are sold directly to countries in the Pacific Basin. Multiple Indo-Pacific countries have deep and longstanding economic investments in Idaho. In fact, Taiwan (China) is Idaho's second largest source of foreign investment, exceeded only by Canada. And since 2009, Idaho have been home to a Singaporean F-15 training squadron at the Mountain Home Idaho Air Force Base.
"Idahoans are familiar with some of the challenges posed in this region as well. An example I raise often is Micron technology, based in Boise. Their intellectual property was stolen by a Chinese company, who then patented that technology in China and sued Micron. This example speaks to the importance of the United States remaining economically engaged with the region. It is imperative that we work to ensure open markets, fair trading practices, and most importantly the rule of law and adherence thereto. Anything less is unacceptable."
"We have to maintain our focus on safeguarding the global commons, especially in light of China's assertive behavior in Vietnam's exclusive economic zone," Senate Jim Risch pointed out.
Chinese survey vessel group Haiyang Dizhi 8.
Vietnam resolutely opposes Chinese survey vessel group Haiyang Dizhi 8's continued serious violations of Vietnam's sovereignty right and jurisdiction in territorial waters as defined in the 1982 United Nations Convention on the Law of the Sea (UNCLOS), the Foreign Ministry's spokeswoman Le Thi Thu Hang has said on September 12.
Vietnam had made its point about the negative effects caused by the activities of the Chinese vessel group to the bilateral relations as well as to peace, security and stability in the East Sea and the region, Hang said.
"For those reasons, Vietnam demands China to immediately stop its serious violations and withdraw all of the vessels from Vietnam's territorial waters," she stressed.
Regarding China's recent statements on Vietnam's economic activities in its territorial waters, the spokeswoman affirmed that Vietnam has conducted all of its maritime economic activities, including oil and gas exploitation, well within the exclusive economic zone and continental shelf in accordance with the provisions of the UNCLOS to which both Vietnam and China are signatories.
She emphasized that the UNCLOS is the sole legal basis for nations to identify their waters. This has been followed by nations and is recognized by both international courts and prestigious international lawyers.
No nation can make claims about waters that go beyond what has been regulated by the UNCLOS, the Spokesperson stressed.
All the illegal claims, which are not in accordance with the UNCLOS, can not constitute the basis for asserting the existence of disputed or overlapping waters. All activities interrupting Vietnam's oil and gas activities in its waters are violations of international law and the UNCLOS, Hang said.
The Chinese geological survey vessel group returned to Vietnam's exclusive economic zone and continental shelf on August 13, less than a week after leaving Vietnam's waters.
Vietnamese competent forces continued deployment of measures to secure the country's sovereignty, sovereign rights and jurisdiction in line with international law and Vietnam's law, according to Hang.
With the determination to protect its legitimate rights and interests and to contribute to peace, stability and security in the region and the world, Hang stated that Vietnam always stands ready to settle differences through all peaceful measures in accordance with international law.
She went on to say Vietnam asks relevant parties and the international community to proactively and practically contribute to maintaining order, peace, and security in the region as well as security and freedom of navigation and aviation, and respecting the rule of law in the East Sea in line with the international law, especially the 1982 UNCLOS./.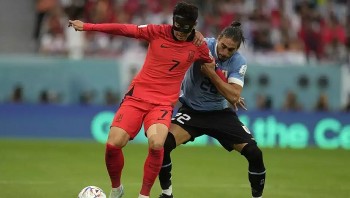 World
Both South Korea and Ghana are searching for their first wins at this year's World Cup. Ghana are facing the prospect of an early elimination from World Cup 2022 Group H when they travel to the Education City Stadium to face South Korea on Monday.