US to impose tough sanctions to cut support of Iranian oil tanker
The US Department of State had announced to impose hard sanctions to any country if helping Iran's Adrian Darya 1 oil tanker when it is crossing through Mediterranean. It said "The shipping sector is on notice that we will aggressively enforce U.S. sanctions".
The US had asserted to give forceful punishment to block Iran's oil tanker Adrian Darya 1 from receiving support while sailing through Mediterranean.
Photo: Radio Farda
It emphasized "All parties in the shipping sector should conduct appropriate due diligence to ensure that they are not doing business with nor facilitating business for, directly or indirectly, sanctioned parties or with sanctioned cargo".
According to ship tracking data, Iranian oil tanker Adrian Darya 1 had been going to Greece, however, Greek Prime Minister Kyriakos Mitsotakis confirmed the tanker was "not headed for Greece".
Greece had also denied not assisting the Iranian oil tanker. Greece's deputy foreign minister Miltiadis Varvitsiotis said Greece was "not willing to facilitate the course of this ship to Syria".
The Iran oil tanker Adrian Darya 1, formally named Grace 1 was released by Gibraltar authority after having been capture by British Royal Marines as considering it transferred oil to Syria which breaking EU sanctions even though the US had issued a warrant to seize it.
Iran had presented its disagreement to the US's purpose of holding the oil tanker by warning the US would have "grave consequence".
Iran's ILNA news agency afterward the oil tanker was leased to an Iranian shipping firm, correcting to the earlier statement that Adrian Darya tanker was leased to Revolutionary Guards.
Although Rear Admiral Hossein Khanzadi, Iranian Navy commander had said it "ready to escort" the tanker, Alizera Tangsiri, head of Navy of Revolutionary Guards told ILNA "The Adrian Darya vessel needs no escort".
Reuters, Fox News, France 24 ( Van Nguyen )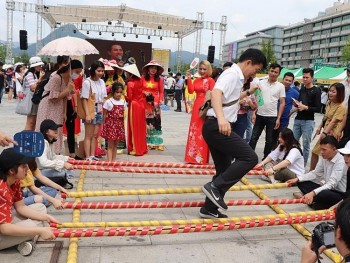 Focus
Vietnam Days Abroad is an annual national promotion program hosted by the Ministry of Foreign Affairs since 2010.