Việt Nam social mobility slowing: report
Though Việt Nam's economy has grown rapidly over the last decade, social mobility is lagging as the country's poor still lack access to learn new skills and gain better jobs.
Though Việt Nam's economy has grown rapidly over the last decade, social mobility is lagging as the country's poor still lack access to learn new skills and gain better jobs.
Two H'mong ethnic minority women in the northern mountainous province of Lào Cai's Bắc Hà District. A new report on social mobility and equality shows that ethnic minority groups are still trailing behind the majority Kinh ethnic group in access to skill learning and subsequently better employment. — VNS Photo Việt Thanh
A new report "Social Mobility and Equality of Opportunity in Việt Nam: Trends and Impact factors" launched by Oxfam on Thursday highlighted the problem and the threat it poses to the country's sustainable growth.
The report consolidates data from the Việt Nam Household Living Standards Survey 2004 -14 and interviews with about 700 people over the last two years in three provinces of Lào Cai, Nghệ An and Đắk Nông in the north, central and Central Highland regions, respectively.
Social mobility is defined as a change in the social status of an inpidual or household. Social mobility can refer to a change an adult experiences as compared with his/her parents – intergenerational social mobility – or a change over a single person's life cycle – intra-generational social mobility.
In the Oxfam report, social mobility is analysed in three areas, namely occupation, skills and income.
According to the report, in Việt Nam, occupational mobility is limited, with 79 per cent of agriculture workers in 2004 continuing to work in agriculture in 2008, and even rising to 83 per cent during 2010 – 14 period. Meanwhile, less than eight per cent of agriculture workers moved into the industry or service sectors during either period.
The country saw slow improvement in skill development. The survey showed that during each period, 2004-08 and 2010-14, only a fifth of manual workers joined the ranks of skilled workers in either blue-collar or white-collar fields.
The problem is especially acute for members of ethnic minority groups. During 2004-08, just 2 per cent of manual workers from ethnic groups moved from manual agricultural work to blue collar work while the figure for Kinh people was 15 per cent.
In the three provinces surveyed, making the shift from a farm job to an industrial or service position was not necessarily a step forward.
Youth frequently migrated to work as unskilled or low-skilled workers in garment and footwear or assembly factories for several months or years and then they returned to their hometowns due to harsh factory working conditions, obligations to their parents or the perceived instability of life at their new residence.
The report also states that income mobility has slowed down. About 45 per cent of households in the poorest group in 2004 moved to higher income quintiles after four years, but this rate was reduced to 37 per cent during 2010-14.
About 33 per cent of the poorest households headed by people under age 30 entered higher income groups in 2004-08, but only 16 per cent did so during 2010-14.
Income mobility is higher in urban areas than in rural areas and higher in the Kinh and Hoa groups than in ethnic minority groups.
Girls are more likely than boys to make higher incomes than their parents.
The greater a child's educational attainment, the more likely they are to surpass their parents' income.
Hoàng Xuân Thành, who led this report, said that social mobility was a measure of equality of opportunity because it reflects how opportunities are converted into social and economic outcomes.
"In an equal society, everyone has an equal opportunity to achieve economic and social status. Wealth and social position are decided by characteristics, efforts and achievements of inpiduals, not by external factors such as region, ethnicity, gender or parent's position," he said.
The Gini coefficient of Việt Nam was 0.348 in 2014 against 0.326 in 1993, according to World Bank. Income inequality between the 20 per cent richest households and the 20 per cent poorest households increased from 7 times to over 8.5 times during 2004- 2010 and was unchanged between 2012 and 2014.
Thành said that with a Gini of 0.34, it was time for Việt Nam to take stronger actions to reduce inequality. The Gini coefficent measures relative income inequality and is calculated based on income distribution among the total population. Gini=0 means absolute equality and Gini=1 means absolute inequality.
Income inequality between the Kinh and Hoa ethnic groups and other ethnic minority groups also rose slightly from 2.1 times to 2.3 times during the 2004-2014 period.
Thành said that educational attainment, parents' socioeconomic status and the ability to pursue multiple types of employment were three core elements driving social mobility in Việt Nam.
Poor quality education, discrimination against ethnic minorities and a great disparity between the poor and the rich in terms of access to education are major barriers to social mobility.
Sociologist Đỗ Thiên Kính said that economic inequality reflected social mobility and social stratification. Economic inequality is inversely proportional to social mobility.
In order to develop a stronger middle class, private businesses should be given resources and opportunities to develop because they have the ability to create more jobs and encourage people from lower class to thrive upward, Kính said.
Economist Phạm Chi Lan said that inter-generational occupational mobility is low because the economic structure in Việt Nam has changed slowly in the last few decades, with a small proportion of labourers moving from the agricultural sector to industry and service sectors. The agriculture sector still makes up a high proportion of Việt Nam's economic structure.
Moreover, when moving to industry or service sectors, a majority of labourers work in fields which require unskilled or low-skilled labour such as mining, food processing, assembling and simple trade and
hospitality services. The work generates little value-added, resulting in low productivity, which fails to improve income and encourage labourers to improve their skills.
Country director of Oxfam in Việt Nam Babeth Ngọc Hân Lefur said that Việt Nam could achieve an increase in desirable social mobility if policy makers realise the great importance of the role of education, quality vocational training, a support mechanism for migrant workers and the need to reduce disparities between urban and rural areas and between Kinh and ethnic minority groups.
"Tackling inequality before it becomes too deep is urgent," she said./.
VNF/VNS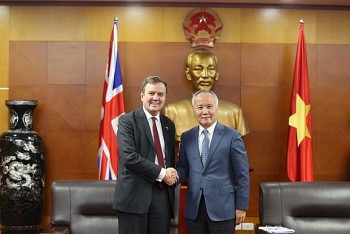 Economy
UK ready to boost CPTPP's economic firepower, said the Trade Minister on Vietnam visit