Vietnam, Cuba and the unchanged friendship
(VNF) – Two countries, located on the West and the East of the globe, despite the huge distance, Vietnam and Cuba are still close to each other like brother. Throughout all challenge, decades have passed, the hard-to-find friendship keeps flourishing.
(VNF) – Two countries, located on the West and the East of the globe, despite the huge distance, Vietnam and Cuba are still close to each other like brother. Throughout all challenge, decades have passed, the hard-to-find friendship keeps flourishing.
Standing by each other during wartime
The bilateral relations between Cuba and Vietnam was established on December 2, 1960.
In the last 57 years, the two nations have been unwaveringly standing by each other's side, through thick and thin.
In Cuba, the hallmark of Vietnam, particularly the image of President Ho Chi Minh can be found in many places, including the statue of President Ho Chi Minh and Ho Chi Minh primary school in the capital city La Habana.
There is a famous saying: "A friend in need is a friend indeed". And it is perfectly true in the case of Vietnam and Cuba.
Looking back on the 1960s, while the US was heavily bombarding Vietnam, despite dangers, Cuban vessels kept regularly arriving in Hai Phong harbour, transporting necessary commodities donated by Cuban people to Vietnamese people.
At the same time, Cuba sent its experts in transportation to Vietnam, to join hand with soldiers to expand the Ho Chi Minh road.
Many doctors and nurses from Cuba volunteered to travel to Vietnam to save local victims of war.
In the 1960s and 1970s, there were a lot of campaigns launched by Cuban government and people to support Vietnam, being carried out in various formats, such as demonstration, forum, donations.
For instance, Cuba had helped Vietnam train over 1,000 undergraduates and graduates, and lended strong supports for Vietnam in the journey of becoming a member of the United Nations.
In 1973, President Fidel Castro had a historic trip to Quang Tri - a central province of Vietnam, when the resistence war against the American imperialist was at the fiercest stage.
Until now, he was still the first and only national leader in the world who visited a newly liberated area in the country.
"Cuba is even willing to devote its blood for Vietnam." Fidel Castro once said.
Fidel Castro visited Quang Tri in 1973 (source: VNA)
Since 1973, Cuba has reached hands to support Vietnam in building several key infrastructures for the post-war recovery and development, including Thang Loi Hotel (West Lake, Hanoi) and Vietnam Cuba hospital (Dong Hoi, Quang Binh).
Thang Loi was inaugurated in July 1975, as a symbol of friendship between two countries, completed with the dedication of a Cuban team of engineers, architects and workers.
In the 1980s and early 1990s, Thang Loi hotel was the first hotel in the hospitability sector in Hanoi. Nowadays, the hotel keeps growing and maintaining its prestige as an ideal accomodation for international friends who visit Vietnam, including important guests of the government, party.
Besides Thang Loi Hotel, the Vietnam-Cuba Friendship Hospital (inaugurated in 1981) in Dong Hoi, Quang Binh province, is another special symbol of the Vietnam-Cuba's ties.
Nowdays it has become a first-class general hospital under the Ministry of Health, a reliable healthcare facility for people in the central regions (from south of Ha Tinh province to North of Quang Tri).
According to Yolanda Ferrer, President of the Cuba-VN friendship association: "In those years, the campaigns to support Vietnam were very vibrant, every of us wished to contribute to the movement. Cuba government has embedded the movement into people's life. For example, the Cuban Women Association had launched the slogan "From Cuban fields, we send our greeting to the heroic Vietnam."
In Cuba, anyone who had been to Vietnam is admired, as it was a big honor, she added.
Cuban senior journalist visiting the People's News (source: NDO)
In early 1990s, the former Soviet Union and socialist republic countries in Eastern Europe collapsed, US tighten their sanction against Cuba.
At the same time, Cuba suffered from numerous natural disasters, which led to an extremely challenging period.
Under the circumstances, the Party, State, Fatherland Front and the people of Vietnam had done their utmost to assist Cuban people in overcoming adversity. Tonnes of necessary goods including rice, clothes, stationery, computers, among others, were sent to the friend country during the difficult years, symbolizing both materialistic and spiritual supports.
Enhancing cooperation at present
Vietnam is currently the second biggest trade partner of Cuba in Asia.
According to a report from the Ministry of Planning and Investment, by December 2015, Cuba has 1 investment project in VN, with total registered capital of USD 6.6 millions (ranked 75/110).
According to the General Department of Customs, twoway trade value between two countries in 2014 was USD 207.46 million, with rice being the major product.
Most Vietnamese goods exported to Cuba are rice, coal, chemicals, computers, garments.
Meanwhile, major imports from Cuba are medicines.
In terms of direct investment to Cuba, Vietnam has been executing an oil exploration project in the country.
Vietnamese Minister of National Defense Ngo Xuan Lich meeting Cuban Minister of Revoluntary Armed Forces in March 2017 (source: PANO)
Nowadays the cooperation between Vietnam and Cuba has been extended to multi fields, including economics culture, education, science – technology.
In 2015, Vietnam helped Cuba to carry on a project of household's rice-planting, aim to complete part of the food security roadmap.
In 2013, the Viettel company signed a Memorandum of Understanding (MoUs) with the Cuban telecom group Etesa to establish partnerships.
For Cuba's part, the country has been lending vast support to Vietnam in developing the manufacturing of sugar cane, and other health care programme.
Furthermore, the ties in national defense between two countries are greatly cultivated, with more exchange program in different fields including national defense industry, cyber operation, human resource training.
Recently, the Vietnam and Cuba have been working together to exchange experiences in construction management, as one of the key goals approved at the VII Party Congress of Cuba is "infrastructure development".
Currently, the two countries taking part in the 35th Intergovernmental Committee Meeting, which is expected to bring abundant opportunities for cooperation in the spheres of economics, trade, investment, education, health, construction and agriculture./.
( Translated by Phi Yen )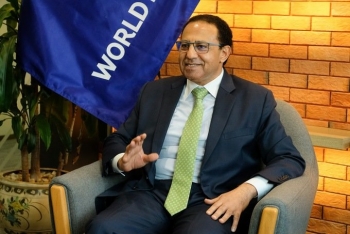 Economy
Vietnam's agriculture is transforming from quantity targets towards profit, environment and farmer income targets. Ahmed Eiweida, Vietnam Sector Leader for Sustainable Development (World Bank).