Vietnam firmly protects sovereignty in East Sea: Deputy Spokesperson
VNF/CPV
Vietnam's authorised agencies are tasked with firmly safeguarding the country's sovereignty, sovereign rights, and jurisdiction in the East Sea, Foreign Ministry Deputy Spokesperson Pham Thu Hang told reporters at a regular press conference in Hanoi on January 8th.
Foreign Ministry Deputy Spokesperson Pham Thu Hang
She was responding to the reporters' question regarding China's drilling rig Haiyang Shiyou-981's movement in international waters into the East Sea.
Hang said as a party to the 1982 United Nations Convention on the Law of the Sea (1982 UNCLOS), Vietnam has always fully implemented all of its rights and obligations in line with international law, contributing to peace, stability, security, freedom and safety of navigation in the East Sea.
The country pursues the consistent policy of solving East Sea issues by peaceful measures on the basis of internationally-recognised principles, especially the 1982 UNCLOS and the Declaration on the Conduct of Parties in East Sea (DOC).
She added Vietnam determinedly opposes acts that violate its sovereignty, sovereign right and jurisdiction in the waters.
China's rig Haiyang Shiyou-981 was illegally positioned in Vietnam's continental shelf and exclusive economic zone in early May, 2014 and then move out of Vietnam's waters on July 16th, 2014./.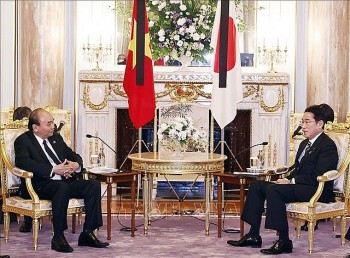 Friendship
Vietnam always treasures the extensive strategic partnership with Japan and views Japan as an important and long-term strategic partner, President Nguyen Xuan Phuc told Japanese Prime Minister Kishida Fumio in Tokyo on September 26.