Vietnam, Laos join forces to crack multinational drug ring
Over 50,000 ecstasy pills and a kilo of crystal meth was seized in the raid last Sunday.
Over 50,000 ecstasy pills and a kilo of crystal meth was seized in the raid last Sunday.
The five suspects are captured by the authorities. Photo by VnExpress
A joint effort by border defense forces from Vietnam and Laos ended in a massive drug bust along a multinational route near the border of the two countries last Sunday.
Quang Tri Province's Defense Force said on Monday they had arrested five Lao nationals over the border in Salavan Province and seized 50,600 ecstasy pills and one kilogram of crystal meth, along with one K59 semi-automatic pistol, eight bullets and two cars.
The investigation found the five inpiduals were part of a transnational drug cartel involving Thailand, Laos and Vietnam. The suspects have been handed over to authorities in Laos.
Vietnam is a key trafficking hub for narcotics in and around the "Golden Triangle," which covers Laos, Thailand and Myanmar, one of the world's largest drug producing regions. In February, local media reported that five men were arrested in Vietnam for allegedly attempting to smuggle $2.5 million worth of heroin into China after police shot at their drug-packed vehicle as they tried to flee.
Vietnam has some of the world's toughest drug laws. Those convicted of possessing or smuggling more than 600 grams of heroin or more than 2.5 kilograms of methamphetamine face the death penalty. The production or sale of 100 grams of heroin or 300 grams of other illegal narcotics is also punishable by death./.
VNF/Vnexpress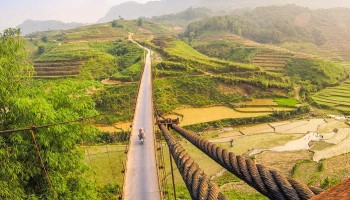 Travel
Visitors rate the 7 most amazing roads in Vietnam, weaving through mountains, jungles, and beaches, according to Lonely Planet magazine.