Vietnam literature fosters international friendship
Vietnamese literature is about patriotism and humanity, Chinese translator Zhu Yang-xiu said at an international conference held yesterday in Hanoi.
Vietnamese literature is about patriotism and humanity, Chinese translator Zhu Yang-xiu said at an international conference held yesterday in Hanoi.
Words of wisdom: Poet Nguyen Trong Tao (right) presents a work at the second Asia Pacific Poetry Festival at the Hanoi Opera House yesterday. — VNS Photo Truong Vi
The conference was organised by the Vietnam Writers' Association, with the aim to offer a panoramic view of Vietnamese literature for international friends, promote the quintessence of Vietnamese literary works and look for translation opportunities.
The conference also drew international writers, poets and translators, who are interested in Vietnamese literature. It provided a chance for foreign and domestic authors to exchange and learn from each other.
Among the 150 representatives from 43 countries and territories attending the conference, Zhu was the only one, who used Vietnamese in his speech frequently.
He praised the late President Ho Chi Minh for his role in leading the country to liberation and for its great literary works.
Zhu has translated many works, especially those composed by President Ho, from Vietnamese to Chinese during the last two decades.
"I find the common thing between us, authors from five continents attending this conference, is that we're all interested in Vietnamese literature and desire to promote it in the world," he said.
"Vietnamese literature reflects the country's history; it supported the national liberation and praises beauty and humanity."
Zhu was born in 1943 and teaches Vietnamese language and culture at the Nanjing University. He said translating Vietnamese literature makes his life meaningful and joyful and gives him a reason for living.
"I'm over 70, but I won't stop promoting Vietnamese literature in my country," he said.
Poet Fernando Rendon, head of the delegation from Columbia, said he has been able to understand Vietnam's history and culture through its literature.
"When I was young, I learnt about My Lai massacre in 1968 (American soldiers killed more than 500 My Lai villagers, including women, elders and children) and the US napalm bomb strike in southern Vietnam," he said.
"I know how the Vietnamese people love and respect peace through their stories and poems, and I also revere President Ho, who led the national revolution."
"Vietnamese literature played an important role in the success of the revolution and the country's establishment. It also helped enrich the world's civilised literature," Rendon stated.
Other delegates shared the same opinion that Vietnamese literature expresses the desire and love for peace of the Vietnamese people. They also appreciated the role of literature in easing pain, connecting cultures and enhancing friendship between countries.
"The world will be more peaceful if there are more writers and poets," said writer Mohamed Salmawy, head of the Egyptian delegation.
Poet Kevin Bowen from the US was grateful for the chance to attend the conference, which allowed authors to exchange their ideas with each other, escaping from their work environment, which is often isolated.
"Here, we share the friendship, while the world out there is seeing so much of violence and conflict," he pointed out.
The conference was followed by the Asia Pacific Poetry Festival, also held last night at the Hanoi Opera House, where poets recited their work.
The conference will continue today with two workshops on Vietnamese poetry and prose.
Dtinews.vn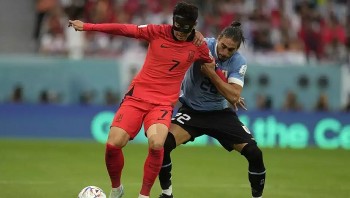 World
Both South Korea and Ghana are searching for their first wins at this year's World Cup. Ghana are facing the prospect of an early elimination from World Cup 2022 Group H when they travel to the Education City Stadium to face South Korea on Monday.