Vietnam wins Asia-Pacific robot contest for sixth time
The victory of the Lac Hong University students marks the sixth time a Vietnamese team has won the contest.
A group of university students from the southern province of Dong Nai have won the Asia-Pacific robot contest, known as Robocon, held in Tokyo, Japan.
This year's competition attracted 16 teams from 15 countries and regions to compete in a "landing disc" contest, in which each team was required to build robots that can throw flying discs to hit beach balls from seven spots on a field.
In the final round, the Vietnamese team defeated a Malaysian team, as the Vietnamese robot finished the round with a perfect score in only 1 minute and 20 seconds.
The Lac Hong University team who won the 2017 Asia-Pacific robot contest (Robocon), bringing Vietnam its sixth championship (Photo: nhandan.com.vn).
Japan and Thailand claimed second and third position, respectively.
Vietnam took part in the competition every year since its first season in 2002.
Three of the five previous championships were claimed by Ho Chi Minh City University of Science and Technology (2002, 2004, 2006), while Lac Hong University won in 2014, and Hung Yen University of Technology and Education triumphed the following year.
Next year Robocon will be held in Vietnam, themed "Throwing con" – inspired by a popular folk game among northern ethnic minority people during festivals, in which, players throw a ball through a ring on top of a 15-20m tall bamboo pole./.
( VNF/VNA )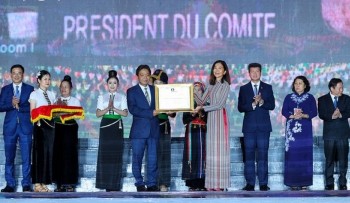 Viet's Home
UNESCO presented Vietnam a certificate recognizing Xoe Thai dance as an Intangible Cultural Heritage of Humanity at a ceremony held in Yen Bai province on September 24.