Vietnam wins int'l award on tobacco control
The Health Ministry of Vietnam has won an award of the Bloomberg Philanthropies for its efforts in monitoring tobacco use and prevention policies.
The ministry is among six winners of the Bloomberg Philanthropies Awards for Global Tobacco Control, which were announced at a ceremony in Cape Town, South Africa on March 7, as part of the 17th World Conference on Tobacco or Health.
Minister of Health Nguyen Thi Kim Tien (blue long dress) at the award ceremony (Source: http://suckhoedoisong.vn)
Receiving the award at the ceremony, Minister of Health Nguyen Thi Kim Tien delivered thanks to the World Health Organisation, the Bloomberg Philanthropies and domestic and international organisations for their support of Vietnam during the fight to control tobacco harms in particular and non-communicable diseases in general.
The five other winners came from El Salvador, Mexico, Senegal, Uganda and Argentina.
The Vietnamese Health Ministry actively worked with other ministries, agencies and socio-political organisations to draft a law on the prevention of tobacco's harms. The law, which has been adopted by the National Assembly, bans all smoking in indoor public space along with tobacco advertisement, promotion and sponsorship, among other stipulations.
The ministry also helped with the establishment of the Vietnam Tobacco Control Fund with mandatory contributions from tobacco production and trading companies.
A global survey revealed that the smoking rate among adult men has dropped to 45.3 percent from the previous 47.4 percent. The rate of passive smoking in working places also reduced to 42.6 percent from 55.9 percent, while passive smoking at home declined to 59.9 percent from the previous 73.1 percent./
( VNF/VN Plus )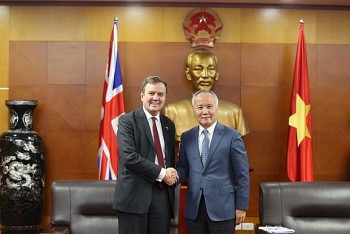 Economy
UK ready to boost CPTPP's economic firepower, said the Trade Minister on Vietnam visit