Vietnamese, Cuban women's unions foster bonds
A delegation from the Vietnamese Women's Union (VWU) have recently paid a visit to their Cuban counterpart to cement their bond.
(VNF) - A delegation from the Vietnamese Women's Union (VWU) have recently paid a visit to their Cuban counterpart to tighten their bond.
During their stay from July 4 to 9, the Vietnamese delegation, led by Nguyen Thi Thanh Hoa, VWU Chairwoman, partook in several meetings with the National Secretariat of the Cuban Women's Unions (CWU), the Women's Publishing House, and others relevant agencies at the central and grassroots levels.
The two sides highlighted the joint progress achieved in bettering the lives of women in the two countries.
At these meetings, Hoa congratulated her host on the notable achievements garnered regarding gender equality, as well as the CWU's marked contributions to improving Cuban women's living standards and spiritual life.
The Vietnamese women union's chairwoman briefed her host on gender equality issues in Vietnam and the country's efforts to combat domestic violence and gender discrimination.
Chairwoman of the Vietnamese Women's Union Nguyen Thi Thanh Hoa (Photo: VNA)
Hoa also shared the VWU's experience in pooling resources to provide support for women in the course of socio-economic development and international integration.
She also extended an invitation to the CWU's representatives to attend the "Women for Peace and Development" Forum.
The forum is slated to take place in Vietnam in October in commemoration of the 85th founding anniversary of the Vietnam Women's Union (October 20).
The VWU donated US$15,000 in support to Cuban women.
Other activities during the delegation's visit to Cuba included laying wreaths at late President Ho Chi Minh's memorial in Havana's Peace Park, and meeting with the Vice Chairwoman of the Cuban Parliament, Ana Machado.
The Cuban Women's Union is tasked with safeguarding Cuba's revolutionary achievements, striving for gender equality, guaranteeing assistance to needy households and combating domestic violence.
The union now has a membership of four million, with 90 per cent of them aged 14 and above.
Despite overwhelming difficulty, the Cuban union has effectively adopted models to offer local women vocational training, and thrives on the assistance and counseling of local politicians, educational experts, lawyers and psychologists.
Domestic violence and sex-based discrimination in Vietnam also remains rife./.
by VNF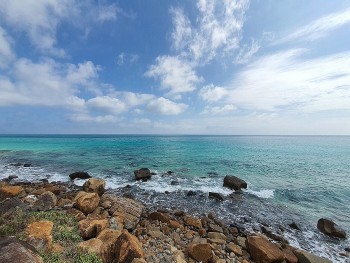 Viet's Home
Con Dao, a historical and famous island situating in the southern province of Ba Ria - Vung Tau, has been named among the top 16 best island vacations in the world, as compiled by tourism magazine Condé Nast Traveler (CNTraveler) of the United States.