Vietnamese enterprises participate in ASEAN-India Expo and Forum 2017
(VNF) - The High Quality Vietnamese Product Business Association, for the first time led a business delegation that will participate in the 2017 ASEAN-India Expo and Forum held in Bangkok from August 2-5.
(VNF) - The High Quality Vietnamese Product Business Association, for the first time led a business delegation that will participate in the 2017 ASEAN-India Expo and Forum held in Bangkok from August 2-5.
The ASEAN-India Expo and Forum, themed "Creative and Digital" was held from August 2 to 5 at the Queen Sirikit National Convention Center in the Thai capital of Bangkok, as one of the activities celebrating the 25th anniversary of India-ASEAN relations.
The event focused on 8 key business sectors: agriculture and foods, textiles and textiles machinery, jewellery; healthcare; building material & infrastructure; agriculture; fragrances and flavours science & technology.
There were nearly 160 booths representing different industries of ASEAN member countries and India.
The Vietnamese delegations consisted of around 20 enterprises, including Bibica Confectionary, the Bich Chi Food and the footware manufacturer BinhTien Inmex Corp.
Visitors visiting Vietnamese pavilion (source: bizvn)
The Vietnamese delegations also took the ocassion to promote the country's image as well as specific cultural, culinary and tourism features, and introduce Vietnamese products with geographical indication status, national cuisine programmes, organic products, and porcelain.
The national pavilion also showcased 44 producers who make products that qualify as "high-quality Vietnamese goods - integration standards".
On August 3, Thai Prime Minister Prayut Chan-o-cha gave a keynote address while India's Minister of Commerce and Industry Ms. Nirmala Sitharaman presented opening remarks and participated in the roundtable discussion.
"ASEAN and India are both essential parts of the world's economy," said Prime Minister Chan-o-cha. "If they can work together in harmony, it will generate a very powerful force and be a very large market that can drive the world economy forward at an incredible speed. It will certainly bring about a change in terms of both economy and society."
He added that the application and implementation of ASEAN and India's potential for mutual prosperity needs to be developed from the very foundations in the following aspects: the development of digital government to facilitate, answer needs, and reduce opportunity cost within the private sector; the development of innovation and technology by injecting research and development (R&D) funds in the development of ecosystems, agriculture, and small and medium-sized enterprises (SMEs); and the development of human resources to deal with increasing challenges and opportunities in the modern age of the Internet of Things amid a volatile global economic situation.
Biti's is one of the business representing Vietnam in the ASEAN-India Expo and Forum 2017 (source: tuhaoviet.vn)
Attending the forum, Deputy Minister of Culture, Sports & Tourism Trinh Thi Thuy expressed her belief that it will create favorable conditions to connect ASEAN and India and promote the strategic partnership between the two.
Vietnam also took part in an international conference on "Promoting Trade between Viet Nam and Thailand: Where are the Market Opportunities for Businesspeople of the Two Countries in the Current ASEAN Context?" and a meeting between Vietnamese firms and Thai and international distributors and importers, including renowned importers and distributors like Berli Jucker Public Co. Ltd, CP ALL Public Company Limited, Ek-Chai Distribution System Co, the Mall Group, and Foodland Supermarket.
Besides being a trade exhibition, the event served as a platform for executives of leading companies, entrepreneurs and policy makers from ASEAN and India to meet and conduct business, to find partners and opportunities, and to engage in cultural diplomacy.
In addition to brainstorming and exchanging information between leaders from both ASEAN and India, the forum also features a series of networking facilitation activities in one-on-one meetings, business matching, and young entrepreneur networking, such as panel discussions, roundtable discussion, and special lectures features a series of cultural performances and box office movies from both Thailand and India.
The event, organized by Thailand's Ministry of Commerce in cooperation with partners from both the public and private sectors, was part of the activities to celebrate the 25th Anniversary of ASEAN-India relations, aims to strengthen the strategic partnership between the 10 ASEAN nations and India, multiply trade and investment, strengthen tourism connectivity, and attract business and investment from outside the region.
The exhibition and forum with its vigorous connectivity also showcased the power of the "ASEAN-India" economy, a dynamic destination with enormous potential for trade and investment.
With a market of almost 2 billion people and a combined GDP of US$4.5 trillion, Southeast Asia and India are slated to be next growth engines of Asia
India and ASEAN share deep economic ties. ASEAN is India's 4th largest trading partner, accounting for 10.2% of India's total trade whereas India is ASEAN's 7th largest trading partner./.
( VNF )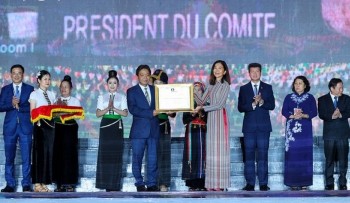 Viet's Home
UNESCO presented Vietnam a certificate recognizing Xoe Thai dance as an Intangible Cultural Heritage of Humanity at a ceremony held in Yen Bai province on September 24.