Vietnamese French musician dedicates himself to promoting traditional music
Vietnamese-French pianist and zither artist Tri Nguyen not only has a great passion for Dan Tranh (Vietnamese zither is also known as Dan Thap Luc or sixteen-stringed zither), but also effort to preserve and develop traditional music.
Vietnamese-French pianist and zither artist Tri Nguyen
Ho Chi Minh City-born artist Nguyen Huu Tri, whose stage name is Tri Nguyen began studying the piano and Dan Tranh at age five. After graduation from the Music Conservatory of Ho Chi Minh City, he continued his studies at the Ecole Normale de Musique de Paris.
Tri is a master of the piano and Vietnamese zither. His concerts are unique moments where the piano repertoire is followed by melodies from the distant past of Vietnam, revived by Tri's passionate desire to preserve and promote Vietnamese folk music.
In 2015, he returned to Vietnam for the first time for a concert at HCMC Conservatory of Music along with Russian-French violinist Buynta Goryaeva.
In February 2017, he staged a recital in HCM City's French Culture Exchange Institute (IDECAF). He performed new pieces in his third album, Beyond Borders, a combination of Vietnamese folk music and traditional music of European countries.
Tri then gave a performance at the theater of the Voice of HCM City's People (VOH) radio station in October. The artist together with bands, the Stay The Time and the Net Viet presented to music lovers Vietnamese traditional musical works which are mixed with contemporary style.
The artist has performed in Vietnam, the United States and Europe. He released albums, including Consonnances in 2014, A journey between worlds in 2016, Beyond Borders in 2017.
His albums, Consonnances and Beyond Borders won Gold Medals at the USA Global Music Awards in 2015 and 2017. The work, Beyond Borders was also nominated for 16th Independent Music Awards.
Tri Nguyen is well-known for his passion and dedication to promote Dan Tranh. He often expresses his dream of his life of how international artists can bring and play Dan Tranh everywhere they go, just like playing guitar.
Although Vietnam's Dan Tranh is similar to the Chinese zither, Guzheng; Japanese stringed musical instrument, Koto; and the Korean Gayageum, the traditional Vietnamese musical instrument has not been popular with music lovers around the world, he said.
"They called "Dan Tranh" the "Vietnamese zither". I'm doing my best effort to make two words, "Dan Tranh" becoming more popular", he added.
VNF ( SGGP )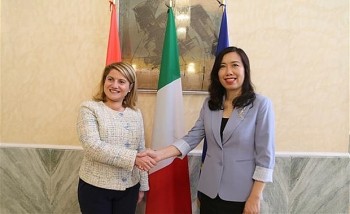 Friendship
The Vietnam - Italy political consultation is part of the occasion of the 50th anniversary of diplomatic ties and the 10th anniversary of the framework of the strategic partnership.