Vietnamese martial arts league makes debut in Algeria
Vovinam (one kind of Vietnamese traditional martial arts), 
(VNF) - The Vietnamese traditional martial arts Son Long Quyen Thuat league made its debut in Algiers, Algeria on February 24.
Ambassador Tru (R) speak to the Ministry of Youth and Sports of Algeria on improving Vietnam-Algeria ties in sports (source: VN Embassy to Algeria)
Speaking at the inauguration ceremony, Vietnamese Ambassador to Algeria, Pham Quoc Tru noted that the development of Son Long Quyen Thuat in Algeria symbolized the strong bonds between the two countries, along with
The ambassador expressed his hope that the practice of Son Lon Quyen Thuat as well as other forms of Vietnamese traditional martial arts will grow strong in the African country.
A performance of Son Long Quyen Thuat (source: VNA)
On the occasion, Ambassador Tru had a meeting with Algerian Minister of Youth and Sports, El Hadi Ould Ali, to discuss on how to enhance the exchanges of sport and cultural activities between the two nations.
Son Long Quyen Thuat was founded in 1957 by master Nguyen Duc Moc. By 2015, the number of people who practice Son Long Quyen Thuat worldwide was over 25,000.
Son Long Quyen Thuat was first introduced to Algeria in 1973 and there are 12,000 people learning the martial arts in 200 clubs across the country./.
( VNF )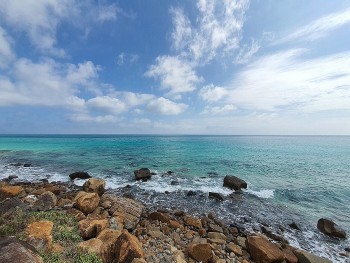 Viet's Home
Con Dao, a historical and famous island situating in the southern province of Ba Ria - Vung Tau, has been named among the top 16 best island vacations in the world, as compiled by tourism magazine Condé Nast Traveler (CNTraveler) of the United States.