Vietnamese recommended to reduce half of current salt intake
Vietnamese people should cut their daily intake of salt in half to prevent high blood pressure, cerebrovascular incidents and other non-communicable diseases (NCDs), experts have suggested.
(VNF) - Vietnamese people should cut their daily intake of salt in half to prevent high blood pressure, cerebrovascular incidents and other non-communicable diseases (NCDs), experts have suggested.
Medical experts gathered at a media conference hosted by the Department of Preventive Medicine (under the Ministry of Health) in Hanoi on March 27th, to discuss communication measures to encourage people to reduce their salt intake.
Experts at the conference warned that Vietnamese adult currently are eating a lot of salt. (Source: NDO)
HEAVILY SALTED DIET
Dr. Truong Dinh Bac, Deputy Head of the Preventive Medicine Department, said that a Vietnamese adult currently consumes 9.4g of salt a day, which is almost twice as high as the World Health Organisation (WHO) recommendation (at 5g a day).
Bac affirmed that too much salt is a major cause of illness and mortality due to cardiovascular disease and certain other NCDs, as well as increasing the risk of kidney failure, osteoporosis and gastrointestinal cancer, especially stomach cancer.
In 2012, there were 112,600 deaths attributable to cerebrovascular disease alone (accounting for 21.7 per cent of total deaths) and 36,500 deaths from myocardial infarction (accounting for 7 per cent of total deaths). Approximately one in five adults develops a case of high blood pressure, with one in three deaths from cardiovascular disease, mainly due to stroke.
According to a study on salt habits in Ho Chi Minh City, 73 per cent of households used instant noodles, 37 per cent used canned food, 31 per cent had sausages and the rest used instant-packed products, while several packaged foods have a very high salt content, with instant noodles at about 5-7g/100g and sausages at 1.5-2.3g of salt per 100g of product.
According to another survey in 2015, 89.2 per cent of people always add salt, fish sauce and other spices to food when preparing, processing and cooking; 70 per cent regularly mix and dip foods into sauce and salt while eating, and 19.5 per cent regularly eat processed foods with high levels of salt such as pickles, instant noodles and salted roasted peanuts.
Experts have recommended that Vietnamese people fix their heavily salted diet to prevent hypertension and cardiovascular disease. (Source: Internet)
Dr. Jun Nakagawa, Deputy Head of the WHO Representative Office in Vietnam, stressed that people around the world are using too much salt, with an average of 10g per day. He suggested that Vietnam makes recommendations on the maximum salt in 100g of food, preferably popular foods with high content of salt, such as instant noodles and sausages.
Doctor Tran Quoc Bao from Department of Preventive Medicine said that the country is still lacks policies related to salt reduction interventions, for example, the food labeling policy (warning of high salt content) and policies related to restrictions on advertising, marketing and trading of salt-rich products.
By 2025, Vietnam aims to make more than 90 per cent of adults aware of the negative effects of high salt intake; reduce the consumption of edible salt to below 7g/person/day and have more than 70 per cent of students taking at least one measure to reduce salt intake as recommended, as well as striving to have over 90 per cent of people diagnosed with hypertension and cardiovascular disease receiving counseling and guidance on reducing their salt diet.
The move is a part of efforts to achieve nine global targets set by WHO to prevent NCDs such as diabetes, high blood pressure and cancer.
The key to cutting back on salt generally: Do it a little at a time to give taste buds a chance to adjust.
A culinary trick worth trying is to prepare foods without adding salt, then sprinkle some on at serving time. You'll get a bigger bang for that salt buck.
Better yet, enhance the flavours of dishes with herbs, peppers, garlic and other salt-free seasonings./.
VNF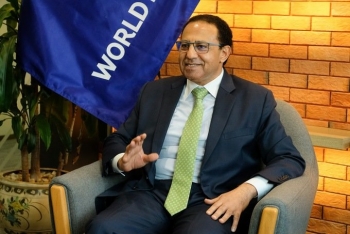 Economy
Vietnam's agriculture is transforming from quantity targets towards profit, environment and farmer income targets. Ahmed Eiweida, Vietnam Sector Leader for Sustainable Development (World Bank).