Vietnamese students achieve success with preparation, confidence
Some have been able to land a job at reputable firms while others become directors of their own companies
Many students of colleges and universities across Vietnam are making a good living from their high-paid jobs and original start-up ideas despite a young age.
Le Hoang Minh Nhat (L) at the office of his Extrim Shoe Care Service in Ho Chi Minh City. Photo: Tuoi Tre
In order to achieve early success, these youngsters have chosen to do things differently from their peers, focusing on gathering practical experience alongside theoretical knowledge at the very start of their college life.
Some of them have been able to land a job at reputable firms while others become directors of their own companies.
The 22-year-old student/company director
At an office building in District 3, Ho Chi Minh City, about 30 young people were dusting and washing hundreds of pairs of branded shoes.
They are the employees of the Extrim Shoe Care Service, which now receives orders from over 1,200 customers every month.
The director of the firm is 22-year-old Le Hoang Minh Nhat, who is studying business administration at the Ho Chi Minh City International University.
Nhat came up with his business idea over a year ago, when he really needed to wash his own sneakers.
The young man was looking for a service that would do the job for him within 24 hours, and found out such business did not exist.
"If no one does it, I will," Nhat told himself before initiating his shoe cleaning service.
He borrowed VND15 million (US$660) from his friends to learn how to wash footwear, buy necessary tools from the United States, make business cards, and post advertisements on the Internet.
Nhat took care of his first orders by himself. Thanks to his careful service, the number of customers began rising to the point that he could only sleep three to four hours a day.
As the demand for the service kept increasing, Nhat decided to borrow another VND500 million ($22,014) to expand the business, rent an office, and recruit new employees.
"I had to take risks. I could not let anyone else steal my idea," the young director remarked.
Extrim reached revenue of VND800 million ($35,223) last year, he said, adding that a mobile app for the shoe care service will be released this year.
Nhat also mentioned his plan to extend the business to other Vietnamese cities, before seeking investment to go international.
Entering the global environment
Many active students try to ace their performances in college, in all subjects as well as extra-curricular activities, to secure a spot in multinational companies.
Nguyen Minh Tri, a junior at the Foreign Trade University and president of the school's business and English clubs, has surpassed thousands of candidates to become a global intern of a multinational corporation.
Tri set up the goal in his second year and tried his best to achieve it.
The young student passed multiple exams and an English interview to land a high-paid internship at the firm.
"I have learned a lot about international work environments since I started interning here," Tri said.
Pham Huy Thanh, 23, graduated from the Foreign Trade University in September 2017, but already had an official job at the Vietnam branch of a global corporation five months earlier.
Thanh started working for several companies in his second year to familiarize himself with international work environments.
"Such skills as foreign languages, teamwork, leadership, communication, and presentation are very essential," he stated.
Aside from schoolwork at the University of Economics Ho Chi Minh City, Nguyen Hong Phuong Thuy is also president of a professional club with over 100 members.
Thuy considered it a real job to manage the club and focus on improving the skills of each member.
She recently passed five rounds of strict interviews to become an employee of VeXeRe.com, the largest and the most trusted bus ticket booking platform in Vietnam.
"The most important thing is to balance my time for studying, club activities, and my job. It was stressful at first, but I am now ready for any challenge," she asserted.
VNF/TTO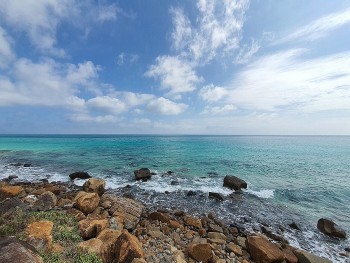 Viet's Home
Con Dao, a historical and famous island situating in the southern province of Ba Ria - Vung Tau, has been named among the top 16 best island vacations in the world, as compiled by tourism magazine Condé Nast Traveler (CNTraveler) of the United States.