Vietnamese students explore US liberal arts college system
(VNF) – More and more Vietnamese students are paying attention to the US "Liberal arts" education concept.
(VNF) – More and more Vietnamese students are paying attention to the US "Liberal arts" education concept.
120 Vietnamese students, their parents and teachers on August 30 attended the conference themed "Insights from Liberal Arts Colleges Admissions" conducted by the US Embassy.
The conference, held at the American Center in Hanoi, helped participants gain insight of a concept which is not really popular in Vietnam: liberal arts schools. This concept was de-bunked by the insiders - admission officers from 3 renowned liberal arts colleges: Williams College, Swarthmore College and Pomona College.
Unlike the misunderstanding that "liberal arts", as the name says, is all about arts (music, dance, fine arts, cinema, etc), in a liberal arts college, students still have a wide range of majors to study, including engineering, applied science, finance, investment, among others.
Overview of the conference
The concept of liberal arts in US actually stands for a holistic approach in education, in which the students can study a lot of subjects which are not related to their core major.
For example, if you study engineering, you still can pick up a music course which teaches you play the piano, for a well-rounded development, said Director of Admission of Pomona college Adam Sapp.
Instead of focusing on one single area of study, liberal arts facilitates students in having an academic and social balance, as well as offer them a space for self-exploration.
As tuition fee is a common concerns of most participants in the conference, representatives from the three schools took chance to elaborate financial aid policy in US liberal arts colleges.
In details, most liberal arts colleges offer very generous financial aid to non-US-resident students and the rate of approval can be up to 60%. However, applicants need to apply for financial aid at the same time when he/she makes application for admission, otherwise once the approval letter reaches him/her, it would be late for submission of financial aid request.
In the Q& A session, the school representatives answered a number of enquiries from the students regarding major of study, admission criteria (SAT score, academic result in high school), school transfering policy, etc.
Minh Tu, a 12th grade student from the Hanoi Foreign Language Specializing school, said, she has learnt about 'liberal arts" education via the Internet earlier, and this session helps reinforce her insights of liberal arts colleges. Tu said she is interested in liberal arts schools as the school size is not too big, which allow more interaction between students and lecturers. Tu also shared that she is thinking of applying for Swarthmore college.
Q&A session captivates lots of attention
Huy Anh, a 12th grade student, majoring in Chemistry, from Hanoi – Amsterdam, said he has attended a lot of conferences on American education, and found many helpful informations from them. Anh has yet to make up his mind of which education style he would choose for himself, but the young student showed his interest in getting to know more about the curriculum in liberal arts school for first-year student.
Education conference is a regular activity conducted by the US Embassy in Hanoi. It is considered a chance for prospective students to get latest updates on multi aspects of US education including majors, curriculum, admission requirements & competitiveness, scholarship/financial aid, and career opportunities.
Particularly, in these conferences, all enquiries are answered by US school's admission officers and credible agencies and therefore considered highly relevant, precise and useful./.
( Phi Yen )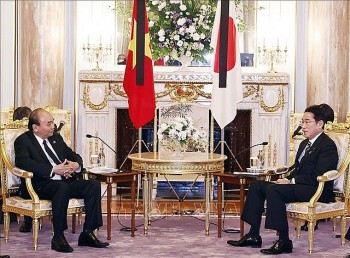 Friendship
Vietnam always treasures the extensive strategic partnership with Japan and views Japan as an important and long-term strategic partner, President Nguyen Xuan Phuc told Japanese Prime Minister Kishida Fumio in Tokyo on September 26.