Vietnamese students to innovate like the Swede
(VNF) – Innovate Like a Swede – a nationwide competition to inspire sustainable business ideas for Vietnamese students was kick started on Monday in Hanoi.
(VNF) – Innovate Like a Swede – a nationwide competition to inspire sustainable business ideas for Vietnamese students was kick started in Hanoi on Monday.
The Swedish embassy's second secretary Johan Alvin spoke at the launching ceremony of the contest (source: VNA)
The contest is jointly organized by the Embassy of Sweden and nine Swedish international companies, with the support of Ministry of Education and Training and Ministry of Science and Technology.
"Innovate like a Swede" is a national competition in response to sustainability development related challenges that Vietnam is facing today and in the future.
The contest aims at inspiring young local students at colleges and universities to come up with innovative ideas/proposals/solutions for sustainable production and responsible consumption that will make a real change.
The contest will be a yearly re-occurring event which allows the participating students to find a sustainable solution to reach the UN Sustainable Development Goals (SDG's) in a Vietnamese context. This year the competition focuses on goal #12: Responsible production and consumption and it will inspire Vietnamese students to be innovative and find tangible solutions to reaching this goal.
"For Sweden, reaching the Sustainable Development Goals is of very high priority and as an embassy we work to promote these values in Vietnam and to encourage an exchange of knowledge and ideas between our two countries. Innovation and cooperation across borders and sectors is a key aspect for reaching a sustainable present and future. In addition to this, it is crucial to engage the future leaders and the innovators of tomorrow to create a context where sustainable solutions are preferred." says Johan Alvin, Second Secretary of the Embassy of Sweden.
Skype is a product by a Swedish innovator (source: Embassy of Sweden)
"That is why Innovate Like a Swede is so important. It mergers the Swedish innovate capacity and knowledge of well-established international companies, with the young and creative minds of Vietnam" he added.
Alvin further comments on the opportunities for young Vietnamese students to be innovative and find solutions to reaching the SDG's in a Vietnamese context.
"Vietnam faces many challenges, but with these challenges there is also opportunity to be innovative and to think outside of the box. This is something that we want to encourage through Innovate Like a Swede". he noted.
According to Tran Xuan Dich, Vice Head of the Department of Market and Science-Technology Development, (Ministry of Science and Technology), experiences from developed countries, including Sweden, have proven that innovation and creativity play a vital role in economic growth.
"It is an indispensible factor in creating more jobs and making exports bloom. The Ministry highly appreciate the value of the contest, as a meaningful platform bringing together young innovative minds from universities and colleges' students. I hope that more Vietnamese youth will find the inspiration from Innovate like a Swede, to come up with their new ideas, contributing to the development of Vietnam" he noted.
Hammarby Sjöstad (Stockholm's outskirt) is seen as a pioneer within sustainable urban development with its unique eco-cycle system that integrates energy, solid waste, water and waste water for homes. (source: Embassy of Sweden in Hanoi)
At the launching ceremony, the contest rules and contents were announced.
Accordingly, Innovate like the Swedee is organized as a teamwork contest for Vietnamese students in universities and colleges across the country.
Each competing team will consist of 2 members to work on an idea or possible products, services or solutions that contribute to the sustainable production and responsible consumption. They can either be technical solutions or ideas.
A jury consisting of representatives from the Swedish companies and universities in Vietnam will judge the entries on the basis of feasibility and commercial viability, degree of innovation and potential level of impact.
All entries must be in English, with a span of between 3 and 5 written pages. A template for entries is available at the embassy website.
Contestants are required to submit their project before November 11.
The winning team will be rewarded with a study visit to Swedish companies' Regional headquarters in Singapore in 2018. Runner-up teams will get internships at Swedish companies in Vietnam.
More detailed information of the competition, templates for entries, updates are available at www.swedenabroad.com/hanoi, categorary Innovate like a Swede event.
Sweden is an innovation leader on its own merits. Sweden invests heavily in research, encourages critical thinking from an early age and is open to international influences. Sweden also has a long tradition of creative and tenacious scientists, business leaders and entrepreneurs who are keen to change the world. Today's innovators stand on the shoulders of giants.
Renowned entrepreneurs and innovators from Sweden include Alfred Nobel, Lars Magnus Ericsson and Gustaf Dahlén, who paved the way for many powerful international companies that have been playing a critical role in Sweden's development.
Nowadays, Swedish innovative companies are present across the world, including Electrolux, Skype, IKEA, and Spotify. They are prime role models for the next generation, both in terms of innovation and global responsibility.
One of the Swedish government's key priorities and one of the major tasks for the world as a whole today is to fulfill the Sustainable Development Goals (SDG's) by carrying out the so called 2030 Agenda for Sustainable Development, agreed by all the member states of the United Nations./.
( Phi Yen )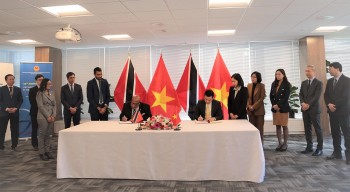 Friendship
Signing the Joint Communiqué establishing diplomatic relations between the Socialist Republic of Vietnam and the Republic of Trinidad and Tobago.