Vietnam's largest vaccination centre inaugurated in Hanoi
Vietnam's largest and most modern vaccination centre was inaugurated at 243A De La Thanh Street in Hanoi, on June 17th.
Vietnam's largest and most modern vaccination centre was inaugurated at 243A De La Thanh Street in Hanoi, on June 17th.
It is the third vaccination centre to be opened by the Vietnam Vaccine Joint Stock Company (VNVC)'s.
Vietnams' largest vaccination centre inaugurated in Hanoi. (Photo: VOV)
Covering an area of more than 3,000 square metres, the centre is capable of serving up to 3,000 people per day, with 80 rooms for medical check-ups and injections. The centre provides every vaccine for children and adults.
The centre always has every vaccine available, including those in scarce supply such as the five-in-one Pentaxim vaccine, six-in-one InfanrixHexa, Synflorix, and Hepatitis A and B vaccines. It also pursues a stable-price policy, providing more opportunities for vaccinations for adults and children throughout the country.
With its GSP standard cold storage system, it can store a large number of imported vaccines, contributing to stabilising the prices of vaccines on the domestic market.
The new vaccination centre at 243A De La Thanh street in Hanoi. (Photo: vnvc.vn)
Earlier in December 2017, VNVC opened its second vaccination centre in Ho Chi Minh City's Phu Nhuan district, aiming to meet the increasing demand of immunisation of local people. The establishment includes 17 rooms for checkups and 13 others for inoculation, enabling it to serve up to 2,500 people a day.
According to the National Institute of Hygiene and Epidemiology, the coverage of immunisation in the first three months of 2018 was on progress. Specifically, the rate of infants receiving hepatitis B vaccines within the first 24 hours after birth was 16.9 per cent, higher than the same period last year (16.2 per cent).
The number of whooping cough cases in January-March was reduced in comparison to the same period in 2017. No diphtheria cases were reported in the reviewed period (five cases recorded in the first quarter of 2017).
Particularly, in February 2018, the measles-rubella vaccine produced by Vietnam was utilised for children in Nam Dinh, Khanh Hoa, Dak Nong and Ba Ria-Vung Tau provinces.
As a result, 7,787 children aged 18-24 months received vaccination and no serious reaction cases were recorded after that.
The national vaccination information management system has been operated nationwide with more than 11,000 vaccination sites at medical stations in communes and wards./.
VNF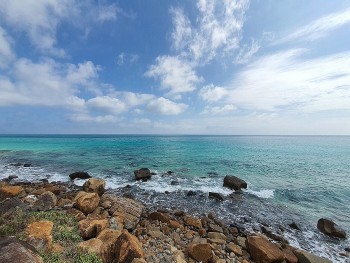 Viet's Home
Con Dao, a historical and famous island situating in the southern province of Ba Ria - Vung Tau, has been named among the top 16 best island vacations in the world, as compiled by tourism magazine Condé Nast Traveler (CNTraveler) of the United States.