Vietnam's localities scrap crowded events over Covid-19 fears
Amid the high risk of a fresh Covid-19 outbreak as the pandemic is worsening in neighboring countries, many localities across Vietnam have canceled festivals and crowded events to prevent the epidemic.
The port city of Hai Phong scrapped the Red Phoenix Flower Festival, the opening ceremonies of Do Son and Cat Ba beach tourism festivals 2021 to concentrate on preventing and control the epidemic, Vnexpress reported.
Hai Phong's leaders asked the authorities to remain alert against Covid-19 and strictly crackdown on violators of regulations on Covid-19 prevention and control.
Quang Nam Province, home to the Hoi An ancient town, canceled all crowded events scheduled to be held during the upcoming national holidays.
The province also required residents not to gather in public spaces and strictly abide by anti-pandemic measures.
After the holiday, the Provincial Health Department will randomly take samples of people at medical facilities, tourist areas, industrial parks, markets, supermarkets, stations, airports, etc for Covid-19 testing.
Thanh Hoa Province canceled the ceremony announcing the establishment of Nghi Son town, the opening ceremonies of Hai Hoa and Hai Tien beach tourism festivals.
The province will spend budgets for fireworks on buying Covid-19 medical equipment and supplies.
As the holiday season is coming, Thanh Hoa authorities ordered the accommodation establishments to make a list of visitors to facilitate the tracing and quarantine if necessary. Places where don't ensure the epidemic safety protocols will be forced to shut down.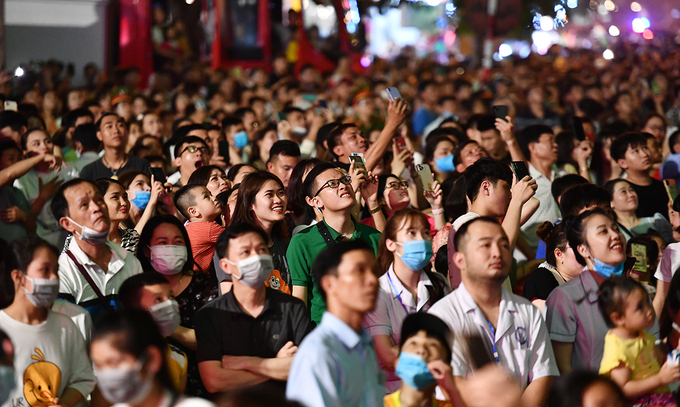 People gather at the opening ceremony of Sam Son beach tourism festival in Thanh Hoa Province, April 24, 2021. Photo by VnExpress/Le Hoang.
Ninh Binh announced the cancellation of Trang An Festival 2021. This year's festival was previously expected to take place on April 29 at the Trang An Landscape Complex. The festival serves as an occasion to express gratitude to the Holy Quy Minh Dai Vuong who had the merit of maintaining the border and protecting the country.
Ha Tinh scrapped the festivals, opening ceremonies, and crowded events starting April 27. The units breaching the rules will be stringently handled.
Previously, a number of districts such as Nghi Xuan, Loc Ha, Cam Xuyen, Ky Anh planned to organize beach tourism festivals on the upcoming national holidays.
Quang Ninh, home to UNESCO heritage site Ha Long Bay announced the cancelation of all fireworks displays planned for April 30 to celebrate National Reunification Day and would instead use the money to buy medical equipment geared toward fighting Covid-19, Vnexpress reported.
Provincial authorities also decided to cancel all cultural, sports and religious festivals from April 30 until May 23. Earlier, the northern province planned to host a range of events to boost its tourism revenue after many months of Covid-19 impacts.
Hanoi on Tuesday also ordered to suspend all festive activities and the operation of Walking Street and continue to limit unnecessary events and activities that draw large gatherings.
PM Pham Minh Chinh in a Monday meeting ordered people's committee chairmen to ensure local residents wear face masks in crowded areas. "The chairmen will be accountable for any community transmissions within their localities. Crowded events should be limited."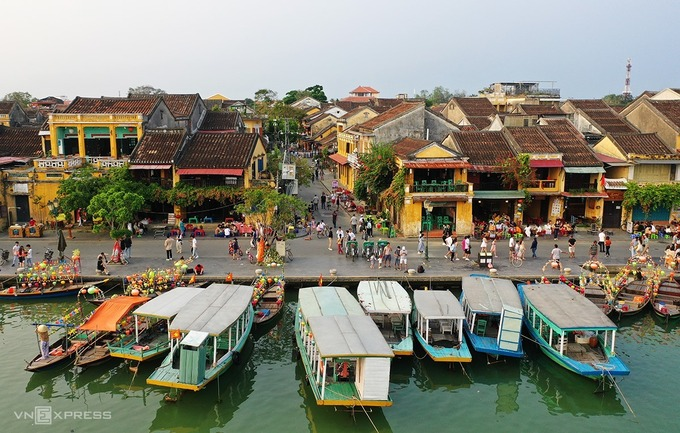 Hoi An ancient town. Photo: Vnexpress
Tran Dac Phu, senior advisor at the Public Health Emergency Operations Center under Vietnam's Ministry of Health, said Vietnam has to learn the lessons from India and other countries in the region like Cambodia and Thailand to avoid neglecting vital health protection measures like wearing masks in public and call off crowded events.
Several Southeast Asian countries including Cambodia, Laos and Thailand have been struggling with a significant surge in community transmissions linked to new variants while India is being shaken by a coronavirus storm.
Last weekend, thousands of people flocked to Sam Son beach town in Thanh Hoa Province, central Vietnam to attend the opening ceremony of a tourism festival, with many failing to wear face masks amid large crowds. The images in the media raised big concerns over Covid-19 risks.
Vietnam has gone over one month without Covid-19 community transmissions.
Fireworks displays to mark major national celebrations like the Lunar New Year holiday or Tet, Reunification Day on April 30 and Independence Day on September 2 are a long-standing tradition in Vietnam.
This weekend, Vietnamese will enjoy a four-day break starting Friday to celebrate Reunification Day and Labor Day (May 1).
Handbook
Yoga has recently become one of the best exercise methods that bring many health benefits to people, but it also requires a lot of technique and training to avoid injuries. There are several ways to practice it home, and will still help you achieve your goals.