Vietnam's prospects in 2018
Vietnam with its socio-economic achievements and rising global status is entering the year 2018 with new opportunities to overcome challenges and realize its goals.
Vietnam with its socio-economic achievements and rising global status is entering the year 2018 with new opportunities to overcome challenges and realize its goals.
The global economy in 2018 is predicted to be more promising than in 2017, paving the way for many countries' thriving exports and positive growth.
Economic gains
Vietnam's business environment and growth opportunities are forecast to be more favorable than in 2017.
This year and those following could the best time for private businesses to develop after the government issued a Plan of Action on fine-tuning the socialist-oriented market economy mechanism and private economy development. The government's efforts to remove business obstacles will also continue in 2018.
In addition, the Law on Supporting Small and Medium Sized Enterprises took effect on January 1. In May, the National Assembly is scheduled to approve the Law on Administrative-Special Economic Units, which will create the best possible conditions for business operation in Van Don, Van Phong, and Phu Quoc.
In 2018, Vietnam's greater international integration will enable enterprises to approach more foreign investors.
Director of the Central Institute for Economic Management Nguyen Dinh Cung said, "I believe that the 2018 targets will definitely be achievable. If our reforms are stronger and more rapid, there will more bright spots. What we will achieve in 2018 will create a foundation for subsequent years."
International experts gave optimistic forecast for Vietnam's development. The World Bank's Lead Economist Sebastian Eckardt said Vietnam will surpass challenges.
Eugenia Victorino, ANZ Economist for Greater Mekong and ASEAN described Vietnam as a magnet to attract FDI in 2017 and in the future.
UN Development Program Country Director in Vietnam Caitlin Wiesen said, "Vietnam is on a very interesting trajectory and it's one of the fastest growing countries within the region. We expect that to continue to growth further in the future. The question of productivity and competitiveness will be the key in that context. And from the UN perspective, of course, looking at capital, tertiary education, knowledge, and skilling for new and creative capacity that will meet the job market of the future will be essential."
Rising stature
Following the success of APEC Year 2017, Vietnam's international stature will continue to be consolidated in 2018 through hosting the 26th Asia-Pacific Parliamentary Forum (APPF26).
Themed "Parliamentary partnership: Peace, Innovation and Sustainable Development", the forum will confirm members' commitments to economic and cultural cooperation and regional development.
In 2018, Vietnam will also host the World Economic Forum on ASEAN (WEF-ASEAN).
Deputy Foreign Minister Dang Dinh Quy said, "These events involve thousands of international delegates, including heads of the world's leading groups, members of the World Economic Forum, and policy advisors. First, they will help maintain and consolidate the interests of international businesses in Vietnam. Secondly, through the meetings, Vietnam will have opportunities to be connected to global businesses."
In 2018, Vietnam hopes to minimize challenges and maximize opportunities to archive its goals and move forward./.
VNF/VOV5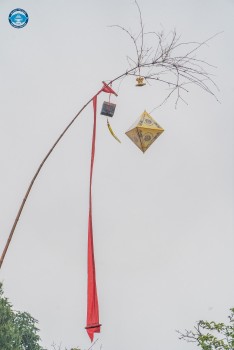 Viet's Home
In the past, the Neu pole (a tall bamboo pole with red garment strips used to ward off evil spirits during the lunar New Year) lowering ceremony at the royal palace of the Nguyen Dynasty was performed to mark the end of the New Year holiday and prepare to enter a new working year.