VN cosmetics market - the "sleeping beauty" being awakened
​(VNF) - Vietnamese cosmetics market is no longer a 'sleeping beauty' as demand for products in this sector is on the rise, and more and more foreign firms are finding their way to secure a position in the country.
According to Nguyen Van Minh, Vice Chairman of the Vietnam Essential Oils, Aromatherapy and Cosmetics Association, the market will maintain its bullish trajectory in the coming years.
"The Vietnamese beauty and cosmetics retail market is valued at US$1.2 billion in 2017, which is expected to hit US$2.2 billion by 2020. Vietnamese consumer spending is only 40% of the average number in regional markets. Thus, the market holds ample opportunities for both local and foreign companies to tap into the rising spending on beauty products," Minh said.
In an interview with the Vietnam News in June, Minh also pointed out the increasing attractiveness of the Vietnamese beauty industry, thanks to a series of free trade agreements the country has signed, under which import duties on beauty care goods would fall to 0-5 per cent.
According to the market research firm Nielsen, new opportunities are knocking the door of the beauty industry in Vietnam, which is driven by the evolution of modern trade, the rising demand for premium products and brands, consumers'better awareness of health, quality and their bigger spending power.
With 20 million women aged 15-39, Vietnamese beauty care holds a lot of potentials. (source: tuoitre.vn)
In addition, the country's middle class, who account for a large proportion of cosmetics consumers, is forecast to reach 33 million by 2020.
At the same time, 30 per cent of Vietnam's population, millennials, are perceived as the more demanding generation, who keep seeking for premium experiences in beauty care.
Last year, Vietnam imported cosmetics worth $1.1 billion, which was more than double the value of $500 million in 2011, according to report from Trade Map of the International Trade Centre.
Various cosmetics brands from South Korea and Japan are taking this chance to seek a foothold and expansion opportunities in Vietnam.
"Over the years, the Vietnamese market trend has been expanding to consumption goods, especially cosmetics-related industries," said Dominic OH, director of KINTEX, a leading K-beauty show organiser from South Korea.
Recently, to grab a piece of the lucrative market, more than 200 international beauty brands have gathered at the Vietbeauty 2017 exhibition taking place in Ho Chi Minh City from August 23-25.
The expo, organised by UBM Asia, was set to be the most comprehensive beauty platform for industry professionals to expand in this promising market.
Not only foreign companies, local firms are also stepping up their market presence. Phan Anh Thu, director of Beauty Queen, said that the competition in the beauty market is becoming tougher due to the entrance of foreign brands.
On the other hand, some local companies are selling fake and low-quality products which also dampens the reputation of local beauty brands.
"To tackle these challenges, we have invested in international-standard technology to produce high-quality products in Vietnam. The firm has just launched two beauty brands, including Beauty Mall and Hot Care to cater to local clients," he said.
According to the renowned consumer behavior researching firm Kantar Worldpanel, Vietnamese market holds great potentials for beauty care products, with about 20 million women aged 15 to 39, or 40 per cent of the female population.
The report, which was released on February, said that 80 per cent of consumers in affluent cities bought at least one product last year, in which personal care accounting for one-quarter of revenue from the beauty sector.
Vietnamese spend less than Thai consumers on beauty products, but the figure is expected to increase as people are becoming more educated about skincare, it said.
International companies are set to continue their dominance in colour cosmetics due to their huge financial resources and globally-popular brands (source: VNE)
Nowadays, consumer's behaviors are changing. They no longer have to rely on traditional marketing channels, including TV and newspapers to get information, but instead, keeping themselves updated of the latest beauty trends via the internet, celebrities, beauty bloggers and others, Kantar Worldpanel said.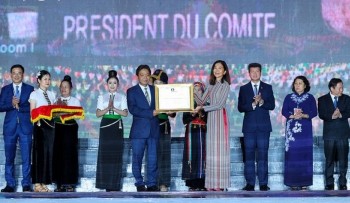 Viet's Home
UNESCO presented Vietnam a certificate recognizing Xoe Thai dance as an Intangible Cultural Heritage of Humanity at a ceremony held in Yen Bai province on September 24.