Vocational training for ethnic minorities: Practical impacts remain modest
(VNF) – Vocation training in Vietnam is one of the issues which have been under the spotlight recently. For the people of ethnic minority, the issue needs even more attention from the authorities and the community.
(VNF) – Vocation training in Vietnam is one of the issues which have been under the spotlight recently. For the people of ethnic minority, the issue needs even more attention from the authorities and the community.
Hoang Xuan Thanh (standing), specialist from Oxfam, speaking at the conference (photo: P.Y)
Vocation training for people of ethnic minority was put into discussion in a conference held on Sep 14 by the Working Group of Ethnic Minority, an NGO initiative to enhance the Government's efforts in improving the ethnic minority people's life.
The conference brought together experts in ethnic minorities development from active NGOs including Oxfam, CARE, PLAN and World Vision.
At the first part of conference, participants were briefed about the big picture of vocational training for people of ethnic minorities in Vietnam.
Most of the data used for presentation and discussion were compiled from the program "Short-term vocational training for labours in rural areas", part of the project "Propoor Policy Monitoring and Analysis" " sponsored by Irish Aid and the Swiss Agency for Development and Cooperation.
The survey was conducted repeatedly in three year 2014, 2015, 2016, in areas with high population of ethnic minorities in 7 provinces: Lao Cai, Hoa Binh, Nghe An, Quang Tri, Ninh Thuan, Dak Nong and Tra Vinh.
Despite the initial positive results in certain provinces like Quang Tri, Nghe An, Lao Cai, vocational training for ethnic minorities still fail to create a far-reaching effects, and the impacts are still below expectation.
According to a report released in November 2016 from Oxfam, only 3% of ethnic-minority people at working age have attended vocational training.
In a recent survey conducted on 151 women who belong to 8 ethnic groups in 3 provinces Dien Bien, Yen Bai and Bac Kan, most of them wish to receive skills training in agriculture and healthcare, however, 98% of them do not have chance to attend any job training program in the last 3 years, reported Nguyen Van Anh, Director of the Center of Help for Indigenous Value Promotion and Sustainable Environment (CHIASE).
It means the coverage of the project is still limited.
For the group which has graduated from vocational workshop, 57% of those being interviewed said their productivity and income was increased, thank to what they learned from the courses (Oxfam report).
However, beneficiaries' capacity in maintaining stable job in the long term remains modest. Only 29% of those who have received training was able to secure a new job after completing the course.
According to Nguyen Van Anh, job training has yet to meet its goal in practically benefiting people of ethnic groups.
Anh also cited an example he once witnessed in a field trip to the northwest province of Dien Bien, where someone possess up to 6 certificates in vocational training, but all failed to enable him to secure a job in the field being trained.
Vocational training for ethnic-minority women in Quy Chau, Nghe An (baonghean.vn)
Fail to find job in homeland, some people even crossed the border to China to work, which means they are at risk of being exploited, being victim of labour rights violation, and facing other issues in terms of safety and security, said Do Duong Hien, researcher from PLAN.
The aforementioned shortcomings of vocational training for ethnic minorities were caused by several factors, including the lack of systematic and comprehensive research on training needs from learners as well as labour market trends, which result in a rigid old-style and narrow teaching model, e.g; only focus on a few type of jobs such as cattles rearing or motorbike repair, according to Hoang Xuan Thanh, Head of Oxfam research group.
In terms of training method, some course's curriculum does not suit the job's needs, for example, forestry course took 3 months which is considered too lengthy, and is filled with theory but lack of practice, (said Sung Thi Lat from La Pan Tan, Muong Khuong, Lao Cai) whilst for non-agriculture work like motorbike repair or embroidery, 3 months does not provide enough time for practice (said Nguyen Van Nam from Quy Chau, Nghe An).
Another limitation of vocational training is the lack of customization/localization in training, using the one-fits-all model, instead of taking account of the locality's uniqueness in the aspect of culture, language, geography, climate.
Participants at the conference also pointed out that vocational training for ethnic minorities barely focuses on technical skills training, and underestimate the importance of soft skills training (work safety, disciplines, ect.)
The causes stated were followed by respective recommendation for improvement, including tailoring vocational training curriculum according to local's advantaged sector; creating strong connection between training facility and enterprises for better job placement; developing qualified team of trainers and closely monitoring and supervising the implementation and results of training plan, ensure efficiency, avoid overlapped and unclear tasks among relevant agencies.
At the same time, concrete research and further customization of training are seriously needed to ensure the suitability and effectiveness in each locality, as each ethnic minority community is a unique social entity, with respect to this; micro projects give ethnic minorities more effective access to agricultural extension./.
( Phi Yen )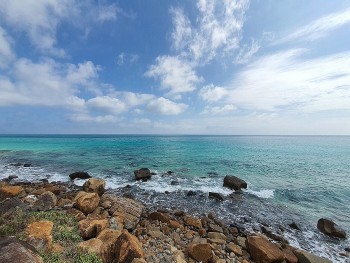 Viet's Home
Con Dao, a historical and famous island situating in the southern province of Ba Ria - Vung Tau, has been named among the top 16 best island vacations in the world, as compiled by tourism magazine Condé Nast Traveler (CNTraveler) of the United States.