Which schools produce the largest number of entrepreneurs?
Hanoi National University and HCM City University of Science & Technology produce the highest number of graduates who go on to become entrepreneurs, according to a survey.  
iPrice recently cooperated with 500 Startups and well-known investment funds in Vietnam to conduct a survey on 27 startups and 56 entrepreneurs to learn more about the education of founders of startups which have raised funds for Series A.
Business administration, finance and economics are the three most popular majors of the founders of Appota, Foody, Momo (e-wallet), Sendo, Topica, Vat gia, Vexere, Huy dong and The Gioi Di Dong.
Of the 56 founders, six studied at the Hanoi National University, while five graduated from the HCM City University of Science and Technology.
The list of the schools in Vietnam which produce the most entrepreneurs also includes the Hanoi University of Science & Technology, the University for Foreign Trade, HCM City Economics University and HCM City National University.
Two foreign schools are included in the list, University of Moscow (four graduates) and University of California (three graduates), considered one of the big incubators of technology startups for Silicon Valley.
The majority of the founders studied at top-tier schools in Vietnam. Hanoi National University and Hanoi University of Science & Technology are in the first and second positions among Vietnamese schools in Webometrics 2007.
Illustrative photo (source: VNN)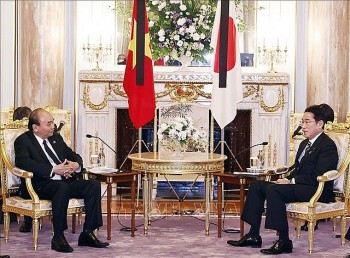 Friendship
Vietnam always treasures the extensive strategic partnership with Japan and views Japan as an important and long-term strategic partner, President Nguyen Xuan Phuc told Japanese Prime Minister Kishida Fumio in Tokyo on September 26.