"Wish to be a little bridge connecting Vietnam and France"
(VNF) – Lise Nguyen said, she decided to come to France, because of the strong love for the language, which has been part of her life since Lise was little, and the attachment with French literature, culture, history and people.
(VNF) – Lise Nguyen said, she decided to come to France because of the strong love for the language, which has been part of her life since she was little, and the attachment with French literature, culture, history and people.
Lise Nguyen (photo: The World and Vietnam)
Lise has a special love for literature since her young age. However, most of the time, what she studied and researches is not literature, but Economics, writing journal articles on entrepreneur's strategy, business, macro issues.
Currently, Lise is working as an officer of the French Embassy in Hanoi, and at the same time, involves in translation work.
As a successful PhD holder in France, and had secured teaching work in renowned universities of the country, could you share with us some of your special memories about those days?
I have been to many countries, but in my eyes, France is still the most beautiful country in the world, in terms of architecture and natural landscape. I find the beauty of France in the small lovely old village, fields of sunflowers, lavenders, the streets lined with green grass, where a variety of unnamed flowers sprout up when spring comes.
To me, France is unbelievably beautiful.What impressed me the most is the image of horses running like flying on the grassfield on a mountain slope, or the eagle poisedly bends itself down on the peak of mountain amid strong wind.They were the French landscape that made me stunned.
In terms of people, as a PhD students, I was amazed by my professors, by the way they work.
After one year of studying in France, I had figured out how this country became such a developed country. It is attributed to the people like those I have met, the professors who never stop dedicating their efforts to research, while still being humble, friendly, hard working, despite they have reached the pinnacle of their career.
Regarding my peers, I have to say, although in Vietnam, I was considered a well-perform student, in France, things turned out to be different. Vietnamese students like me were less capable than the French fellows, especially in presentation and problem-solving skills.
What is the strength of Vietnamese graduates and undergraduates like you, when it comes to studying in an absolutely different education environment, in your opinion?
In terms of advantage, Vietnamese students and Vietnamese people at large, are fast learners who can absorb information quickly, highly adaptable and hard working.
On the other hand, the disadvantage facing us is the skills gap, which is caused by the education system. At the same time, the level of development in Vietnam remains modest, which lead to limited learning environment and access to advanced technology.
Nevertheless, based on the strengths I mentioned above, if you really put effort in making use of your strength, you'll still be able to gain certain success.
Based on your experience in France, do you have any advice in integration in new environment to share with young Vietnamese people?
I, myself, have nothing special to share, apart from the diligence and determination. To be successful, besides your qualification, diligence and determination are two decisive factors. French proverb says "aide-toi, le ciel va t'aider", which means "Help yourself first, the Heaven will help you".
When you face a challenge, find your balance and try to handle thing yourself, you'll see the result, or at least, it is far better than doing nothing.
Furthermore, being proactive is the only way to give others the opportunity to assist you, or for yourself to seek a better path.
Besides, be daring, daring to live a fulfilled and vibrant life, treasure your every single day, and do what you wish to do.
Most importantly, don't forget loving people around you, your family, relatives, friends and even strangers. Keep an open mind, since when you open your door, other doors will open for you.
"Happiness in Mommy's five letters" translated by Lise Nguyen (source: French Institute in Hanoi)
The book translated by you "Happiness in Mommy's five letters" (author Pascale Perrier) was recently published and has been well-received by Vietnamese readers. Can you share with us more about your love for French literature?
I am deeply thankful to "Happiness in Mommy's five letters" as it gives me the chance to immerse myself in the passion for literature. To me, and people who were born in the 1970s, 1980s, French novels were not only close friends, but also life teachers in many aspects, like viewpoints of the world and people.
Masterpieces like "Notre Dame de Paris", "Around the world in 80 days", "2000 miles under the sea", "The little prince", "Without family", etc., are my favorite ones.
Through my literature translation work or other mediums, I wish that I can be a little bridge connecting two countries./.
About Lise Nguyen:
Lise Nguyen graduated with first-class degree from the Hanoi Foreign Trade University. After completing her Master and PhD in Economics in France, Lise worked as a lecturer in the University of Paris II Pantheon Assas, and as an invited lecturer in the Paris XII University and Beauvais Polytechnique.
Lise returned to Vietnam two years ago, and started to work as a translator since then, besides working as an officer of the French Embassy in Hanoi.
The recently-published "Happiness in five Mommy's letters" is a touching book about motherhood, which convey Lise's love for literature./.
( Translated by Phi Yen )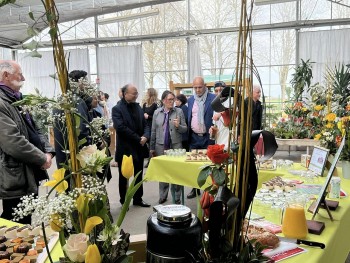 Overseas Vietnamese
Vietnamese Ambassador to France Dinh Toan Thang recently paid a working visit to Saintes, a city in southwestern France, to promote cooperation between the city and Vietnamese localities and attended the Vietnamese Culture Day, VNA reported.