With heart of gold, Vietnamese-German doctor wants to 'make Vietnam better'
He serves as a self-effacing pioneer in transferring a state-of-the-art medical technique to Vietnam
He serves as a self-effacing pioneer in transferring a state-of-the-art medical technique to Vietnam
Le Trong Phi (foreground) and partners at Da Nang Hospital, located in central Vietnam. Photo: Tuoi Tre
A Vietnamese-German doctor has been renowned for his contributions spanning more than a decade to the treatment of heart disease and the furtherance of surgical technology in his country of origin.
Seeming quite reticent about his far-reaching efforts in Vietnam, Le Trong Phi, living in Germany, is the person to whom medical and educational institutions owe a great debt.
Seminal amongst the contributions may be his role in providing modern surgical equipment and professional training for the medical staff at Da Nang Hospital, located in the eponymous city on the central coast of Vietnam.
In 2006, he convinced the Heart for Heart Foundation for Life, a German nonprofit, to offer the hospital the financing for medical facilities, including advanced sonographic instruments, respirators and nearly one million euros' worth of equipment employing digital subtraction angiography (DSA), whereby blood vessels are clearly visualized.
The decision gave rise to the establishment of the congenital heart defect unit in this place.
Given the then-serious dearth of treatment tools, "this help proved fundamental to the department's inception," said Tran Ngoc Thanh, former director of Da Nang Hospital.
Phi has also been directly responsible for introducing the modern method of cardiac catheterization to doctors at the institution, with the professionals now independently performing operations involving this procedure as a result.
The years following 2006 have witnessed a number of training courses conducted by him for Da Nang Hospital's medical staff.
A piece of medical equipment provided to Da Nang Hospital through the sponsorship of the Heart for Heart Foundation for Life. Photo: Tuoi Tre
His activity has transcended the practice border to reach the academic realm, where the University of Da Nang is enormously indebted to him in at least two ways.
Thanks to Phi's assistance, lecturers of the university's medicine and pharmacy faculty are sent to Germany on a yearly basis for short-term training programs, which have been carried out for ten years.
He also acted as a consultant on drawing up the school's educational programs intended for general practitioners and odonto-stomatologists, in accordance with Germany's medical standards.
His charity work in Vietnam dates back to 1994, when he first came back for visits to several hospitals and universities here, with him donating equipment to some domestic infirmaries after the ensuing year, and performing surgery on patients with inborn heart disease in 1999.
In Germany, Phi met Irene Lejeune, chairperson of the Heart for Heart Foundation for Life, in 2015, a meeting that brought positive implications to cardiac treatment in Vietnam.
Following his suggestion, the foundation has come to the Southeast Asian country to help patients in lieu of waiting for them to come in person.
Despite the stature, his mention of the efforts bears a stamp of modesty.
"More praise should be given to German friends from the Heart for Heart Foundation for Life, without whom I could hardly do more than what my ability allows me to," he said.
"Thinking that my minor contribution may generate benefits for lots of people, I've tried my best to make Vietnam better."/.
VNF/TTO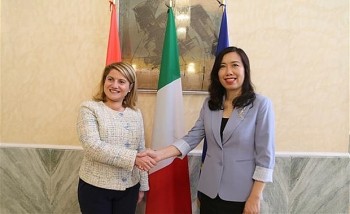 Friendship
The Vietnam - Italy political consultation is part of the occasion of the 50th anniversary of diplomatic ties and the 10th anniversary of the framework of the strategic partnership.