Young doctors work in poorest provinces as part of Health Ministry project
A group of 25 recent graduates from medical school will work in remote areas as part of the Ministry of Health's project to dispatch more doctors to the country's poorest provinces.
Twenty-five new medical doctors at their graduation ceremony in Hanoi on Tuesday. – VNA/VNS Photo
The ministry on Tuesday held a graduation ceremony for the young doctors who studied at Hanoi Medical University, Hue University of Medicine and Pharmacy, and Hai Phong University of Medicine and Pharmacy.
The doctors will be pided into small groups that will work in 16 poor mountainous districts in the provinces of Ha Giang, Lao Cai, Yen Bai, Bac Giang, Bac Kan, Lai Chau, Lang Son, Phu Tho, Son La and Nghe An.
Of the 25 doctors, 15 of them are ethnic Mong, Thai, Tay, Muong and Nung.
The doctors were among 354 medical school students who enrolled in the Health Ministry's pilot project to send doctors to mountainous villages, border regions and remote islands.
Launched in February 2013, the pilot project seeks to provide a sustainable, high-quality resource of medical personnel for remote regions.
Its aim is to dispatch between 300 and 500 young doctors to the poorest provinces by 2021.
So far, 77 graduates have been sent to 13 provinces in northern and central Việt Nam.
Geographical difficulties and chronic poverty in these areas are key challenges to recruiting doctors to work at the underprivileged communities there.
Reports from health departments in the 62 poorest districts have identified a shortage of 598 doctors who are needed to ensure local healthcare standards.
Seven medical field in desperate need of more doctors are internal medicine, surgery, obstetrics, pediatrics, resuscitation and emergency medicine, infectious diseases, and medical imaging.
VNF ( VNS )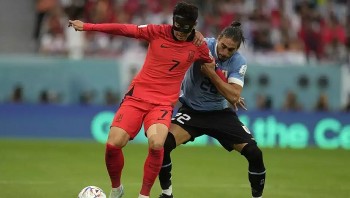 World
Both South Korea and Ghana are searching for their first wins at this year's World Cup. Ghana are facing the prospect of an early elimination from World Cup 2022 Group H when they travel to the Education City Stadium to face South Korea on Monday.