Zitherist Tri Nguyen: Vietnamese music conquering world stage
Ho Chi Minh City-born artist Nguyen Huu Tri, whose stage name is Tri Nguyen, first learnt the piano and 'dan tranh' (Vietnamese 16-string zither) when he was five. Over the past few years, his name has become widely known in European and American countries as the man who has dedicated himself to promoting traditional Vietnamese zither to international audience
Ho Chi Minh City-born artist Nguyen Huu Tri, whose stage name is Tri Nguyen, first learnt the piano and 'dan tranh' (Vietnamese 16-string zither) when he was five. Over the past few years, his name has become widely known in European and American countries as the man who has dedicated himself to promoting traditional Vietnamese zither to international audience
Zitherist Tri Nguyen.
After graduating from Ho Chi Minh City's National Music and Drama School (now HCM City Music Academy), Tri Nguyen continued his studies at the Paris Music Teacher's Training School (Ecole Normale de Musique de Paris).
In 2015, his debut zither album, Consonnances (2015), won the USA Global Music Award's (GMA) gold medal for World Music. He went on to win a gold at the GMA two years later for his third album, Beyond Borders (2017), which was selected for the final round of the Independent Music Awards (IMA) 2018 and the first round of the Grammy Awards 2018.
In his below interview with Nhan Dan Weekly Newspaper, Tri Nguyen shared how he developed such a deep attachment with the Vietnamese 'dan tranh' and his upcoming musical projects in the near future.
Question: Why do choose to develop your musical career with Vietnamese 'dan tranh' instead of the piano, which you are pretty good at?
Zitherist Tri Nguyen: When we talk about the piano, everyone knows what it is, but when I introduced 'dan tranh' to the public, most of them had to asked me whether it was a Koto (traditional Japanese stringed musical instrument) or not. This has unveiled that Vietnamese music is not yet fully or properly known on the global stage, therefore, I long to introduce Vietnamese music to an international audience.
I am lucky enough to have received musical training which was shared between the apprenticeship of western classical and traditional Vietnamese music. This has created a firm foundation and favourable conditions for me in the journey to bring Vietnamese music and 'dan tranh' to the world.
I have also played the piano on the stage, but my highest aspiration is to establish a proper position for Vietnamese 'dan tranh' in world music.
You were nominated for the final round of the IMA 2018 and the first round of the Grammy Awards 2018 but failed to go further. Do you get discouraged after the failures?
For some one, not winning a prize is a failure. But it is a big success for me to make it to the final round of the IMA 2018 and the first round of the Grammy Awards 2018.
Winning or losing, it doesn't matter to me. Being named in such prestigious musical awards is a remarkable triumph, as it has helped to bring me a lot of attention and care from my colleagues, experts, and those working in the music industry.
How are the international audience's reactions to 'dan tranh'?
During the voting round for the Grammy Awards, as well as my tours abroad, many international audiences have told me that it was a fresh and beautiful experience for them to listen to my 'dan tranh' performances. They are excited to explore Vietnamese music through my 'dan tranh' compositions.
My music has sold well on iTunes and Amazon and has been enthusiastically streamed on Spotify, Deezer and Apple Music.
My co-workers call my favourite musical instrument in its Vietnamese language, 'dan tranh', rather than 'Vietnamese zither' as they did in the past. It is a well-deserved reward for me.
You have shown your passionate interest and dedication to traditional music. However, the facts show that the majority of listeners in Vietnam are now less in favour than international audiences in welcoming traditional music. What do you think about this?
It happens to youngsters in every country. They seem to prefer foreign music to traditional melodies.
The youth now is also provided with less opportunity to enjoy traditional music "in a new approach". I think we should keep the ancient root of traditional music alive, while blending a fresh breath into it. However, I believe that young people are still in support of traditional music.
Do you think it is a tough challenge for traditional music artists?
It is not a challenge if we are willing to embrace every hardship in the journey to realise our goals and dreams. Nothing is impossible. An artist must equip himself with a strong will and genuine passion, and above all, dedication.
Can you share us about your future projects?
I have received much appreciation and notice from international artists and music producers after my success at the Grammy and IMA Awards. They have invited me to work with 'dan tranh'. It is heartening for me that they exactly use the Vietnamese word 'dan tranh'.
I am working on a project with renowned Italian composer, Roberto Diana. I recently signed a contract with a prestigious UK company to popularise 'dan tranh' to international audience and listeners. I am also working on four more projects with artists and producers from the US, the Netherlands, Argentina, and Spain.
I am looking forward to more opportunities to perform in Vietnam.
Thank you for your sharing!
VNF/NDO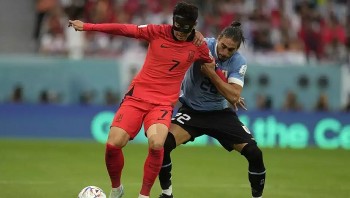 World
Both South Korea and Ghana are searching for their first wins at this year's World Cup. Ghana are facing the prospect of an early elimination from World Cup 2022 Group H when they travel to the Education City Stadium to face South Korea on Monday.