Mark was deeply saddened and outraged by the tremendous loss of life caused by the war.
"At it's most basic level, it was the killing and maiming of hundreds of thousands of innocent people on the other side of the world for no good reason, by a 'superpower' that really had no business trying to control nations and peoples half a world away," said Mark. "As we learned more about the situation, the degree of immorality became more clear: napalm, white phosphorus, My Lai massacre, Phoenix program--the immorality was endless."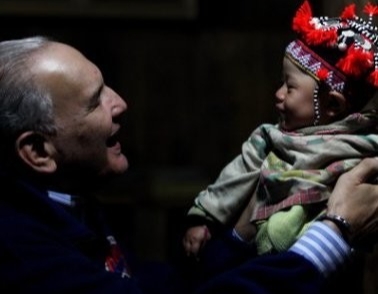 Mark and a baby from the Red Dao tribe in Sapa. Photo courtesy of Mark Rapoport.
As a supporter of the antiwar movement, Mark signed petitions and attended sit-ins, teach-ins, and intense demonstrations, some of which ended with confrontations with police. As a young medical student, Mark attended these demonstrations as a medic, helping protestors who have been tear-gassed by law enforcement.
Wanting to help the Vietnamese people in a more tangible way, Mark volunteered with the American Medical Association and joined a program that addressed the health needs of Vietnamese civilians.
In 1968, Mark arrived in Saigon and began working in a Saigonese hospital. A few months later, the medical student was given an opportunity to work in Da Nang, helping set up a tuberculosis vaccination program for a nearby leper colony.
"I told them, 'I'm not a real doctor.' They replied, 'We know, but you're the best we got,'" said Mark. At this point, the war was going on for several years and many American military doctors went home or were killed.
After arriving in Da Nang, he heard about the health problems of an ethnic community known as the Montagnard in the mountains of Quang Ngai province. Mark knew he had to help them. However, reaching the remote area would not be easy, especially as the jungles were teeming with Vietnamese soldiers. Despite the risks, Mark set off on a mission to help the Montagnard people.
Using his ID card that implied he had a higher status than he really did, Mark was able to get access to military medical supplies and convinced American helicopter pilots to fly him the mountain villages. With an interpreter, Mark met with the Montagnard people and began giving them some much-needed medical attention. Before nightfall, the helicopter returned backed to the military base.
When asked when he risked his life to save people he never met, Mark thought for a moment before responding with a smile.
"I'm sure there are some deep psychological reasons," said Mark with a laugh. "The simple reason is if you're a doctor, you go where people need you."