However, a circular economy is a systematic approach, requiring the participation and close coordination of actors in the economy. Therefore, besides favorable factors, Vietnam also encounters many problems in institutions, policies, infrastructure, science, technology, operating mechanisms, and markets.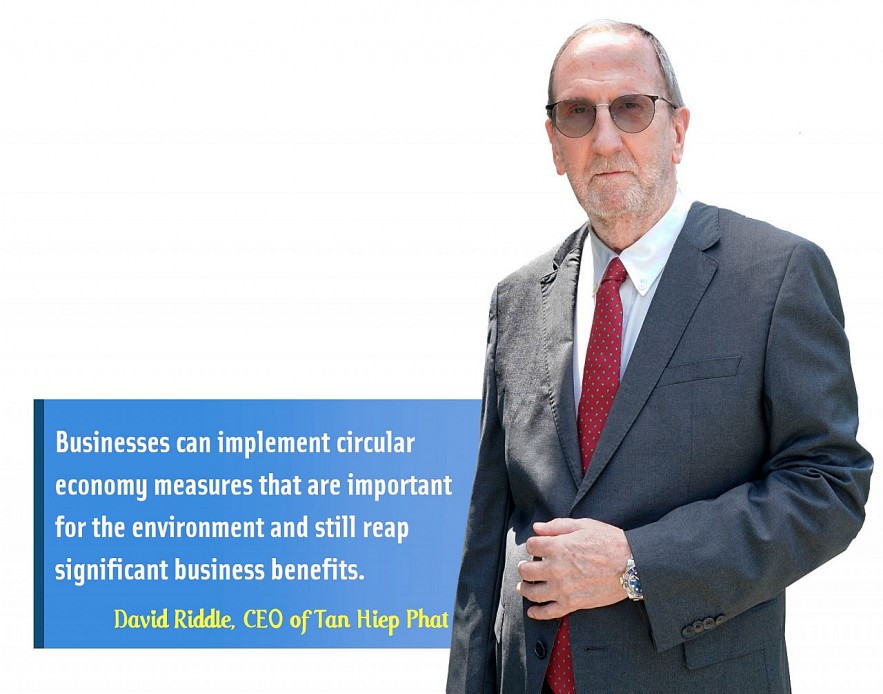 For example, in the field of plastic waste recycling, according to Le Xuan Dong, managing director of the Market Research and Consulting Division of FiinGroup, there are three major challenges. One is operational challenges, when the amount of plastic waste collected is not commensurate with the design capacity, due to the lack of a system for classifying and collecting plastic waste at source as well as regulations that do not exist in Vietnam. Second, the output demand for recycled plastic resins is not sustainable. Only a few beverage and food manufacturing enterprises made commitments. Most importantly, investment costs for the circular economy model are not low, and Vietnamese businesses, mainly small and medium enterprises, still face many difficulties in accessing preferential green credit.
During the publication launch, David Riddle said "Achieving a sustainable circular economy is not an easy task. Even highly developed economies like Singapore had to reconsider how countries can successfully protect their environment, and resources and achieve circularity."
However, he also said that businesses can implement circular economy measures that are important for the environment and still reap significant business benefits. David Riddle made some suggestions for cooperation between the parties.
One of the most important initiatives that require collaboration is educating citizens about why developing and implementing circular economy measures is so important. This process can take time and require a change in thinking over many generations.
Another approach is that of Boots, in which an economic incentive is given to encourage recycling. Hong Kong (China) created measures to discourage consumers from using excess plastic, such as a plastic bag tax that applies to all plastic shopping bags in the city.
"Think of recycled plastic as a new raw material for a successful industry. This will cement Vietnam as a greener country, and create hundreds of thousands, perhaps even millions, of new jobs. Globally, we have the technology to make creating and using recycled plastic a reality," said David Riddle.
The challenge for this, according to David Riddle, lies in having the right infrastructure to do this at scale. Once again, this is why cooperation on an unprecedented scale is necessary and urgent. Tan Hiep Phat believes that it is time for businesses to truly participate. Businesses need a strong legal corridor, specifying responsibilities for manufacturers and distributors regarding waste recovery, classification and recycling, or payment of waste management costs for discarded products.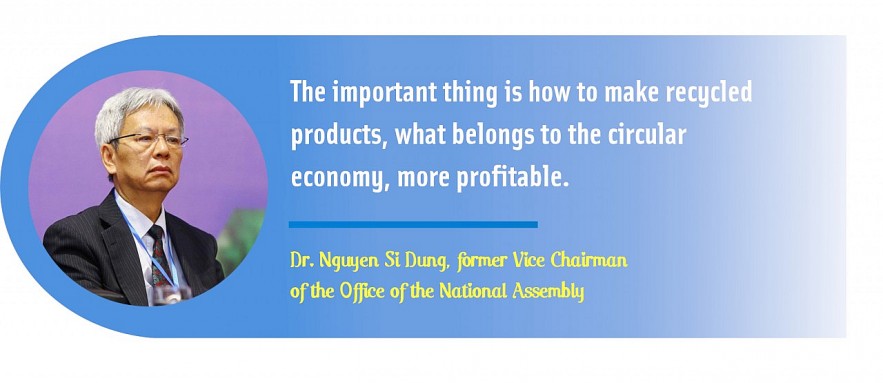 Sharing the same opinion as the representative of Tan Hiep Phat, Nguyen Si Dung, former Vice Chairman of the Office of the National Assembly said that the issue of "reverse incentives" is currently a big challenge. Nguyen Si Dung took the example of textbook products. If students in the previous class leave the books for students in the next class, demand cannot increase. Production of books is designed so that they can only be used once because if they are used many times, they cannot be sold anymore.
"If we want a circular economy, all policies must eliminate that 'reverse incentive.' The important thing is how to make recycled products, which belong to the circular economy, more profitable. As tools, the state already has communications and a tax mechanism," Dung said. "As the CEO of Tan Hiep Phat said, the state has to design a relatively sophisticated tax system. I think that's important. Along with that, the system of procedures and utilization of original materials must be tighter, and recycling materials must be easier."