From Soldiers to
"PEACE ENVOYS"
The American veterans returning to Vietnam are both healers of the wounds of war and envoys who carry the desire for peace.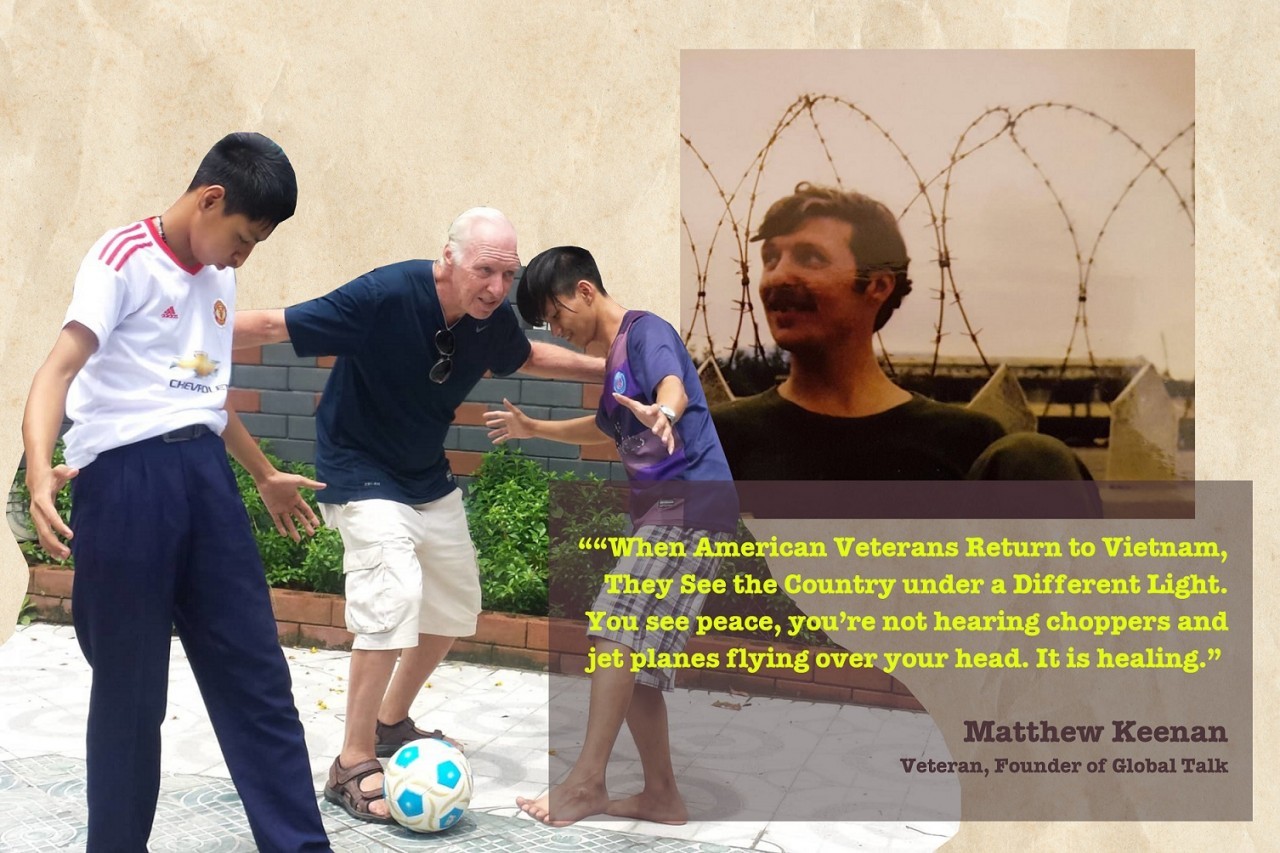 Left photo: Matthew Keenan playing football with the children of the Danang Association of Victims of Agent Orange/dioxin.
Right photo: Matthew Keenan at the U.S. military base in Da Nang in 1971.
Since the conflict began, American veterans and antiwar activists have vocally criticized the harsh foreign policies of the United States. In addition to protests and demonstrations, some have taken it upon themselves to be "people's ambassadors'' and assist the Vietnamese in rebounding from the years of bombs and bloodshed.
As one of those "people's ambassadors," Charles "Chuck" Searcy has worked with multiple organizations in the name of Vietnamese-American peace. As the President of Veterans for Peace, Chuck worked to uphold important resources that were crucial to Vietnam's development such as Hanoi's Friendship Village.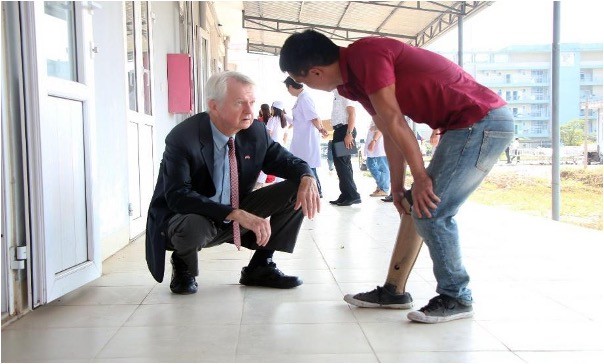 Chuck Searcy talks to a disabled person with a prosthetic leg at a project funded by project RENEW in 2018 (Photo courtesy of Chuck Searcy)
Hanoi's Friendship Village under Vietnam Veterans Association was established on March 18, 1998, in Van Canh village, now in Hoai Duc district, Hanoi. The project is the result of cooperation between Vietnam veterans and organizations for peace in 6 countries: USA, Germany, France, Japan, Canada, and Great Britain based on the ideas of Geogeo Mizo (born in 1945, died in 2002, served in the US army in 1963-1966).
George Mizo was affected by Agent Orange and passed away due to cancer in 2002 at the age of 56, George had made the Hanoi Friendship Village a rehabilitation center for the Vietnamese Agent Orange victims in Vietnam to receive physical therapy, vocational training, and to maintain a cross-cultural exchange with the American Agent Orange victims. Chuck, Matthew, and other American veterans continue to carry on the legacy of George Mizo by volunteering at the Village, helping children who are affected by Agent Orange at birth.
Chuck Searcy is currently the President of Veterans for Peace Chapter 160, which is based in Hanoi. The Veterans for Peace Foundation, founded in 1985 in the USA, is an international non-government organization assisting war victims and veterans in many different countries such as the UK, Canada, France, Poland, and Palestine.
Chuck and Veterans for Peace also worked with Tu Du Hospital in Ho Chi Minh City, offering more support for Agent Orange victims. Additionally, his organization helped with storm and flood relief in Quang Tri and Quang Ngai provinces.
While "semi-retired," Chuck is dedicated to making up for the sins of the past. Currently, he works as an international advisor for Project RENEW, an organization aiming to rid Vietnam of unexploded ordinances (UXOs) established in 2001. In addition to demining, RENEW also provides locals with knowledge on what to do if they encounter a UXO.
Since 2001, the organization has safely removed and destroyed over 105,000 UXOs and cleared 9.3 million square meters for development. While proud of RENEW's good work, the reason for the organization reminds Chuck of the extreme carelessness dealt by the United States to Vietnam throughout the war.
"All of RENEW's staff members were born after the war," said Chuck, solemnly. "They take on the responsibility we dumped on them."
Deeply invested in the positive development of Vietnam's younger generation, Chuck, Matthew, and dozens of other American vets living in the country worked together to give away more than 200 bicycles to children from rural, ethnic communities so that they can safely get to school. By giving them bicycles, American veterans are ensuring the next generation of Vietnam is well-educated and ready to take on an ever-changing world.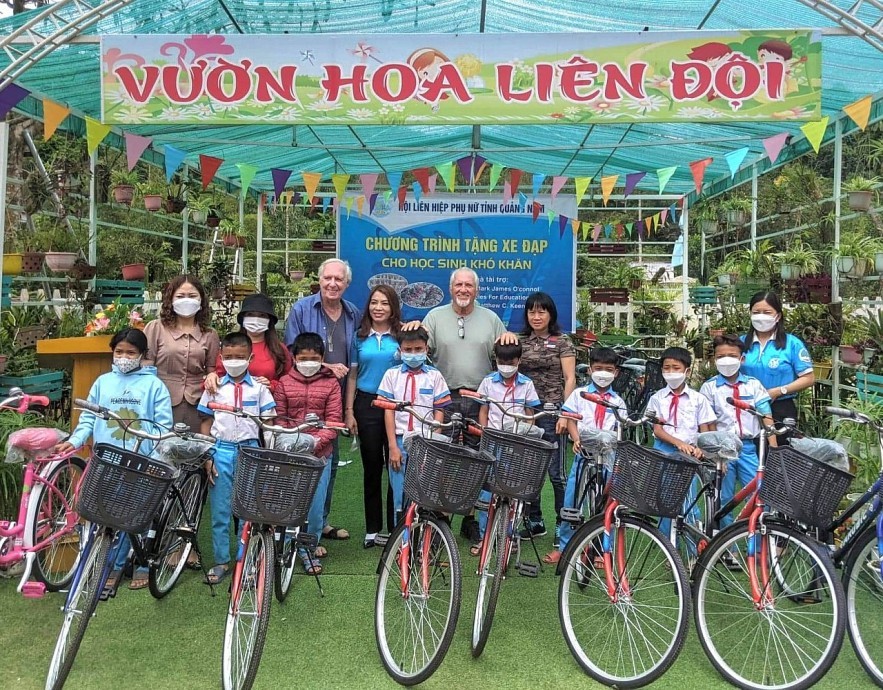 Bicycle donation for disadvantaged students held by US veterans, including Matthew Keenan, in Quang Ninh in 2022
(Photo courtesy of Matthew Keenan).
The ride towards love
One benevolent project led to another one - GlobalTalk. In order to help raise funds for the bicycle project, Matthew received a generous donation from his former high school, the St. Raymond High School for Boys. After working with educators in Da Nang and New York City, Matthew set up Global Talk, an online forum in which Vietnamese teens can speak to the students of St. Raymond's.
Beginning last October, this language exchange aims to provide Vietnamese students with the confidence to speak English, while allowing American students to get a better understanding of Vietnamese culture. By connecting his hometown with his second home, Matthew ensures peaceful dialogue continues between the next generation of Vietnam and the United States.
"The American girls were very interested to learn about the Vietnamese ao dai," said Matthew, referring to Vietnam's beloved national dress. "They talked about music, dance, and different types of entertainment they liked. Meanwhile, the boys were more interested in sports and video games."
Matthew never imagined he would return to Vietnam in his golden years, much less lead a peaceful dialogue between the next generations of Americans and Vietnamese.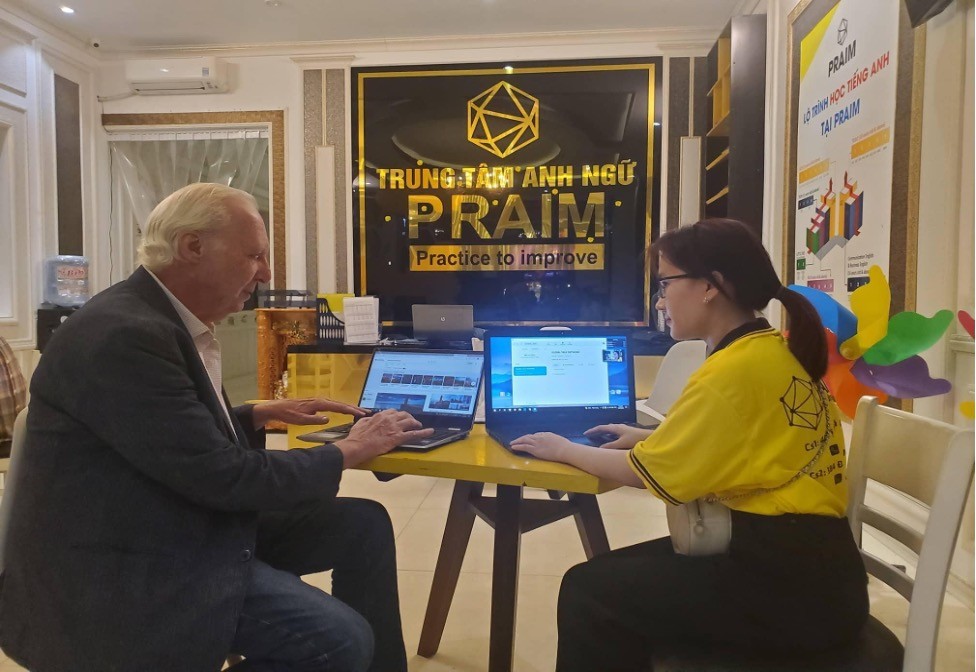 Matthew Keenan (left) on his Global Talk project in 2022 (Photo courtesy of Matthew Keenan).
"When American veterans return to Vietnam, they see the country in a different light," said Matthew. "You see peace, you're not hearing choppers and jet planes flying over your head. It is healing. I never thought I would come back but when I did, I knew I could engage with young and old generations, showing them goodwill."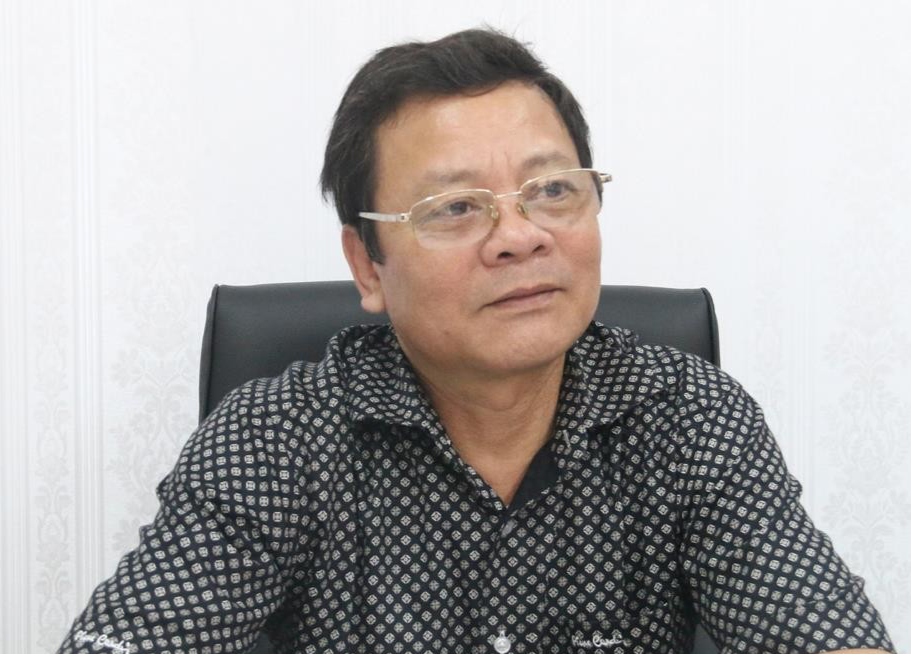 To Nam
President of Da Nang Association of Victims of Agent Orange/dioxin.
To Nam, President of the Danang Association of Victims of Agent Orange/dioxin (DAVA) reaffirms the positive impact of American veterans in Vietnam:
"Since the DAVA was separated from the Red Cross and stood as an independent initiative, the US veterans, especially Chapter 160 of Veterans for Peace, bring US veterans to Vietnam, especially Da Nang every year before the pandemic.
They support victims of Agent Orange and worked on a joint program with the People's Committee of the city over a time period. They signed an agreement of funding the support for the Victims of Orange. Between 2018 and 2022, the fund was US$11,000. From 2020 to 2030, the program goes on with the same funding of US$11,000.
The veterans personally donated the operating funds for the victims, gave wheelchairs and bicycles to children, visited families of disadvantaged victims, and donated equipment and learning tools. From 2017, about VND 1 billion (US$43 thousand) was contributed by US veterans as individuals.
In addition to funding, they made tables and chairs for the children to study. During recent Covid outbreaks, they called on friends to donate equipment to prevent the pandemic, or build playgrounds for children."
Writer: Glen MacDonald
Graphics: Valerie Mai