Beginning last October, this language exchange aims to provide Vietnamese students with the confidence to speak English, while allowing American students to get a better understanding of Vietnamese culture. By connecting his hometown with his second home, Matthew ensures peaceful dialogue continues between the next generation of Vietnam and the United States.
Matthew Keenan guides a Vietnamese girl to ride a bike.
"The American girls were very interested to learn about the Vietnamese ao dai," said Matthew, referring to Vietnam's beloved national dress. "They talked about music, dance, and different types of entertainment they liked. Meanwhile, the boys were more interested in sports and video games."
Matthew never imagined he would return to Vietnam in his golden years, much less lead a peaceful dialogue between the next generations of Americans and Vietnamese.
"When American veterans return to Vietnam, they see the country in a different light," said Matthew. "You see peace, you're not hearing choppers and jet planes flying over your head. It is healing. I never thought I would come back but when I did, I knew I could engage with young and old generations, showing them goodwill."
While entering Vietnam as a medical student rather than a soldier, Mark still feels a uniquely American sense of guilt despite being in a non-combat role during the war.
"It seemed to me that there were many kinds of guilt, some worse than others," explains Mark. "On the one hand, I had never supported the war or supported candidates that did. I felt good about my efforts against the war, so I felt there was some guilt that I did not bear. On the other hand, I (and millions of others), despite our good motives and actions, had been unable to end the killing. Had we been smarter, more dedicated, or more persistent, maybe things would have improved sooner. That very specific guilt fell on all of us in the anti-war movement, and persists to this day."
As a doctor and armchair anthropologist, Mark's second life in Vietnam was centered around preserving Vietnamese health and culture. Fascinated with Vietnamese ethnic culture, he frequently visits galleries or plans expeditions to trade with local people, eager to learn more about the mysteries of the mountain tribes. He always returns from the villages with many relics, adding to his collection.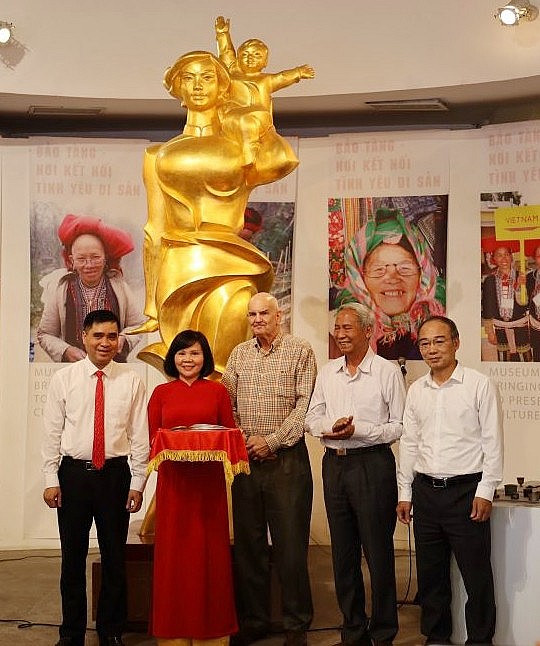 Mark Rapoport gives Vietnamese relics to the Vietnamese Women's Museum.
Rapoport's collection boasts dozens of Vietnamese relics but he never intended on hoarding these cultural treasures. Rather, he recently donated 500 pieces to the Vietnam Women's Museum in hopes that more people can learn about Vietnam's ethnic minorities. He has also donated a few pieces to American museums, putting Vietnamese art in an international spotlight.
"Thus far, Vietnam does not have a tradition of donating things to museums, unlike in the US," said Mark. "They don't have an easy way to bring things into the museum to study and display." Thanks to his generous donation, Rapoport further preserves some of the most remote cultures in Vietnam.
During his anthropological trips, Rapoport administers basic medical care for the ethnic communities, continuing his work from 1969. One time, when speaking with an elderly woman in Sapa, Rapoport noticed her squinting while trying to stitch together a shawl. Unable to focus clearly, the woman could not see the fine stitching, hindering her craft. Rapoport gave her his extra pair of reading glasses. Although they were a cheap pair costing no more than a dollar, the glasses were invaluable to the Hmong woman.
After seeing how vital these glasses were to the Hmong people, Rapoport knew he had to do more. Then the next time he went to Sapa, he came with a hundred pairs which were quickly taken from him by thankful, withered hands. Afterwards, Rapoport made a protocol named "Reading Glasses for the Mountain Masses," teaching other tourists and expats about the needs of the Hmong people and how to determine what type of glasses is best for them.
In addition to the glasses, Rapoport would also give the Hmong people postcards of the iconic New York skyline. This friendly exchange of culture between Vietnamese and American elders is indicative of how both sides are not intimidated by a hurtful past but rather supportive of a peaceful future.