How did Vietnamese people respond to Americans returning to the country?
When I first came here, I expected I might encounter some hostility. I waited but nothing happened. No one has uttered a word to me in hostility.
Why have the Vietnamese been so welcoming to Americans? It is a remarkable trait. They are so forgiving. They don't dwell on the past. They look at today and tomorrow. Foreigners in general can learn a lot from the Vietnamese outlook on life, forgiveness, and reconciliation.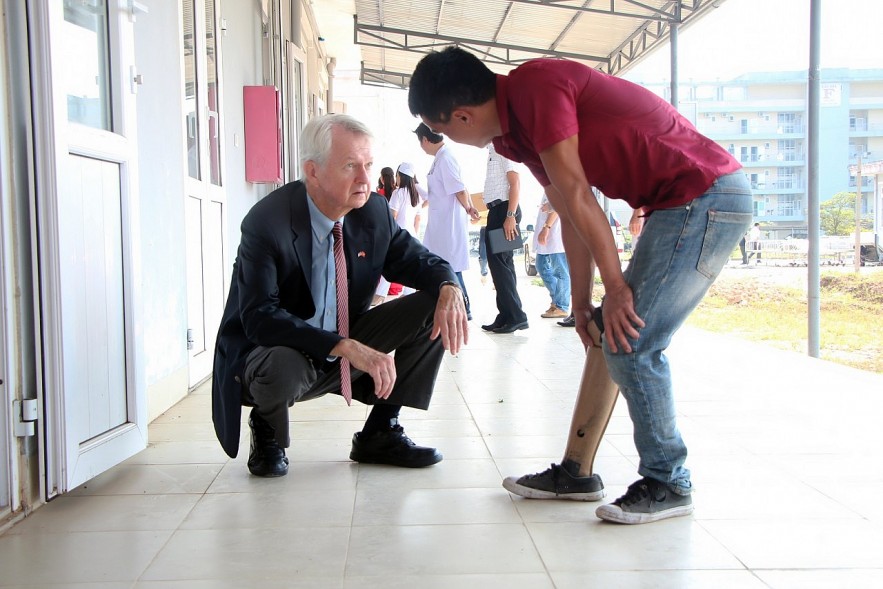 Chuck Searcy talked to a disabled man who came to project sponsored by RENEW in Quang Tri in 2018. (Photo courtesy of Chuck Searcy)
In your opinion, what factors allowed Vietnam and the US to reconcile?
It was inevitable that Vietnam and the US would reconcile because there were too many people of goodwill who were determined to see the injustices and the bitterness of the past replaced by true understanding and friendship.
There were many individuals on all sides who contributed to that long process. Veterans on all sides opened doors of understanding that permitted former "enemies" to embrace and find personal peace and reconciliation. Countless ordinary "people's ambassadors" made peace, reconciliation, and normalization of relations possible.
What projects have you completed as the President of Veterans for Peace?
Veterans For Peace works hand in hand with projects such as RENEW, and in support of the Friendship Village in Hanoi, orphanages and schools in various provinces, the Tu Du Hospital "peace village" for Agent Orange orphans who are victims of dioxin's consequences, flood and storm relief in Quang Tri and Quang Ngai.
We have given away more than 200 bicycles to poor children mostly in rural, ethnic minority areas so the children can travel to schools more easily. We have cooperated with Vietnamese veterans in a few special programs recognizing contributions and sacrifices of veterans, such as special events at the Hoa Lo prison museum.