When and how did you join the war in Vietnam?
It was in 1971. I was gonna be drafted but up enlisting. To be honest, I didn't want to go at all, but I didn't want to be drafted. Enlisting opened up opportunities for choice.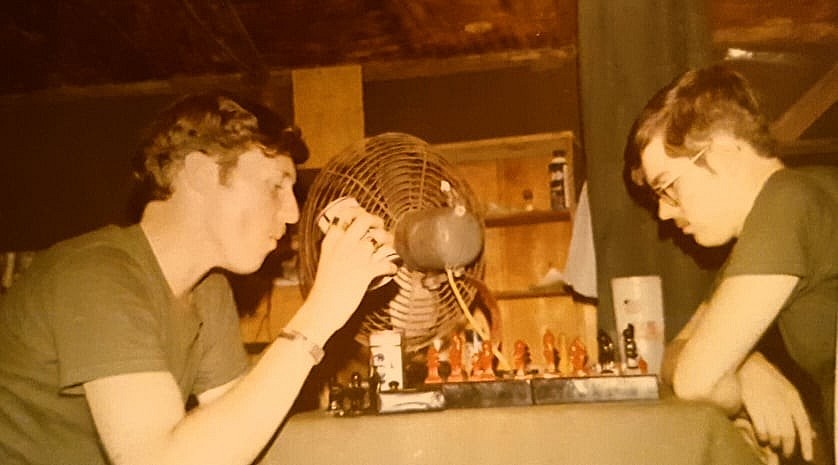 Young Matthew Keenan plays chess. (Photo courtesy of Matthew Keenan)
If I had to go, I wanted to have a say in what I was going to be doing. So that was what happened. I knew I was going to get drafted, so I went enlisting.
In the 1970s, the war was going down a bit. For me, it was a gamble. Maybe by the time I got through basic training, the war would be over and I wouldn't have to worry about it. But obviously, that didn't happen.
In September 1971, I was sent to Chu Lai and one of my main jobs was to close down the US bases and send personnel back home, then we would transfer the responsibility of the bases to the Vietnamese army. Once we finished in Chu Lai, in November 1971, we went to Da Nang and we started the process in Da Nang.
By the time I left Da Nang, Da Nang was just about to be totally turned over to the Vietnamese army. At that time, we may have 20,000 soldiers, and none of them were combated.
When you look back at the war, what do you think you reflect on?
It was a very difficult time. I felt good about the role I was performing because it was participating in getting the war finished. I was also a drug counselor, helping guys get home drug-free.
However, I was always on the fence. There were times when we were doing the right things, then there were times when we were doing the wrong things. The impression in your mind about the conflict, with is known as the "Domino theory," and then you had Muhammad Ali saying what were we doing over there, those people never hurt us.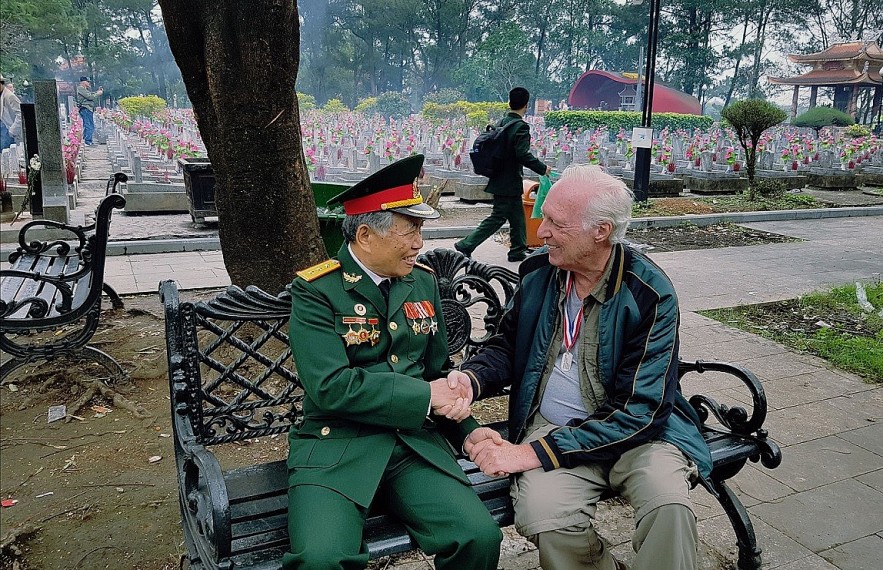 Matthew Keenan shakes hands with a Vietnamese veteran. (Photo courtesy of Matthew Keenan)
I can remember one of the hardest times for me was saying goodbye. I remember that every time I say goodbye to somebody, I was happy that I wouldn't have to say goodbye to them again. It was very disturbing because you don't know if you were going to say hello.
My brother was the last person I had to say goodbye to and I was so relieved the goodbyes were over. I didn't have to worry about it anymore, now I could concentrate on doing my best to get back home, to say hello.
When you were in the war, how did you respond to the Vietnamese people?
I actually had interaction with a lot of Vietnamese people because the role we played was transferring responsibility to the South Republic Vietnamese army, and there were many Vietnamese women and men who worked at the military bases. They helped clean the hoods, the beds, and our uniforms. I never had any problems with them.
Even now, Vietnamese people welcome Americans with open arms. They never say any animosity. I worked with the President of the Da Nang Association for Victims of Agent Orange, Mr. To Nam, who was in Da Nang at the same time I was in 1971 and 1972. He was a courier for North Vietnam. Now we work together as if we were brothers. There is no animosity, we have a good relationship. When he sees me, he salutes me and I salute him back. Now we are on a different mission of reconciliation and forgiveness. We don't forget about the past but we don't let that hold us back from doing good deeds.