As a Parisian growing up with a loving Vietnamese grandmother, 27-year-old French filmmaker François Bibonne longs to know more about his Vietnamese roots. Vietnamese traditional folk songs left a big impression on him, the lyrics describing the pastoral joys of the countryside or ghostly hymns invoking ancient spirits fascinated the young Frenchmen, inspiring him to follow his own musical passions.
In 2019, François traveled to Vietnam and immersed himself in the nation's distinct music culture. This amateur filmmaker soon found himself on a mission to learn more about the country through its classical music.
François spent months traveling across his ancestral homeland with a camera, conducting interviews with Vietnamese musicians trained in both classical and folk music. As a child of both cultures, he is fascinated with the Eastern-Western duality within Vietnamese classical music and explores this concept in his documentary "Once Upon a Bridge in Vietnam."
The film takes audiences on a virtual trip to the Vietnamese countryside and elaborate opera houses, showcasing the wide variety of concerts in Vietnam. Francois's French narration is heard between footage of different Vietnamese musical performances, explaining the details of the art form to Western viewers.
Although this is François' debut project, "Once Upon a Bridge in Vietnam" has won several international awards, including the LA Film Award 2022 and the New York International Film Award 2022. Also, Francois was recently selected by ARTE TV, Eupore's biggest organization in arts and culture for media, to attend an artistic residency in Paris.
In an interview with the Vietnam Times, François discussed his various inspirations, his multicultural identity, and his warm reception by the musicians of Vietnam.
From self-taught filmmaker to winner of international awards
Photo: Francois during the film screening (Photo courtesy of Francois Bibonne).
What inspired you to become a filmmaker?
I wanted to be a pianist when I was younger, so my idea was to just stay connected to music. I was trained to play the piano with a very good private tutor but to become professional you would need to train for seven hours a day. That's another lifestyle so I decided to focus on my studies.
I have a master's in history at Paris 1 Panthéon-Sorbonne University. After graduating university, I did several internships involving communication and marketing but I slowly turned to be more interested in visual arts. This is how I started to do interviews with people and make history projects, but it was with the cameras, so it became a filmmaking project very quickly.
My job is to make videos for musicians and I started to film music documentaries. My first documentary is about classical music in Vietnam.
My personal mission statement as a filmmaker is that the most important thing is the vision and the long path to get the beauty you need. The rest is nothing.
When did you first feel a strong connection with Vietnamese classic music?
Most foreigners don't think of classical music when they visit Vietnam. So when you search on Google, write classical music Vietnam on YouTube, you're going to find some tracks from war movies. It is not easy to interest people about classical music. It's not that popular in general.
When I went to Vietnam, I started to hear traditional music from the countryside and also symphonies from the orchestra which combined with traditional melodies. I am very curious, so I listen to a lot of music and when it's good musicians, it's always good music.
The death of my Vietnamese grandmother gave me energy to make such an adventure. I also wanted to prove something wanted to myself and my family, I to make something meaningful for my life. Nowadays young adults are looking for a more meaningful life instead of money. We all need a path to grow.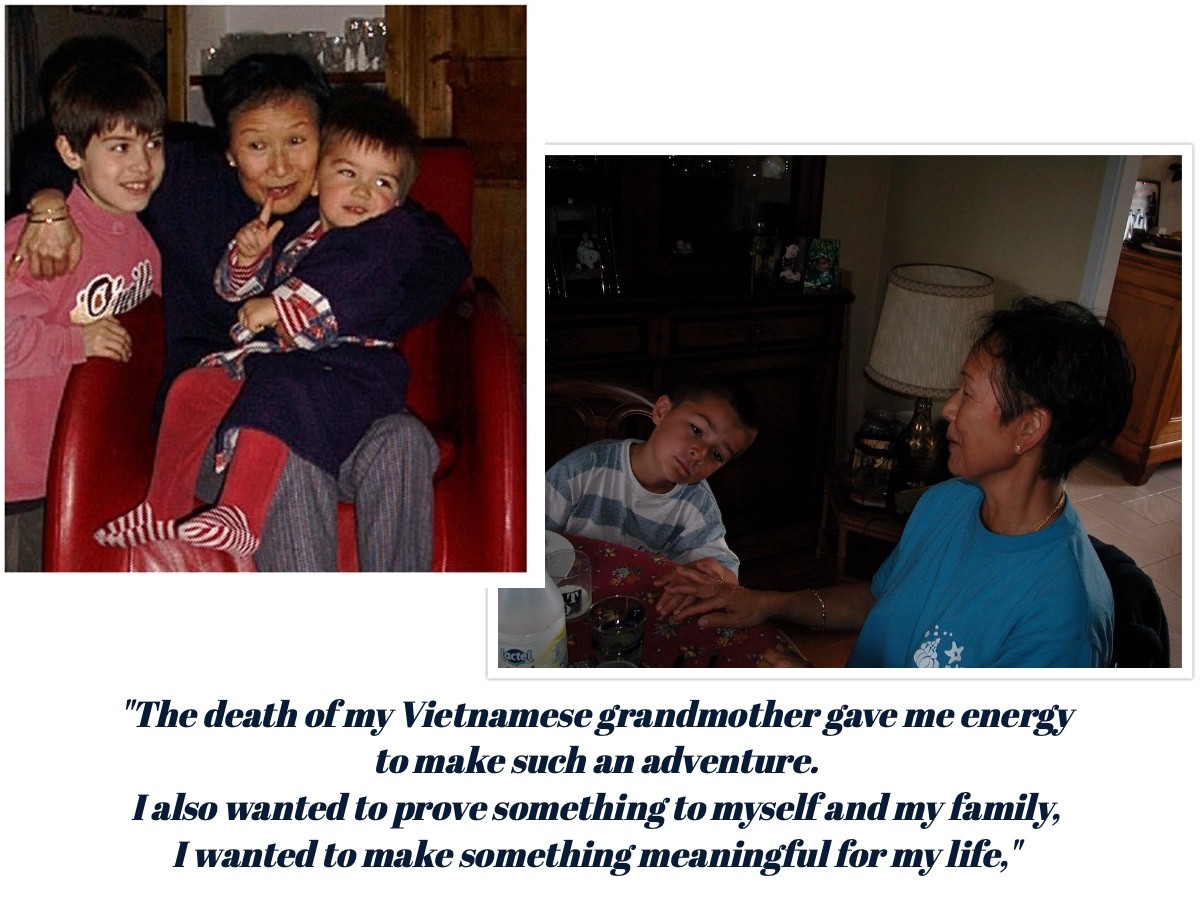 "Once Upon a Bridge in Vietnam" came true when I realized I had to put all my will into making a documentary about my musical quest in Vietnam, from western classical music to Vietnamese culture. The bridge is the symbol of this connection between culture and nature, Western music and Vietnamese music, France and Vietnam, myself and my grandmother…
the Journey to trace Vietnamese identity
In you opinions, what are the reasons Vietnamese classical music is less popular compared to Western classical music and what can we do to change that?
Vietnamese classical music is not easy to listen to, the tones are not made for the Western harmony and its traditional instruments don't exist abroad. Western classical music has spread around the world for centuries and is sponsored by public and private funds in education, composition and events.
Photo: Film screening in Paris on October 24, 2022 (Photo courtesy of Francois Bibonne).
It is difficult to get more people to listen to Vietnamese classical music because in Europe it is very complicated, we already have difficulties to get more people to listen to our own Western classical music. People follow the trend, and nowadays it is mostly hip hop and electro.
In Vietnam, I used to teach French and English to many private and public schools. I spoke a lot with the students and they mostly listen to European pop songs, Korean songs, or V-Pop. It's normal, it's trendy. Vietnamese classical music is not trendy, but people know they can be proud of it if the discussion comes to their identity.
For example, the Ca tru music is a fully Vietnamese music genre which its not connected to Chinese culture. This is important for Vietnam. And nearly nobody knows about Western classical music in Vietnam, it's a very small community.
What is the biggest challenge about making the film? What stops you from giving up when you feel lost/unmotivated?
The biggest challenge was the budget. I never got sponsored by French Institute or French Embassy. For a year and a half, I had to teach French and English to make enough money to organize my documentary and develop a professional vision. I received loads of help from y friends in Vietnam, the music community in Hanoi and Saigon, and the help of great music leaders such as composer Phan Thuy, pianist Luong To Nhu and conductor Honna Tetsuji. I also appreciate the help of Vietnamese media and friends, their interest for my project helped me to believe in myself.
A SOUL CONNECTION LEADS TO BRIGHT CAREER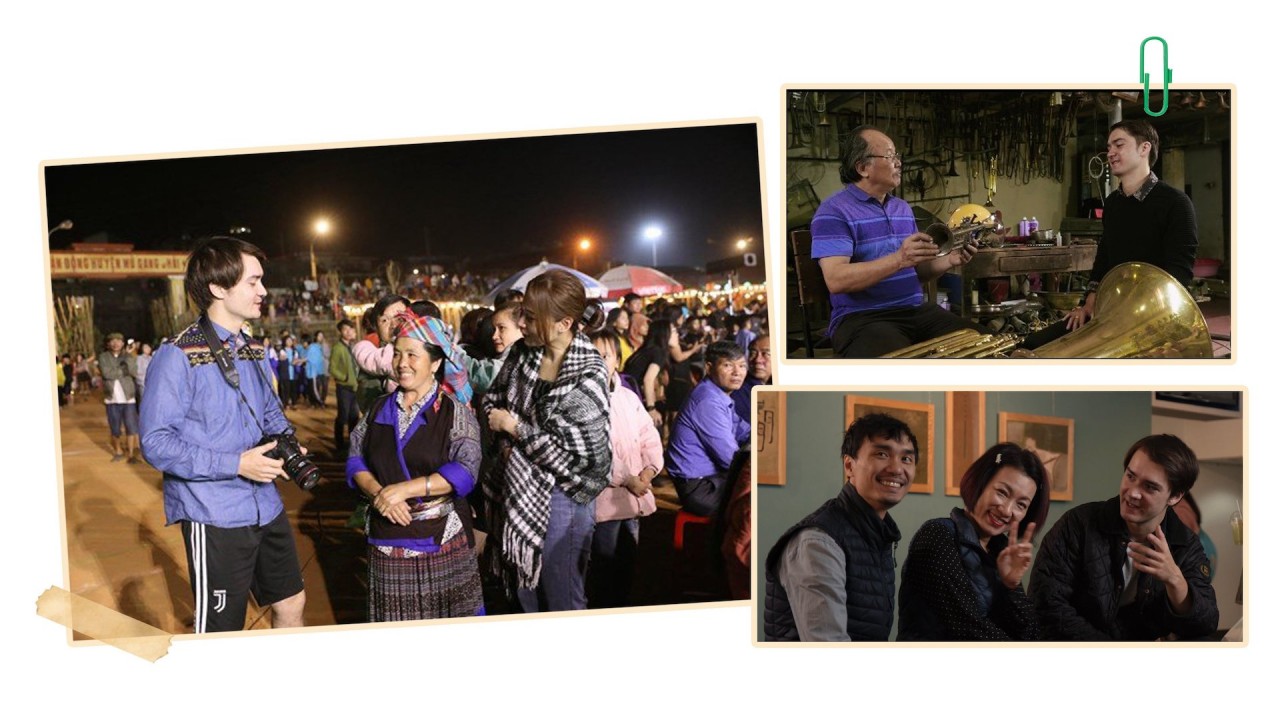 Photo: Francois traveled to many places in Vietnam and met with both local people and professional musicians for the making of the film. (Photo courtesy of Francois Bibonne).
You have done several screenings in France in 2021-2022. As a first time filmmaker, how does it feel to do the screenings and have people react to your film?
Did you expect to win so many awards?
The feeling is great. I made nearly 10 events and all of them were successful. The Vietnamese diaspora is very well interested because they miss their country and it depicts their land with a beautiful voice. I saw many people crying and some of them wanted to see the film again. Step by step the project becomes famous in France and I hope it can reach a global audience thanks to my energy to develop events before I release it online.
How was the experience connecting with the Vietnamese community?
My first connection with Vietnamese music happened with the Vietnam National Symphony Orchestra. When I met Honna Tetsuji, the music director of the orchestra, I started to know more about Vietnamese music. I also went to the National Convention Center in Hanoi for the celebration of the 75 years of the Police Ministry.
The same orchestra played many Vietnamese symphonies plus a great interpretation of the National Anthem by Van Cao. This was my first connection with Vietnamese music, and saw for the first time a "Đàn tranh" and a "Đàn bầu".
When musical events were cancelled across Vietnam because of Covid, I went on YouTube and listened to recordings of Trong Bang music. I liked it, instantly.
At the end of my filming trip I went to a music festival in Mu Chang Cai. It was mostly volunteers with musicians from the Vietnam National Academy of Music. They organized a concert to fundraise a bamboo forest for the locals. The trip was a real adventure, in the mountains I could feel the spirit of my Vietnamese grandmother and the music of composer Phan Thuy was beautiful. This is the end of my movie, it is in the bamboo forest, and it's just amazing; the colors and the music are something I can't describe.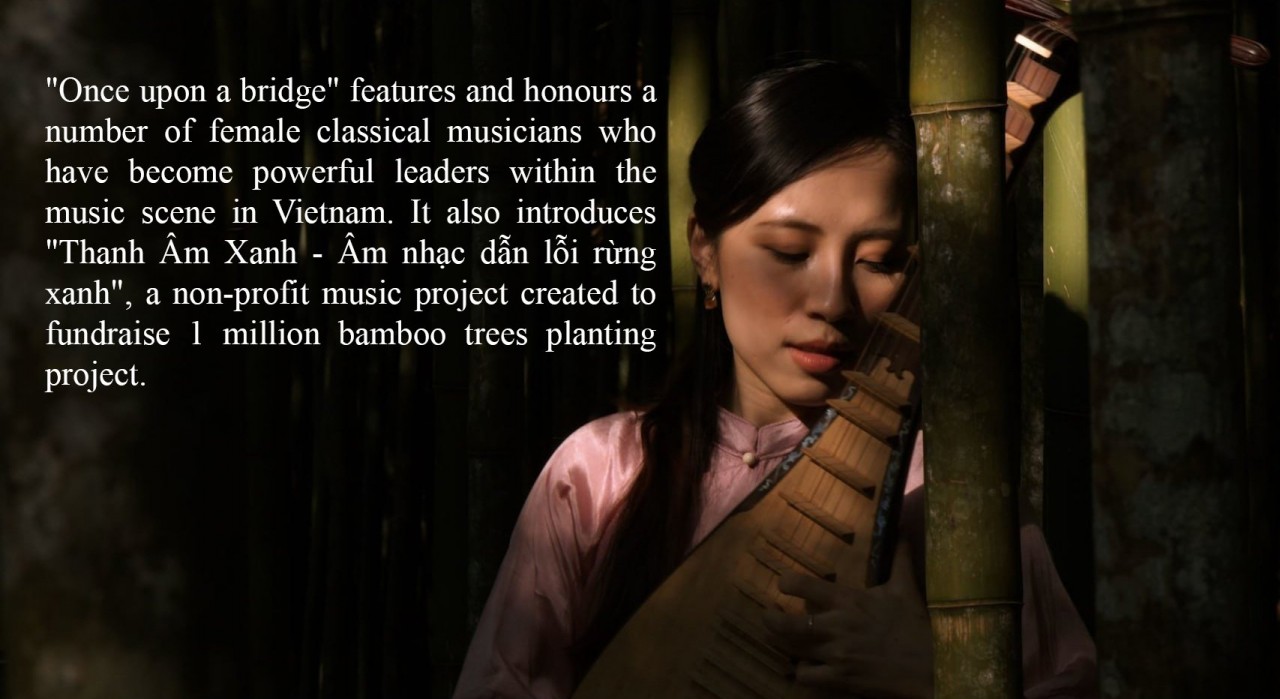 (Photo courtesy of Francois Bibonne).
What is the most impressive thing you learned about the traditional culture when filming in Vietnam?
The most impressive thing was my trip to Yen Bai province. I went there to film a new festival called "Thanh Âm Xanh." With a hundred musicians and classical music fans, we took a bus and went to the mountains from Hanoi. It was a great memory because most of the musicians were also members of the Vietnam National Symphony Orchestra or the Vietnam National Academy of Music. For me, it was the final bridge I needed, from culture to nature. These people worked as volunteers to fundraise money for bamboo trees. The landscape was gorgeous, the local people simple and lovely of the Hmong ethnic group.
Do you think your impressons about Vietnam have changed after making the film?
Yes, now when I think of Vietnam I hear Vietnamese symphonies, such as "The Symphonic Poem of 'He who Brought Happiness to Us' by Trong Bang, now I feel Vietnam is part of my identity. I understand Vietnam as a beautiful poem, like a mysterious adventure that takes in another world full of energy and characters.
Before, Vietnam was very far and not familiar. Now, I feel it's a second home with people I know and I could meet again for my personal quest. It's also the country of my grandmother. I believe that her spirit is in Vietnam now, even if she used to live in France.
In your opinions, what is the role of music in connecting different generations of Vietnamese descent?
Because of globalization, music is changing. People forget about their roots and their music of their hometowns. I feel music can express the life of the spirits, the older people of the past centuries. This is why it is important to keep our heritage, in association with contemporary music. In that extent I feel Vietnamese music is a bridge between the Vietnamese diaspora and their home country - the place of their descendents.
Zoey Nguyen
Graphics: VNT