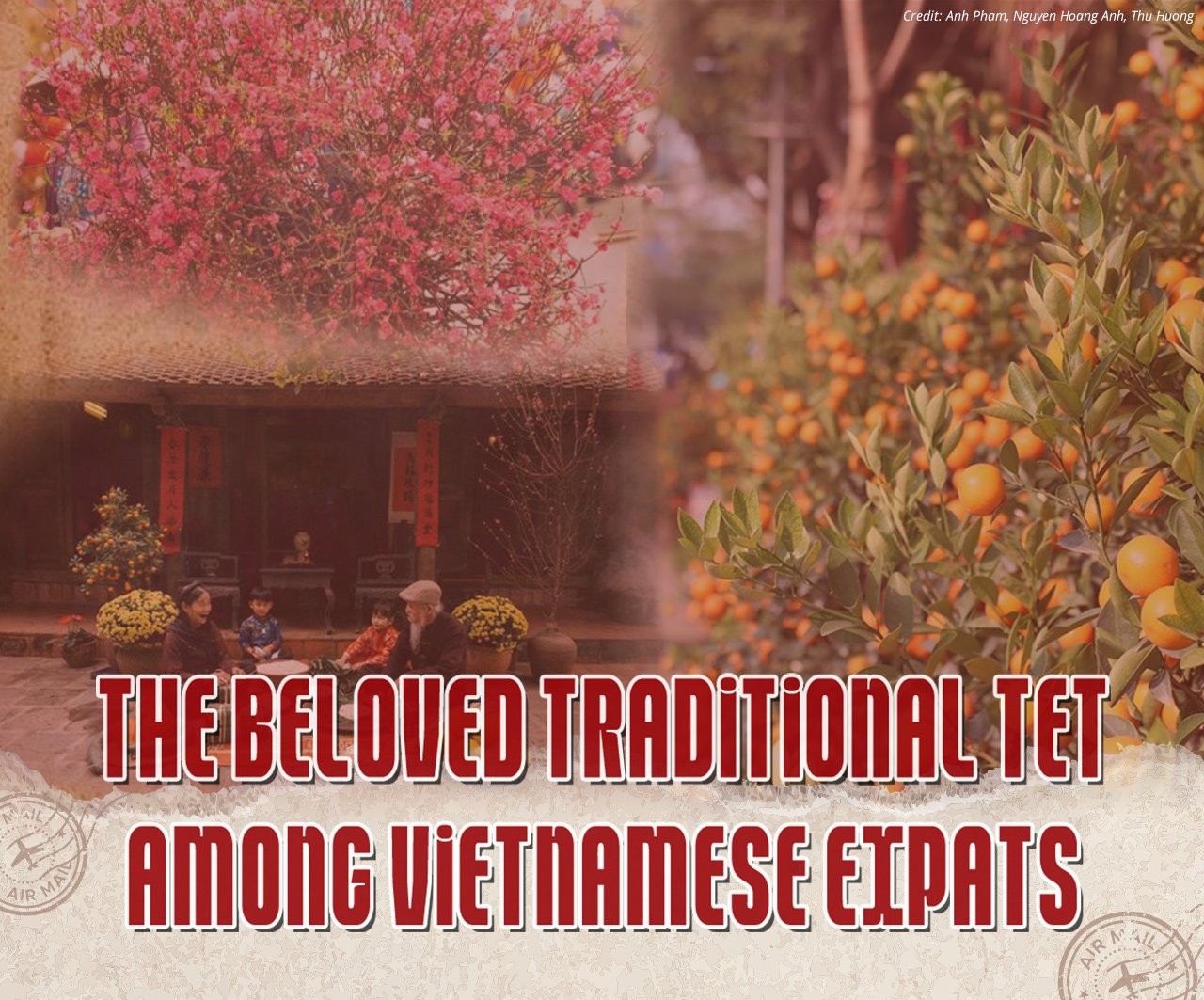 The traditional Tet provides Vietnamese expats with a chance to uphold their homeland orientation. Various activities aiming to maintain cultural values and welcoming new year among expat communities in the host nations have helped the meaning of traditional Tet present in the hearts of overseas Vietnamese people.

Vietnamese expat community in Germany is populated with thousands of people working and studying in major cities. According to Vietnamese expat Vu Tran Duc at this time of the year, people are excited for the Tet season to begin.
To prepare for Tet, Duc went to the Vietnamese market in Berlin on his day off and was able to find a variety of goods at affordable prices.
"I have bought a plate of baby jackfruit sticky rice, a kumquat tree, some Tet jam and red envelopes. A few days before New year's Eve, I will buy some food for the year-end meal on the days leading up to the traditional Tet."
In the market, everyone is busy preparing, shopping, creating a bustling scene. "If people are eager to return home on Tet holiday, overseas Vietnamese like us share the same desire, even more intensely," said Du.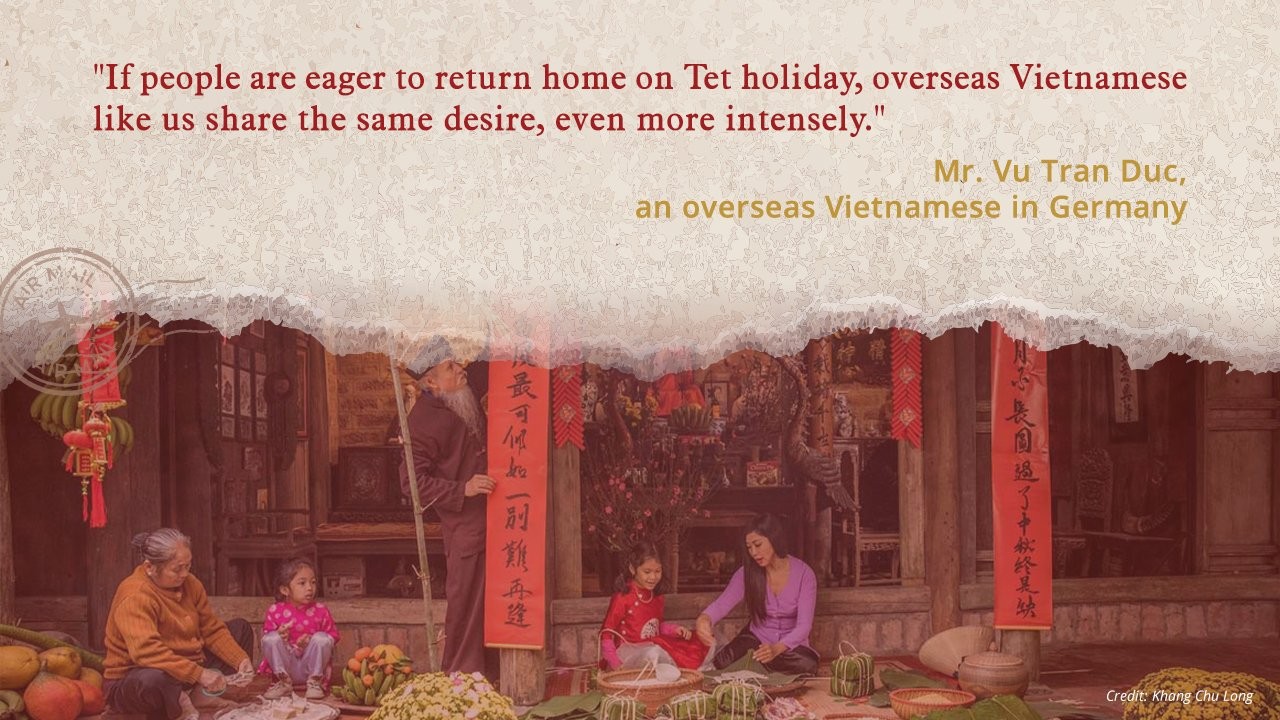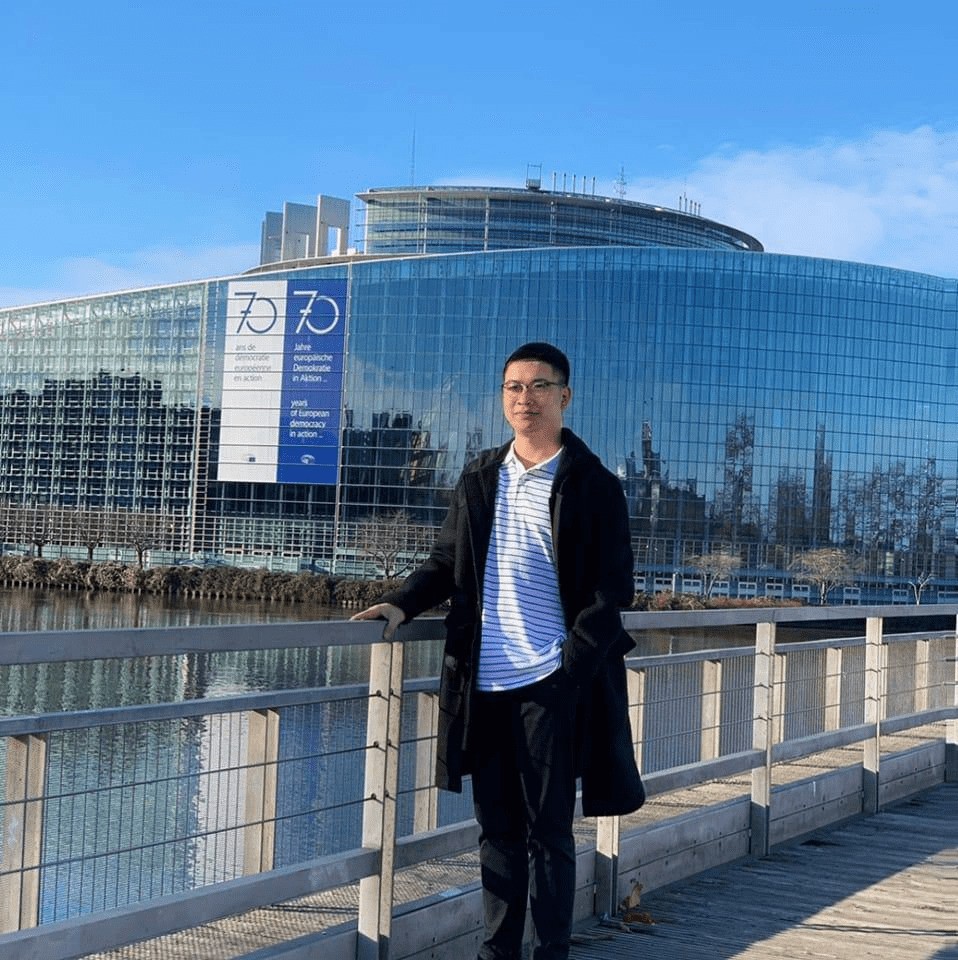 Mr. Vu Tran Duc, an overseas Vietnamese in Germany (Photo: Vu Tran Duc)
Hundreds of Vietnamese workers in Germany as well as in many countries where people do not celebrate the Lunar New Year also feel the same as Duc
In the Western countries, employees like him go to work on New Year's Eve as usual. "We need to get around that by utilizing the early job finish and then requiring to go home to make a decent year-end meal. It will be a thrill if our contractors are understanding. They will cut us some slack and give us a day off," said Duc.
That's why overseas compariots put in a lot of effort and affection preparing Vietnamese dishes for New Year's Eve, even if their meals all year round are mostly simple and in the rush. The classic year-end feast must have a boiled chicken, a plate of fried vermicelli and a bottle of glutinous wine, which are emblems of the traditional Tet.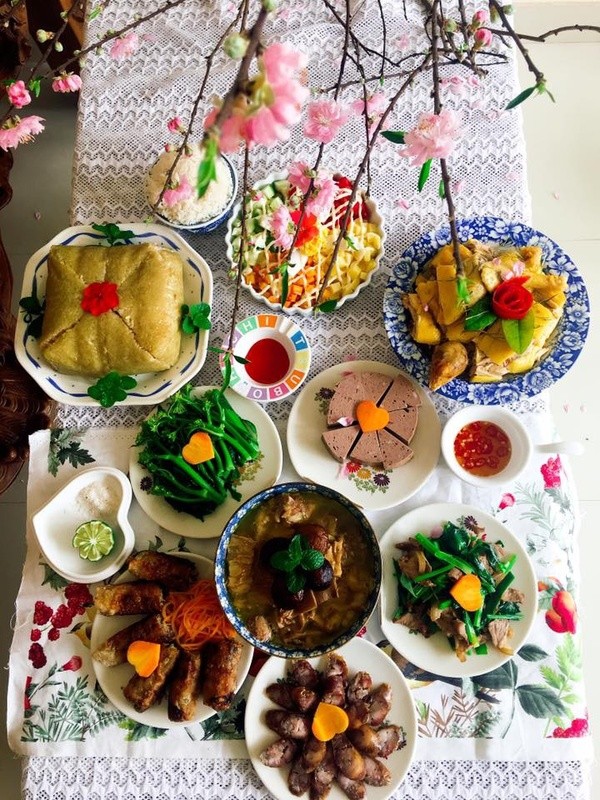 A year-end meal at home, which was prepared by Mr. Vu Tran Duc, to welcome the Lunar New Year 2019 (Photo: Vu Tran Duc)
At the dinner table on New Year's Eve, Vietnamese expats gather to reflect on the previous year and welcome the upcoming one. Joy arrives not only in the taste of familiar dishes, but also in hours spend together singing and talking about old times. Spring has already arrived at Duc's house as the peach flower, which represents the Tet hoilday, has started to bloom beautifully.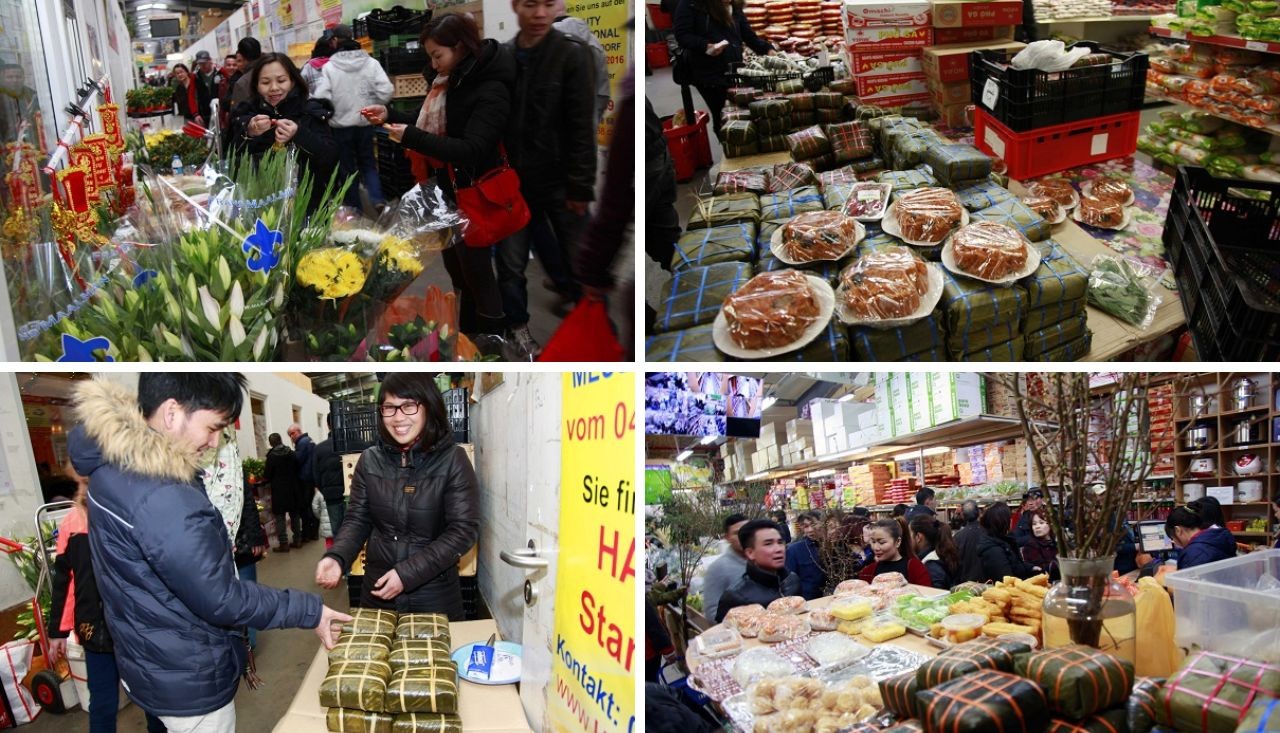 Dong Xuan Trade Center (Berlin) bustling on Tet (Photo: quehuongonline)
According to the German Federal Statistics Office, as of 2019, there are about 190,000 Vietnamese types living, studying and working in Germany. This is one of the European countries where overseas Vietnamese settle the most.
Wanting to recreate an authentic traditional Tet celebration, Vietnamese expat Dang Mai Phuong, who has lived in Czech Republic for more than 20 years, use this chance to teach her children how to practice some indispensable traditions during Tet holiday. The preparation of Tet holiday is essential in Phuong's family, especially for the young generation.
Although Vietnam and the Czech Republic are much different in geography and time zone, Phuong claimed that these differences do not affect the ambiance of Tet celebration in her family. Every year as the clock strikes at 12 in Vietnam's time zone, her family celebrate the beginning of the New Year's Day while it is usually afternoon in the Czech Republic. Also, on New Year's Day, Phuong manages to make a video call with her family back home to wish them a happy new year.
Phuong's family also has a tradition to make their own "banh chung", the symbolic cake of Vietnamese Lunar New Year. They get together on every step of the process, from selecting "la dong" and "lat" to wrapping, binding, to pressing the cake's corners to make it square. For Vietnamese, making "Banh Chung" square is the ideal way to express gratitude to their ancestors and homeland.
"I try to recreate all the traditional practices on New Year's Day to be as similar to those in Vietnam as possible because I've been away from my homeland for many years," she added.
Although her children have not had opportunities to experience the Vietnamese New Year at the homeland, Phuong believes that with her effort recreate the traditional Tet, the next generation will be aware of the country's cultural values.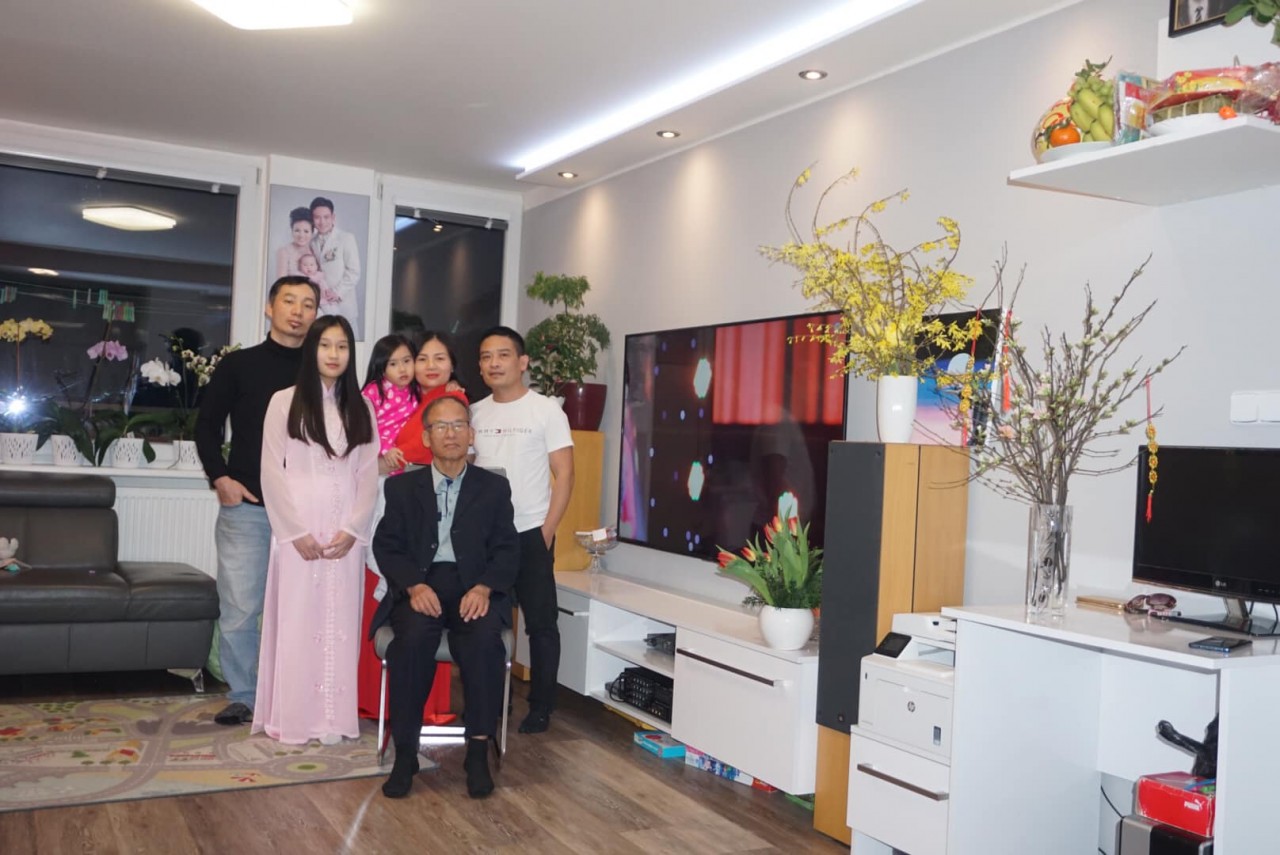 Phuong's family took a photo on the occasion of the Lunar New Year 2021 in the Czech Republic (Photo: Phuong Mai Dang)

Vietnamese diplomats working in foreign countries put in great effort to preserve and promote the culture values through organizing events recreated the Vietnamese Lunar New Year called Tet gatherings.
The Tet gathering ceremonies at Vietnamese embassies abroad are special occasions that all overseas Vietnamese are looking forward to. Some people even have to cross hundreds of kilometers and manage the bustling schedule to join.
At these ceremonies, they can enjoy atmosphere of the traditional Tet. There are peach and apricot branches, apricot, lotus flowers, chrysanthemums, banana trees, bamboo trees,.. all served as the soul of Vietnamese Lunar New Year.
It is a good time for adults to recall homeland flavors through candies, green bean cakes or "banh chung". Children, on the other hand, are happy receiving lucky money and Tet gifts as custom practices in Vietnam.
Former Counselor of the Vietnamese Embassy in Norway 2013-2016 term Le Thanh Binh said that Tet gatherings are one of the best memories in his time spent working abroad.
According to the Moon's calendar, the coldest month of the year is the twelveth, which is also wintertime in Oslo (Norway). It usually get cold below minus 7°C this time of the year. The Vietnamese Embassy in Norway are busy organizing events for Tet, such as compariot gatherings, cultural exchanges, Vietnamese cuisine party. With the hurried and upbeat preparations going on, the cold of the Nordic region is hardly noticeable at the Embassy in Oslo.
"Tet is our precious opportunity to conduct diplomatic missions and promote the nation's image. The primary goal of this is to bring together the Vietnamese diaspora and provide a beautiful Tet away from home," Ambassador Le Thanh Binh revealed.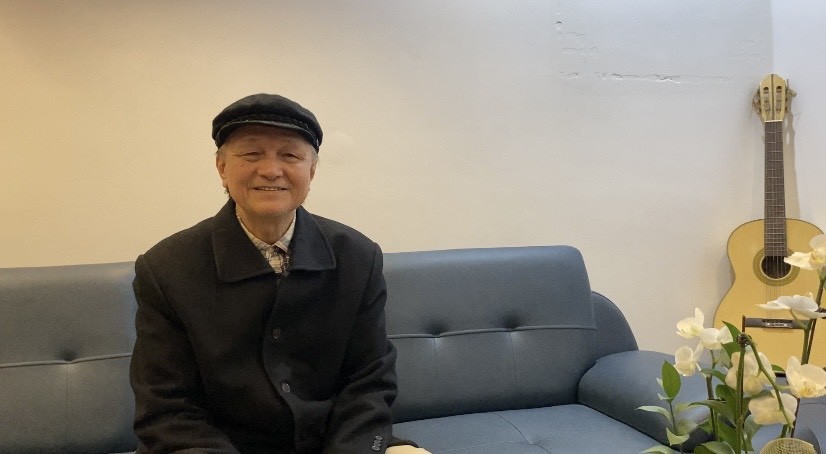 Former Counselor of the Vietnamese Ambassador to Norway Le Thanh Binh shared about Tet gatherings (Photo: Le Thanh Binh)
Another former diplomat shared the same feelings when speaking with Vietnam Times. Former Vietnamese ambassador to Myanmar period 2016-2019 Luan Thuy Duong, who directly organized many Tet gatherings, is most impressed with the joy of spending the holiday with the Vietnamese community.
She recalled that while preparing full-flavored Tet dishes for the first time in 2016, there was not enough raw materials, which led to many funny stories she couldn't forget.
"Because we were out of 'dong' leaves. we packed banana leaves instead; because we lacked a mold, we had to wrap "banh chung" by hand. All the cakes are not the same sizes, some big, some small, but everyone is pleased and grateful."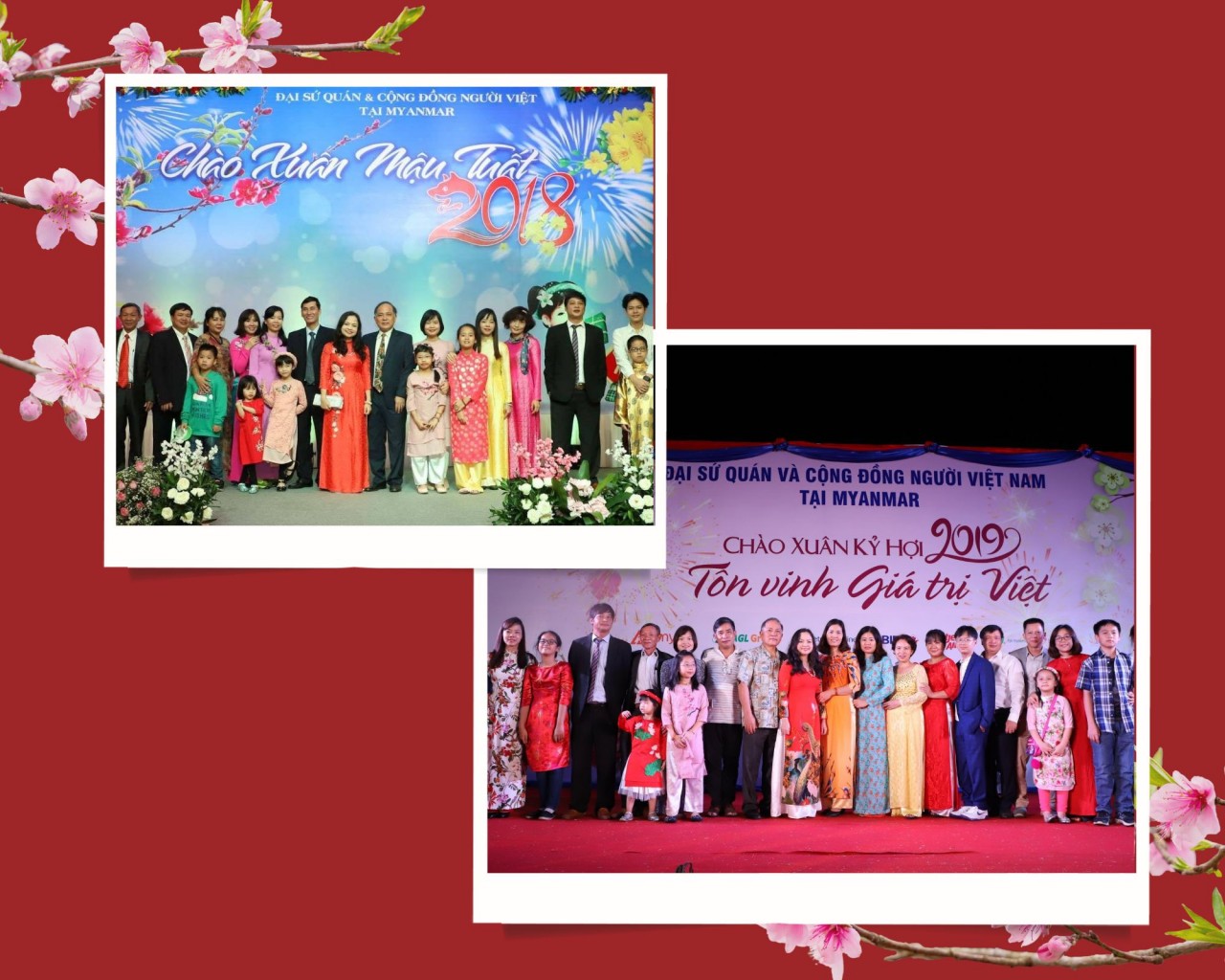 New Year celebration event organized by the Embassy of Vietnam for overseas Vietnamese in Myanmar on the occasion of the Lunar New Year 2018 and 2019. (Photo: Thuy Duong va Tri)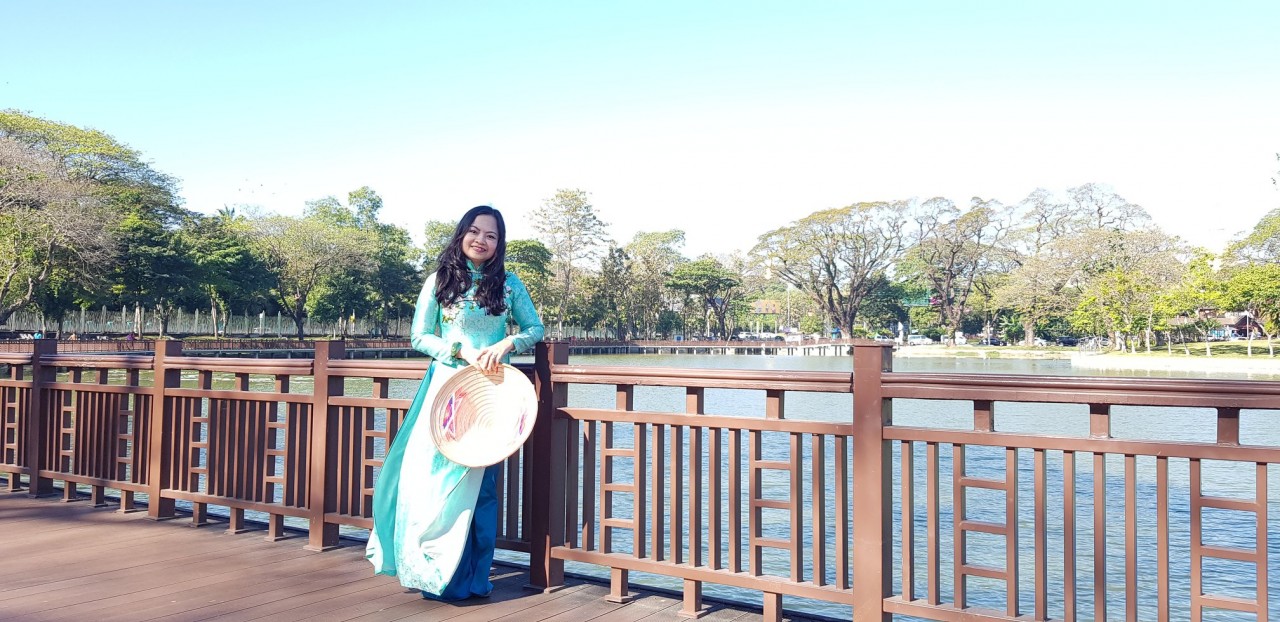 Mrs. Luan Thuy Duong wore Vietnamese traditional "ao dai" in Kandawgyi Lake (Yango, Myanmar) (Photo: Thuy Duong và Tri)
She also added that on Tet gatherings, she tried to give lucky money and talk to as many children as possible. It was difficult preparing enough red envelopes because there is no custom of celebrating the Lunar New Year in Myanmar. These envelopes also contain Kyat, Burmese currency, not Dong, Vietnamese currency. However, the meaning is intact with the spirit of the Vietnamese custom and tradition.
The second and third generation of Vietnamese, who were born and nurtured abroad, never have the experience of authentic Tet, only through newspapers, books and media. Duong and the embassy staff realized the need to teach them the beauty of traditional values. So every year, she tried her best to carry out this mission through traditional customs in Tet holiday.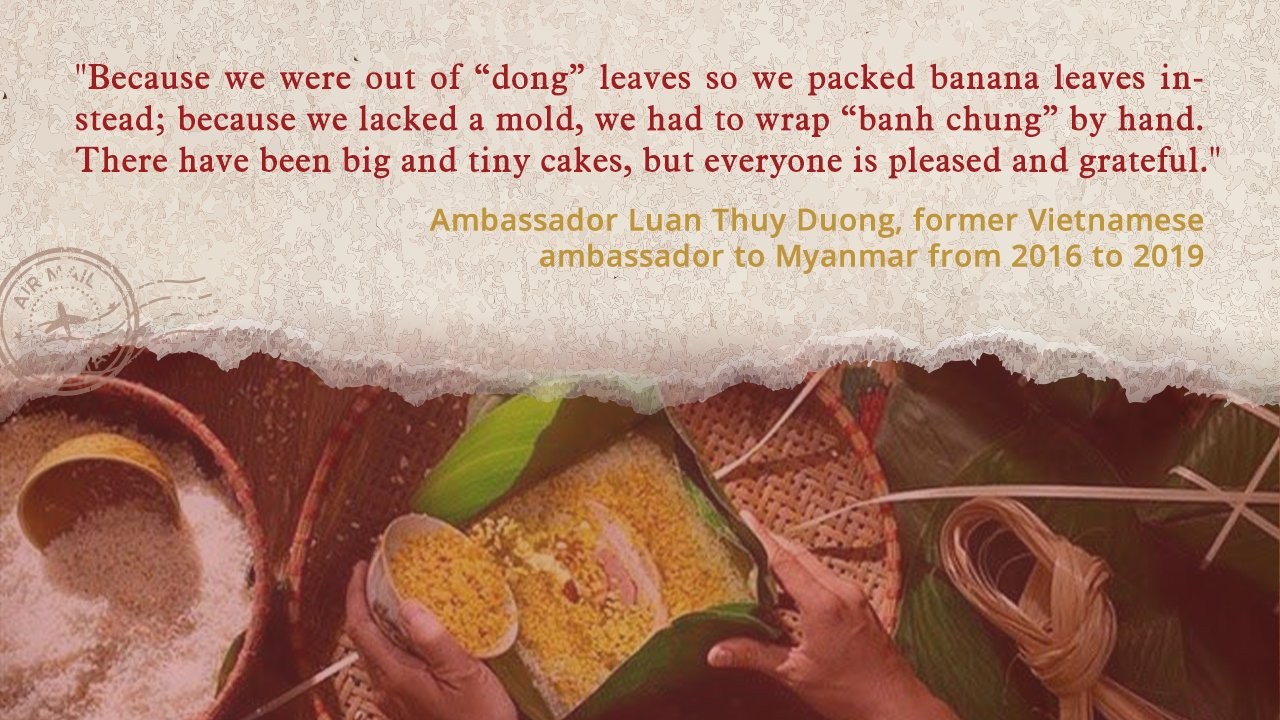 Translator: Minh Nguyet
Graphic: Cam Ly, Nguyet Minh