Another well-known music venue that's been seeing a slow but significant resurgence in popularity is Blue Note Resto Bar in Ba Dinh. Like HSC, they host a weekly event, every Friday, where a headline act takes to the stage, albeit in a very different atmosphere.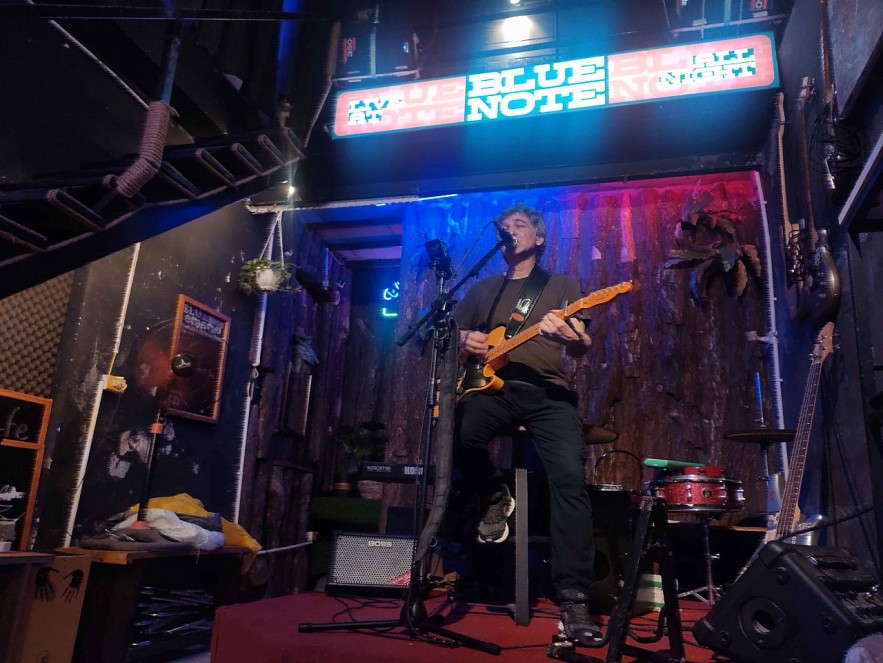 Blue Note's Friday night (Photo: Jason Law)
Alexander Jerome, who used to run Blue Note's Friday nights, along with his band, The Mansion Family, now runs the Tuesday open mic-nights and has been frequenting the famous music hub for years. When I went to check out their Friday night, there he was, relishing it, despite no longer running it.
As a talented musician himself with a long-time presence in the Hanoi music community, and someone with a special connection to Blue Note, he spoke of the venue with a certain fondness.
"Blue Note used to be a very charming but very dingy dive bar but since its renovations (which began in 2020 and finished two months ago) it now has much better sound and more room."
Blue Note is definitely still charming, but it was obvious they'd ditched the divey aesthetic and gone for a more modern feel. It was well-lit and spacious, so the sound of the classic rock 'n' roll being played traveled well. The bright pink and blue lighting gave it an 80s electro vibrance, and the music was loud enough that I had to shout into my friends' ears when speaking, reminding me of Hanoi's raucous, pre-Covid concerts.
Although there was space to be filled, a sizeable crowd had gathered that night to watch Ukrainian expat Valery Chibichik enthusiastically play covers of classic rock and folk songs by the likes of Bob Dylan, Johnny Cash, and Eric Clapton.
After the spirited show, Alexander explained his hopes for his beloved Blue Note.
"It has the potential to be a big music venue with the added space, but as it's not been open long, it needs time to find the right people to run the Friday night."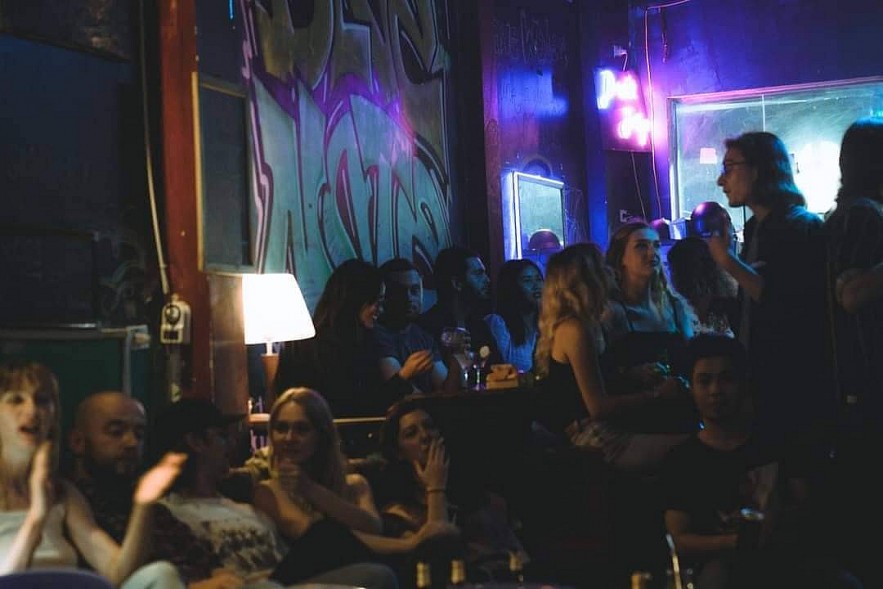 Blue Note's open mic crowds before the pandemic (Photo: Thien)
Before the pandemic and Blue Note's extensive renovations, their Tuesday open-mic night used to be packed full of music enthusiasts watching a variety of creative talents.
"The open mic on a Tuesday has been a Hanoi staple for almost a decade. Attendance varies from week to week but people usually react positively to the changes made," said Alexander.
Since the venue re-opened in July, owner Thien has seen the crowds slowly coming back.
"We were closed for one year, and many of our foreign customers have gone home. Years ago, our nights would be full, but now it's quieter."
He optimistically described his current efforts to restore Blue Note to its former glory, and the search to find musicians to headline their Friday nights, adding that with the influx of fresh foreigners recently they've seen new musicians emerging.
"I think the music scene is coming back, and the popular venues are hosting more live bands. I hope by next year that we'll have a rooftop and a third floor, so we can host bigger nights, and more often," said the business owner.
Alexander echoed Thien's hopes for Blue Note.
"I think Blue Note is a really important spot for a lot of people who live in Ba Dinh but it hasn't yet brought back the punters from Tay Ho."
He hopes that The Mansion Family will perform on a Friday night soon, to serve as a big relaunch for Blue Note's pivotal role in the music scene. With such dedication and love for the music, Blue Note could be the go-to place for gigs by 2023!