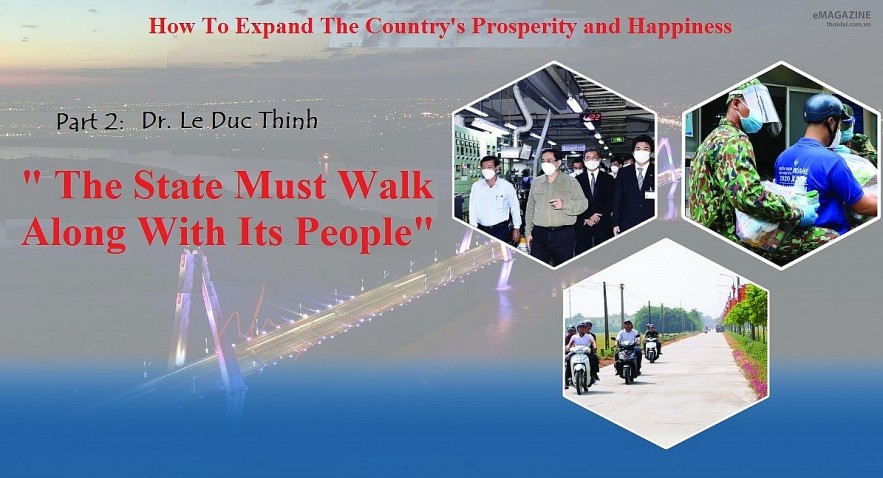 How do we define a prosperous and happy society?
- Prosperity denotes the development to the point of achieving abundance in properties and materials of a society. This should come with the corresponding level of civilization and cultural life, equal distribution of benefits between social groups and the balance between the life values ​​of a people and the international community.
Prosperity is also a process and a method to produce and use these achievements in a civilized, democratic and fair manner. It means that the society has the capacity to create and master its own development and progress.
How do we build a prosperous society?
- There are 4 basic requirements.
First, society must reach a consensus on a basic development value system.
Second, the authorities must be the leaders in achieving this with a far, broad vision, on which to form scientific and easy-to-follow strategies.
Third, this development strategy must be built on a core philosophy – Legacy is more important than property.
Fourth, society must be capable of dealing with challenges and sharing love with humanity, harmoniously combining national bravery and era development.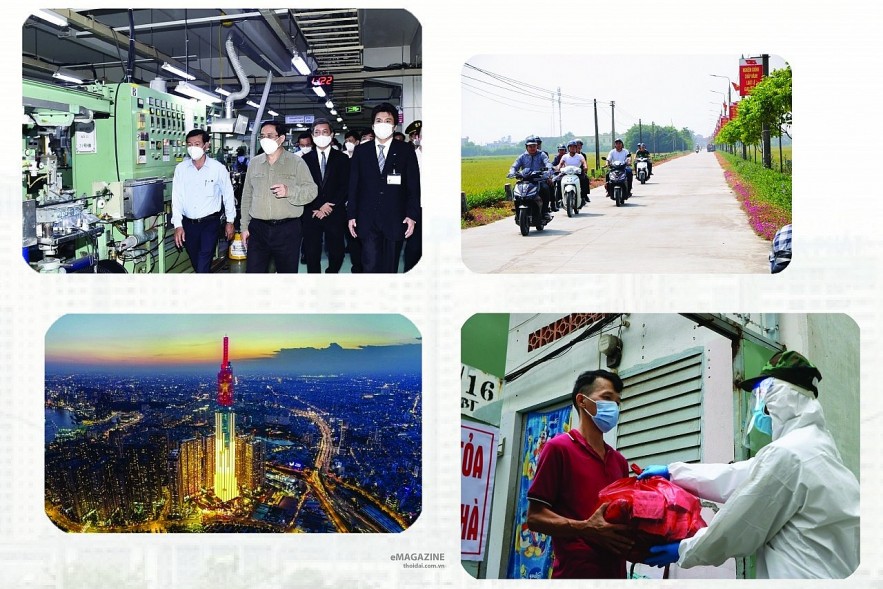 Does this mean society will achieve happiness when it has achieved prosperity?
- Wealth is not equivalent to happiness, but prosperity must bring happiness to society and the individuals inside it.
The happiness of a society is also different from the happiness of an individual. In a prosperous society, happiness includes not only demonstrating the natural and basic rights of individuals but also creating a space where people are loved and reputable and desire to contribute to society. They must be responsible for each other and for society. In general, prosperity is an irreplaceable part, the core and foundation of happiness.
Based on what you said, what forms of prosperity and happiness should we strive for?
If we look at the Resolution of the 13th National Congress of the Communist Party, it is easy to see the party and government are developing the country in these ways. If by 2045, Vietnam can achieve high incomes, protect the environment, enhance democracy and uphold rule of law, we can gain prosperity and happiness.
It should be noted that going from being wealthy to being happy is so much harder than from being poor to being wealthy.
Do you think Vietnam will be comparable with countries with developed industries by then?
- This is not quite right. We should develop our own values ​​rather than conforming to specific models. While wealth can be determined by general criteria, happiness is a combination of international standards and national traits. The latter depends on factors such as society, culture, tradition, history and, especially, timing.

Can you clarify the cultural identity and historical moments?
- Each community forms its own philosophies of survival based on factors such as geography, methods of production and interaction with the outside world, which form the basis of that community's unique cultural identity and traditions. It is often said that we lose everything if we lose our identity.
The resolution of the 13th National Congress of the Communist Party proposes long-term development goals based on international standards and Vietnam's cultural identities. In terms of historical moments, we should develop open and relative values. We can't equalize the prosperity and happiness we are having now with those which we will achieve in 50 years.
In your opinion, where is the starting point to build a prosperous and happy society?
- Every people and nation have their own desire for prosperity and happiness. The difference lies in how each country sets its goals and achieves the goals it has set. We can start by finding a common development philosophy for the future society. Ideas may be forged by an individual or group but realizing this idea requires collective efforts of society.
The Vietnamese people have always yearned for prosperity and happiness and now the party and government are hoping this desire will grow strong enough to drive and energy for the whole society to awake this desire, we must rely on 3 drivers.
What are they?
- First, we must ignite the will to overcome all challenges of the Party and the Vietnamese community in the country and abroad.
During the Tran Dynasty, there was Dong A spirit. The August Revolution had a burning desire and will for national independence. During the resistance against America, it was known as the aspiration of ready to cut along Truong Son mountains to save the country... Today what must we call the name of aspiration, the will for prosperity and happiness?
Second, we must protect and bring into play our cultural traditions and solidarity. Our country has rich beauty, millennial culture of 54 ethnic groups with the spirit of harmony, tolerance, humanity and charity; tangible and intangible products, rich landscapes that attract friends from all over the world, easy to create admiration, friendliness, demand for enjoyment, discovery and cooperation.
Third, we must optimize our people's innovativeness. The Vietnamese people are inherently innovative. In this regard, we must also attract and protect the crème de la crème in production and fighting natural disasters, war, science and technology. In which, it is necessary to attract and protect the nation's elite, which, according to Nguyen Trai, "every generation has a masterpiece". We also do not have magnificent castles and palaces, but we have pride and high self-esteem. But do not turn it into conceit and selfishness.
Leaders must set examples for the community to follow.
From these three basic drivers, how should we navigate?
- First, we must form basic development principles and gain social consensus. The greatest strength here is gathering energy via community collaboration and minimizing distrust in the "comrades."
Next, we must treasure the crème de la crème. This should be turned into practical, powerful policies and actions.
Third, we must focus on developing education. If we lose an agricultural season, we can make up for it in the next year. If we lose an educational season, we will waste an entire generation.
What methods can we use to implement these philosophies?
-We need to complete an institution that aims for social prosperity and happiness. This institution must ensure basic human rights and replacing extractive regulations with inclusive ones.
Second, this institution must aim for both economic development and public welfare. At the same time, the economy must be controlled by and developed along with ethical and socio-cultural development.
Prime Minister Nguyen Xuan Phuc previously said "institution, institution and institution". It is necessary to reform and radically reform the institution.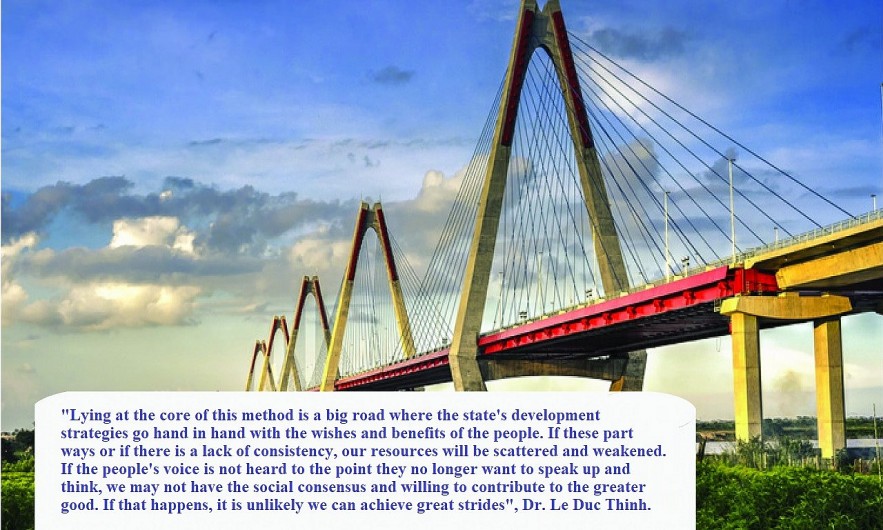 What should we do to achieve this consensus?
- We must empower the citizens, including the rights to decide and act. The party and people should act as one, and the party should follow the wishes of the people. We already have policies that center on the people, but we must realize these policies in a more thorough, scientific and practical way.
The authorities, especially those at the grassroots level, must represent the rights, voice and role of the people. We should not and must not turn the authorities at the lower levels into puppets for those at the higher levels, because it will hinder people's voice from being conveyed faithfully and promptly to the Party and government.
In short, any social communities can develop prosperously and happily if they are truly empowered to do so in a substantive and comprehensive way.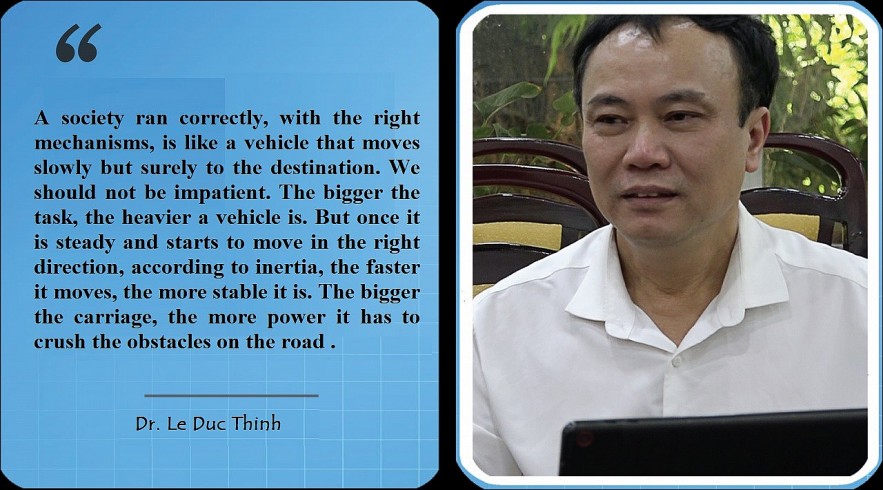 So we need a genius father figure to lead a normal society to prosperity and happiness?
- We must rethink all aspects of development, more importantly, the institution and policies. We should also not place too much hope on the appearance of a "great person or hero" to "shoulder" the responsibility of bringing our society to prosperity and happiness (like some celebrated figures in the world).
We must consider this to be a mission of the people. The party and leaders of the country must set examples and awake social inspiration and pride to successfully achieve a prosperous and happy country and people. A state must walk along its people to go far and sustainably.
Part 4: Big Call For Talents Needed

To fuel the people's aspiration to reform the country, the state must first express its desire, which must a great ambition, an iron will, an ...