5.3 million Vietnamese are living far from the country for different reasons and experience different living conditions. However, when they face difficult times or visit their hometowns, the motherland always offers them a warm welcome, from protection in the pandemic, chances to invest, to pursue happiness, to join competitions, to shine, and to immerse themselves in the beautiful sea and islands of their homeland.

Ly Van Xuan (born in 1985, a resident of Ruseykeo district, Phnom Penh, Cambodia) was grateful to receive Vietnam's support in the raging Covid-19 pandemic.
He said: "My family was given four relief packages from March to July 2021. The packages sometimes included rice, instant noodles, hand sanitizer, masks, sometimes they were soy sauce, cooking oil. Vietnam does not abandon overseas citizens like us."
When a major ice storm stroke Texas (USA) in February 2021, the Vietnam Consulate General in Houston actively supported the overseas Vietnamese.
The consulate general conducted citizen protection work by establishing a 24-hour hotline to collect information and help citizens. Besides, it presented dozens of boxes of masks and supported citizens to fight the pandemic in several Vietnamese communities.

Ten years after their marriage, actor Duc Tien and Miss Ao dai Dallas Binh Phuong (Westminster, California, USA) still have not had children. Experiencing many unsuccessful methods, they returned to Vietnam to conduct in vitro fertilization (IVF) in Hanh Phuc Hospital (Ho Chi Minh City) in 2019. A year later, their little princess was born.
"In the field of IVF, Vietnam is no less accomplished than any other countries, including the USA and European nations. Vietnamese doctors are experienced and have modern equipment, therefore, couples who are wishing to have children like us often think of Vietnam first. We find our biggest happiness in our homeland," said Duc Tien. "IVF's price in the USA is three times higher than that in Vietnam. Some of my friends had their children thanks to conducting IVF in Vietnam."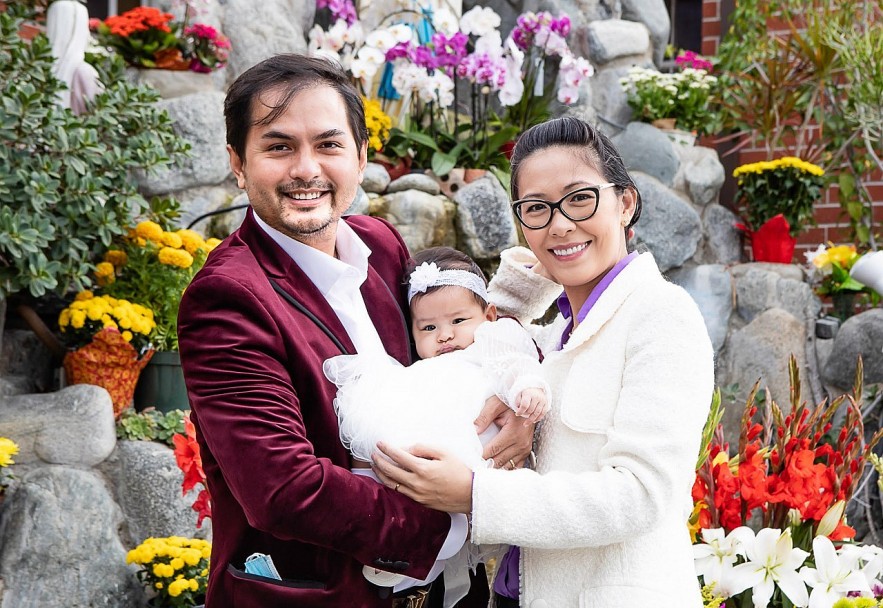 Actor Duc Tien and Miss Binh Phuong found the greatest happiness in her hometown - their lovely little princess.
Many overseas who work as artists and football players have recently returned to Vietnam to start their businesses.
Football player Mac Hong Quan (Prague, Czech), who came to Vietnam in 2014, has played for Vietnam National Football Team, Vietnam National U23 Team, and clubs competing in V-League.
"I was facilitated by agencies and organizations to have two nationalities of Vietnamese and Czech," he said.
Actor Bao Chung and his family resided in the USA in 2000. Living in the states, he only had shows on the weekends. As his contract expired, Bao Chung returned to Vietnam. "In Vietnam, I can freely perform in events, music shows, join gameshows, star in movies, and write scripts. I can learn more skills regarding my profession, can receive the audience's affection. Vietnam is the birthplace of the art that people like me pursue. In this land, I can dedicate myself to my art," Bao Chung said.

Accompanying her husband to settle in Morroco in 1972, Tran Thi Hong May (Meknes) faced difficulties because Vietnam had not established its embassy to Morroco at that time. However, her family's life changed after that. Hong May said: "Prime Minister visited Morroco in 2004. During the visit, many overseas had a chance to meet and talk with him in the Hilton hotel (Rabat). I told him that we struggled to provide for our husbands and children. Some Vietnamese women had to leave their families in Morroco to work in other European countries. After listening, the prime minister asked the press to record my proposal. He then promised that the state would support us. Exactly one year later, the Vietnam Embassy to Morocco was established, and 15 days after we got our passports. Holding my passport, I bought a flight ticket home. The prime minister helped me to return to my homeland after 40 years."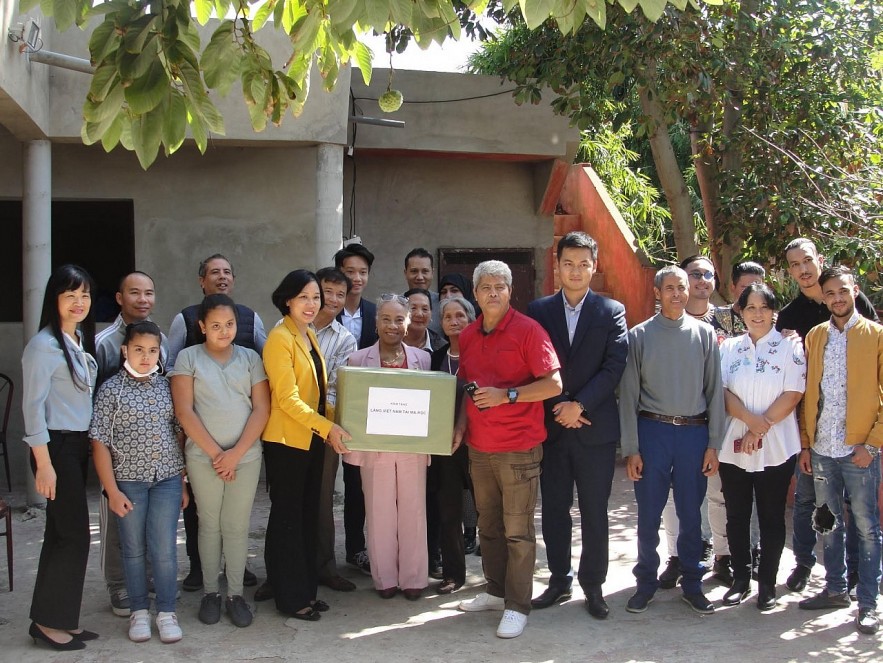 Vietnam Embassy to Morocco presents gifts to Vietnam Village in the country. Tran Thi Hong May (in pink) received gifts on behalf of her family.
Musical actor Ninh Duc Hoang Long (Budapest, Hungary) met General Secretary Nguyen Phu Trong during his trip to Hungary in 2018. For Hoang Long, it was an unforgettable performance.
Hoang Long won the first prize in a television classical music contest in Hungary. Therefore, he was invited by the Hungarian Prime Minister's Office to perform two Vietnamese – Hungarian pieces to welcome Vietnam's high-level delegation led by the general secretary. The performance took place in Hungarian Parliament Building, where he had a chance to take a photo with the Vietnamese general secretary and Hungarian prime minister Orban Viktor. After the performance, the Hungarian PM said to Hoang Long: "I am glad and surprised at your performance in the Hungarian language. Please take a photo with us." Meanwhile, the Vietnamese leader said to Long: "You sang beautifully. Try to introduce Vietnamese culture and act as a cultural bridge between the two countries!"
Hoang Long said that the Vietnamese State and Party sent delegations to meet and listen to citizens' challenges to find solutions and give out instructions. The President and Ministry of Foreign Affairs host a program named "Spring on the homeland" every Lunar New Year to bring overseas to Vietnam on the occasion. Hoang Long had the honor to join the overseas group to perform for the program at Hanoi in 2019.
Le Thi Nhanh (42 years old) lives in Tonle Sap, Cambodia for 23 years. When her living conditions were difficult, all her five children were not able to go to school. When Cambodia issued an order to relocate houses in Tonle Sap in 2018, Nhanh's family and other 20 households in the area were helped by the Khmer – Vietnam Association in Cambodia and the Vietnam Embassy to Cambodia to get jobs in Tan Bien Rubber Company (Vietnam) in Kampong Thom province.
"My husband and four daughters are currently working for the company. I am a stay-at-home housewife. The smallest child, 13 years old, can go to school. Life here is not as hard as in Tonle Sap. The Khmer – Vietnam Association and the company send us gifts in holidays. We have savings, too. I am glad that the Party and State do not abandon us," Nhanh said.
Journalist Huy Thang (born in 1952, residing in Berlin, Germany), emotionally told the story of his trip to Truong Sa archipelago in 2014, which was held by the State Committee for overseas Vietnamese.

"When we got in Truong Sa HQ-571 ship, I lived in the same room with Vietnamese in Germany, USA, Laos, including David Nguyen from the USA, who used to be a senior officer in the US military. In the first lunch, David Nguyen said he was a radical Communist protester. "I'm against any Communist signs I see," he said."
When we took a lunch nap, everyone faced the wall while David Nguyen held the pillow, turned his face toward the door. He then said that showed he was not on the same page as everyone else on this trip."
When we reached South Reef, I was gifted a national flag with traces of storm by the navy soldiers. The red flag with a yellow star was special because it was hanged on the South Reef, was torn by heavy winds. The commander signed and stamped on the flag. David Nguyen wanted a similar flag, so he asked me to take one for him. The soldiers said that they had many new flags, but only a few old ones, yet David Nguyen still wanted a flag with signature and stamp. The leaders had to take down the hanging flag, stamp, and sign on it. David Nguyen pressed the flag to his chest. He turned silent, his face was blank as if divine energy had entered his soul.
On the way from the South Reef, the ship returned to Song Tu Tay Island. David Nguyen asked to visit a landmark that the Republic of Vietnam government received in 1956. He hugged the landmark and cried bitterly. He touched each work carved on the landmark, mumbling like praying.
David woke me up at two or three a.m. the next morning. He said he took this trip to find out the lies of the Communist Party of Vietnam on the Truong Sa archipelago. However, he admitted that he was wrong for misunderstanding and acting against the regime over the past 40 years.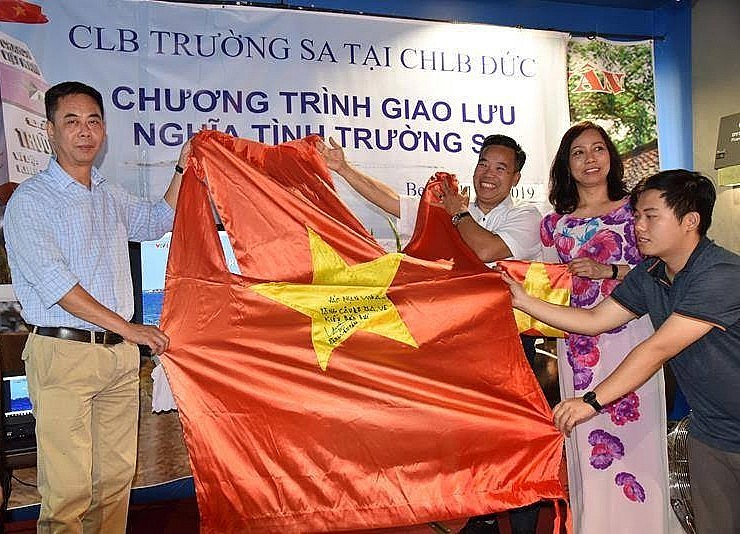 Overseas Vietnamese in Germany received the national flag with the signatures of Truong Sa officers and soldiers.
I was surprised that such a radical man, who led many demonstrations against the Communist Party and State of Vietnam, hugged the national flag, knelt before the landmark, and cried like a child.
The State Committee for overseas Vietnamese and High Command of the Vietnam People's Navy coordinate to offer overseas citizens yearly visit to DK1 rigs. The activity allows the overseas to witness with their own eyes the life of residents and soldiers on Truong Sa. The first trip was held in 2012. Since then, eight trips have been held, bringing more than 500 overseas from different territories worldwide.
Sea and islands' sovereignty is the issue that overseas Vietnamese care about the most. Therefore, when the state holds trips to the Truong Sa archipelago and DK1 rig, the overseas are happy and emotional. Those who are not well informed or misunderstand the facts express deep regret. Their great desire is to understand, to visit the sea and islands, the DK1 rig, to witness the stability and integrity of the country's sovereignty. When overseas Vietnamese enjoy those legitimate and sacred rights, their trust in the state and love for the homeland grow.
Part 1: Congratulations to Homeland

Although they are living far from home, Vietnamese expats, whether they have gained successes or are still struggling to make a living, have always towards ...